Green Calgary is a charity that helps Calgarians live a more sustainable lifestyle. We spoke with Lex van der Raadt, Executive Director, to find out more about them.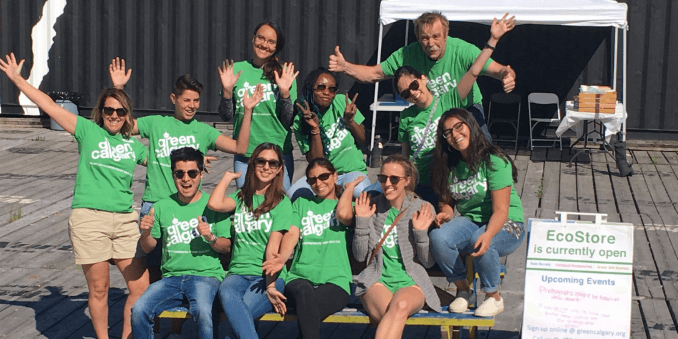 Describe your charity/non-profit/volunteer work in a few sentences.
Since 1978, Green Calgary has been a leading urban environmental charity supporting Calgarians in living a more sustainable life; helping them take effective environmental action in their homes, workplaces, schools, and communities. We've worked with tens of thousands of Calgarians in leading a greener lifestyle because we know that only by working together can we ensure a healthy city and ultimately a healthy planet.
What problem does it aim to solve?
Green Calgary focuses on education to help Calgarians live more sustainable lives. Calgary has come a long way even in just the last twenty years to being a more sustainable place to live, but frequently Calgarians just don't know about the amazing local organizations and services that could be used to lower their ecological impact. We want all Calgarians to know about all the great sustainable initiatives happening in the city!
When did you start/join it?
Green Calgary has been around since 1978, first as a community group concerned with pollution of the Bow River, then as a charity seeking to support Calgarians' waste and recycling initiatives. I joined the organization in 2016.
What made you want to get involved?
Seeing how much Calgarians care about our beautiful city and the wild spaces around it was really inspiring. I love talking to my fellow Calgarians about all the exciting things happening in our city in regards to sustainability!
What was the situation like when you started?
Calgarians had been generating a lot of great ideas to make the city a more sustainable place to live, but progress on those ideas would ebb and flow. It was really rocky starting out, seeing so many people excited to bring more sustainable ideas to Calgary, but the difficulty of keeping momentum.
How has it changed since?
Sustainability charities and non-profits in Calgary continue to grow and support Calgarians, and demand for those organizations continues to rise! We're on the right trajectory, but there's a lot more to do!
What more needs to be done?
We need more Calgarians to get active in sustainability. Working together is key to making Calgary the world leader in sustainability that we believe it can be! There are lots to do between volunteering, getting voices heard, and just participating in being sustainable. More support for local businesses and environmental nonprofits is needed to make Calgarian solutions to our ecological impact.
How can our readers help?
One of the best ways to help is just to follow and boost – the more people talking about sustainability, the more it spreads! There's something for everyone, too. If you're passionate about outdoor recreation, talk about conserving our wild spaces. If you're passionate about your garden, learn about sustainable gardening practices and talk about them with your friends. Calgary is full of amazing, local vendors who are bringing sustainable ideas into their businesses, so support them by buying local products and supporting local artisans. If you need help finding your passion, follow us to see all of the ideas and initiatives throughout the year!
Do you have any events coming up?
We are currently running a Green Holiday Challenge, where participants can compete in daily sustainability challenges with a chance to win a prize! We also have an upcoming Sustainable Christmas Craft workshop. You can find all of our events at greencalgary.org
Where can we follow you?
Twitter | Instagram | Facebook | Website
PAY IT FORWARD: What is an awesome local charity that you love?
We love the Calgary Horticultural Society! We work with them a lot in the summers and they are awesome!