Making Changes Association is a Calgary non-profit organization that empowers women by helping them build confidence and skills as they join the workforce, return to school, or engage in volunteer opportunities. We spoke with Cathy Coutts, Executive Director, to find out more about them.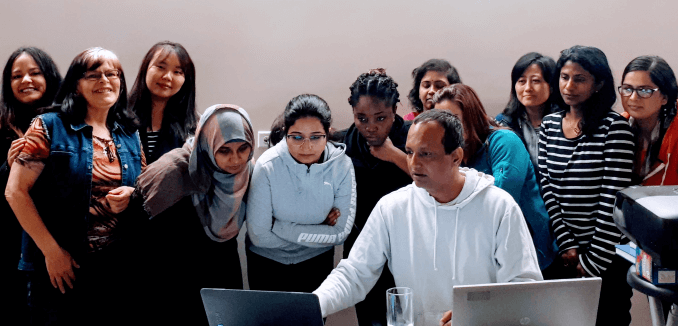 Describe your charity/non-profit in a few sentences.
Making Changes Association is a dynamic non-profit organization that empowers women in transition by helping them build confidence and skills so they can participate as fully as possible in their communities.
Established in 1996, Making Changes assists more than 2,000 women each year.
The programs and services offered are free of charge and help prepare women who want to join the workforce, return to school, or engage in volunteer opportunities.
What problem does it aim to solve?
Women making the transition from unemployment to employment face a myriad of challenges from understanding corporate culture to building an appropriate wardrobe, often without any support systems in place to help them navigate this daunting change. The women who access our programs face financial barriers. We offer four programs that are strategically connected to one another with the common objective of empowering women in all facets of their lives.
When did you start/join it?
I joined the organization in 2016.
What made you want to get involved?
Making Changes is built on the mission of Advancing futures for women, together.
The desire to work with an organization and group of women that have a desire to assist others to become their best selves through support, education and fashion aligned with my personal values of providing services in which all participants are treated with respect, compassion and feel they belong.
What was the situation like when you started?
Making Changes was well established when I joined the organization offering an Employment and Life Skills program and 2 clothing empowerment programs.
How has it changed since?
Over the last 5 years, we have introduced a Women In Technology, a 6-month full-time employment program, aimed at helping women build careers for the future in the growing STEM sector. We have also merged our Walk-in Closet program with Dress for Success Calgary, eliminating duplication of services in the market so that together we can service more clients and grow our program offering to address gaps in services our clients may be experiencing.
What more needs to be done?
The need for support continues to grow and careers of the future continue to evolve. There is a need to offer networking, skill development opportunities and technical training to women currently experiencing financial barriers so they can build the confidence required to access educational programs and the workforce.
How can our readers help?
Readers can support our programs by donating.
Do you have any events coming up?
Stay tuned for our annual Wine Survivor event in May 2022. Registration will be accepted through our website.
Where can we follow you?
Follow us on Facebook, Instagram, or LinkedIn
PAY IT FORWARD: What is an awesome local charity that you love?
Elements Calgary Mental Health Centre