Oh My Garden! is a Calgary business that creates plant-based skincare and haircare products. We spoke with Togzhan Jumagulova, founder, to find out more about them.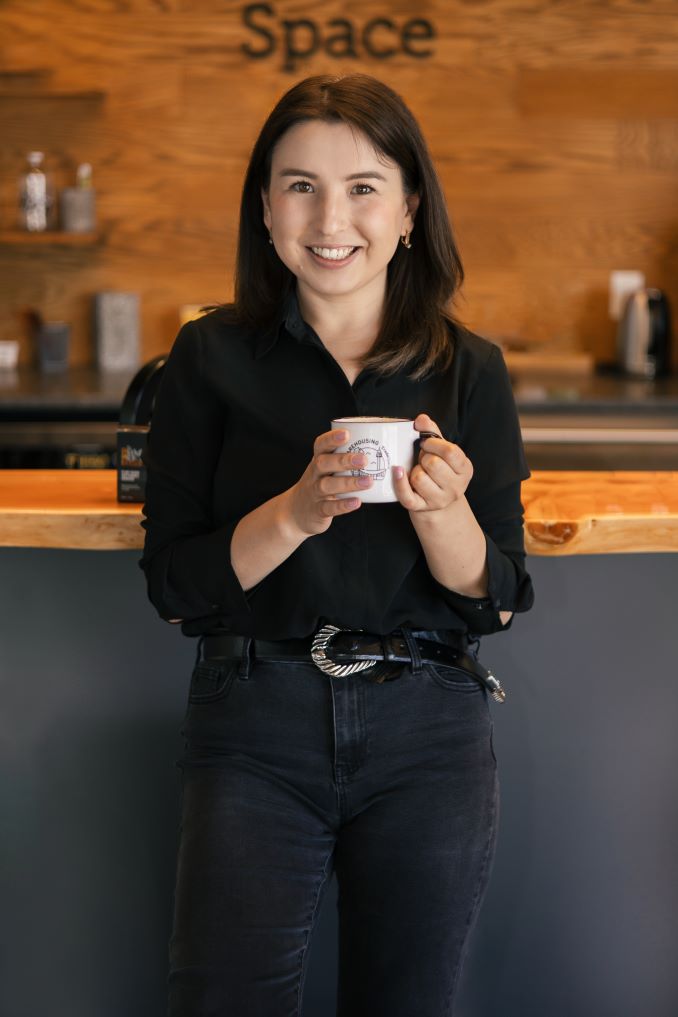 What is your business called and what does it do?
My business is called Oh My Garden! We create high-performing plant-based skincare & haircare products that are sustainably produced, packaged and shipped. I strongly believe that beauty should be a beautiful experience for people and the planet and there is absolutely no need for compromises.
What made you want to do this work?
Years of searching for a sulphate-free shampoo that actually works and huge frustration with the beauty industry after realizing how much waste my elaborated skincare routine was producing. I wanted to get the same results but without the need to have a 10 step skincare routine and also without producing unnecessary plastic waste.
What problem did you want to solve with the business?
The main problem I am solving is the lack of high-performing beauty products that are natural and sustainable. I mean have you seen salon-quality shampoo bars? Large beauty stores are full of different types of professional quality shampoos, but none of them are in the form of solid bars. We are solving that with our salon-quality, zero-waste shampoo and conditioner bars.
Who are your clientele/demographics?
Eco and beauty-conscious women who are striving to be more sustainable in their everyday life, but don't want to give up the quality of their beauty products.
How does your business make money? How does it work?
We formulate and make all our products here in Calgary and sell them through our online store.
Where in Calgary can we find your profession?
You can find us at 4030 8 St. SE.
What is the best question a prospective customer could ask a member of your profession when comparing services? Give the answer as well.
Is it true that it takes 26 seconds for skincare products to be absorbed into the bloodstream? It is like a test for identifying qualified cosmetics formulators. The correct answer is no, the penetration of the product depends on many factors and for sure cannot be simplified into "26 seconds". This myth was widely popularized recently by the media and the intention behind sharing this message was to promote natural beauty. Despite good intentions, the statement is false and does no good and discredits the natural beauty movement as anti-scientific.
The truth is it doesn't matter how fast and how much the product gets into the bloodstream if the product ingredients are not safe – it can and it will harm the body. Not to mention the harm that it can cause the environment. But if the cosmetics formulator answers yes to this question, chances are the person does not understand the science behind penetration which is very foundational knowledge for every cosmetics formulator to have.
What is the best part about what you do? What is the worst part?
Best part: Formulating new products and receiving reviews from happy customers.
Worst part: Figuring out Facebook ads and other ad platforms.
What is your favourite joke about your own profession?
I heard this terrible joke a while ago: When I was a kid I wanted to work with animals, but I couldn't get a job in cosmetics.
Thankfully with growing awareness animal testing is used much less in the beauty industry now, but unfortunately, some brands are still not cruelty-free. Oh My Garden! is and will forever be a cruelty-free brand.
PAY IT FORWARD: What is another local business that you love?
I love carbonated cold-brewed teas by Rocky Mountain Tisane. They taste absolutely amazing and have zero sugar and no artificial flavours and colours.