"The way of a canoe is the way of the wilderness, and of freedom almost forgotten."

                          ~Sigurd F. Olson
The canoe occupies a distinguished piece of history in this country. It was the principle means of transportation for many pre-contact First Nation people. The earliest designs were as varied as the people creating them. Some were carved from massive trees on the Pacific coast, while others were fashioned from the bark of Birch trees.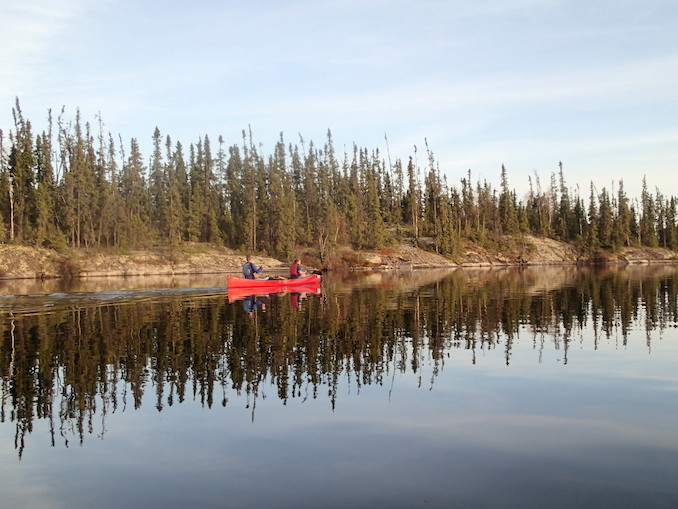 The canoe also played a vital role in opening up the rest of the country to exploration. Early European settlers utilized the canoe as their preferred method of transportation. Venturing deep into the unknown wilderness in search of furs, they discovered an already established trade network along traditional Indigenous canoe routes.
Of course one cannot mention the history of the canoe in this country without including voyageurs. Voyageurs were the independent contractors of the fur trade. They were licensed for transporting goods to trading posts across the country and beyond. They paddled large canoes piled high with goods and were responsible for connecting the western and northern reaches of the North American continent.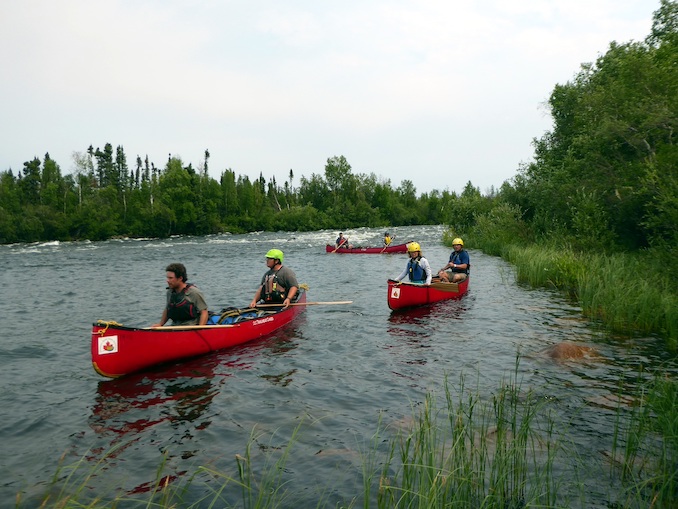 Yes, the history of the canoe in Canada runs deep and it still holds a prominent role in recreation today. An increasing number of Canadians are leaving the city in search of adventure. Many of these folks are finding that adventure from the seat of a canoe. This simple boat offers an escape from the everyday hum-drum and can provide a connection to something deeper, a connection that can last a lifetime.
Those that have been reading this column since the beginning know I have featured numerous outdoor guides in the past (please see rafting, SUPing, mountaineering, and caving as a few examples). Each individual has a unique backstory that lead them to their current career path. I wanted to explore the life and times of a canoe outfitter, so I ventured further afield and reached out to Ric Driediger of Churchill River Canoe Outfitters (CRCO) in the canoeist paradise of northern Saskatchewan.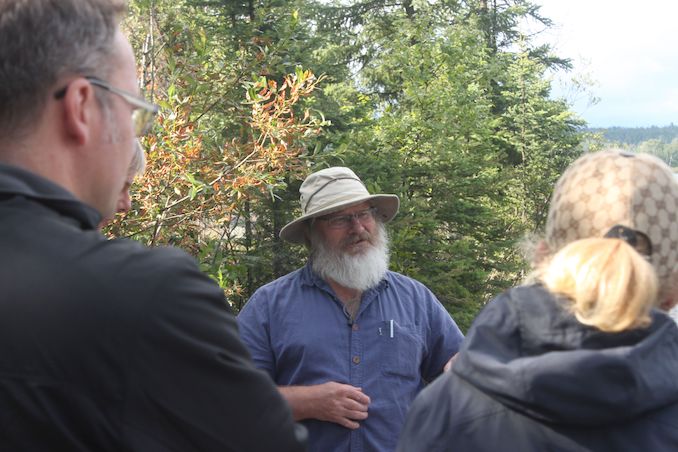 Ric grew up on a farm in southern Saskatchewan near the town of Drake. He looked after 1,000 pigs and 16,000 chickens. Everyone else assumed he would take over the family farm, everyone except Ric and his father. Ric's father had something else in mind for him. Ric's first canoe trip came at a vulnerable time in his life. He had just finished high school in 1972 and didn't know what to do next. That first trip opened his eyes to not only a part of Saskatchewan he didn't know existed, but also to a different way of being. He spent all winter talking to people about how amazing that first trip was. He was asked by two different groups if he would help guide a few canoe trips the following summer. The person who guided that first trip the summer before was running a wilderness training school and Ric joined. He ended up stumbling through and helped guide four trips that second summer. One of the groups he was guiding for asked him how much he wanted to be paid. Ric couldn't imagine one could get paid to do something so amazing as guiding a canoe trip. Almost 50 years later he is still asking the same question. How can one get paid to do something so amazing as guiding a canoe trip?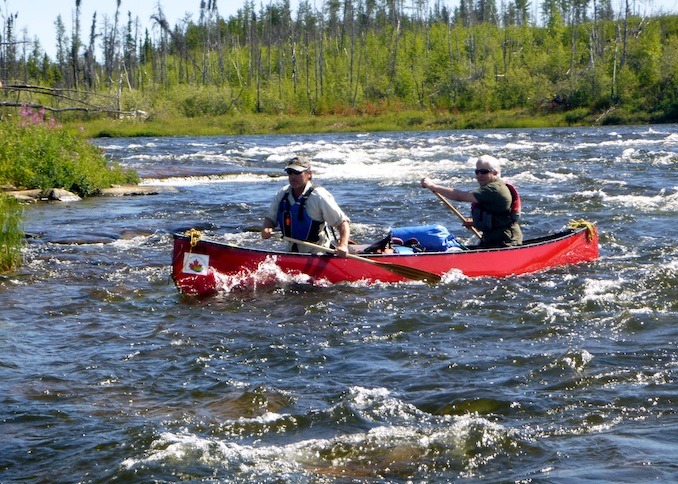 As you'll soon discover, Ric was the ideal candidate to be interviewed for this column. Not only is he a veteran guide and outfitter, but his personal connection to the north Saskatchewan wilderness and willingness to share that connection with countless guests from around the world is unparalleled.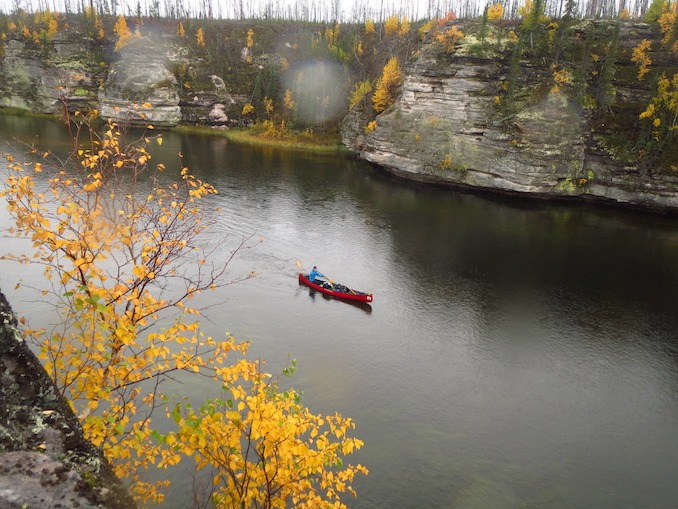 Calgary Guardian: "How did Churchill River Canoe Outfitters come to be? How long has the company been around? How many people work with you?"
Ric Driediger: "The road got to where the town of Missinipe would be in 1959. People were claiming property. Four people claimed the property CRCO is now on. They began building a tourist camp they called Pawistik Lodge. Pawistik is the Cree word for rapids. Several of the buildings they built in 1959 and 1960 are still being used. In 1964 new owners took over Pawistik Lodge. They changed the name to Churchill River Canoe Outfitters and hired a young man from England who was passionate about canoeing to run the place. His name was Peter Whitehead. He made this business into a canoeing business. I purchased CRCO from Paul Wilkinson in 1987. At present about 14 people work at CRCO during the summer months. Some of these are guides and instructors, some are maintenance people, some are office workers, some work with repackaging food for canoe trips. CRCO has 8 cabins with 42 beds, a Paddlers Hostel with 14 beds, and a fly in wilderness lodge with 8 beds. CRCO has 70 canoes it rents out along with kayaks, motor boats, and lots of camping equipment. We run guided canoes trips and mainly white water canoe courses throughout the summer."
CG: "What made you want to be a guide?"
RD: "The thing I love most about guiding is being able to share with others the things I had find exciting. After that first trip I wanted to show people the amazing north I had discovered – the rock, the water, the forests, the moss. I wanted to share Nistowiak Falls with others. I wanted others to experience running Otter Rapids. That desire to share has always been a major motivating factor. I also love the idea of exploring. What's around that next corner? This creek drops over a bunch of contour lines on the map, what does it look like? Our northern Saskatchewan wilderness has over 100,000 lakes. These lakes are connected by short portages or rivers. There is no end to the number of canoe trips one could do in our northern wilderness. This endless exploration attracts me. Since that first trip when the guide often said that wilderness can change people, I have wanted to continue to imagine that idea. Since that first trip I have wondered about that thought. I have seen wilderness change people. It changed me. How can I be an agent of that change when I'm guiding a trip? As I've continued to guide, I have continued to explore this idea. What is it about wilderness that can do this?"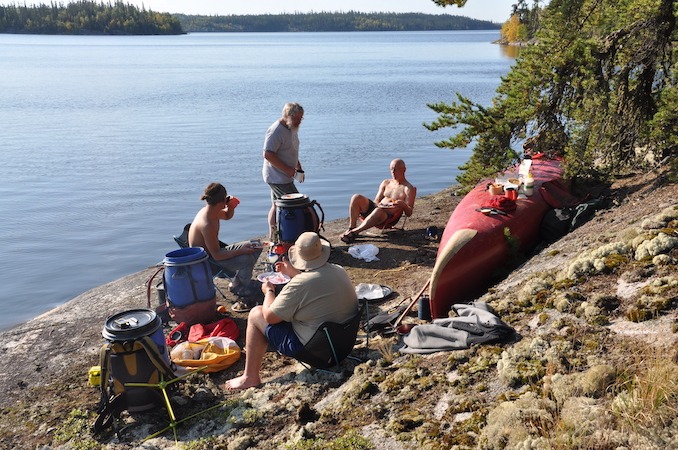 CG: "Considering your previous response you might have already answered this, but what's the best part of your job?"
RD: "The best part of this job is the people. I have met so many amazing people while guiding trips. I have guided with some of the best people this world has to offer. The people on the trip make or break a trip. It really doesn't matter about the weather or the route, it's the people. It's true, I have seen some pretty amazing country, but that amazing country is always just a backdrop to the group I am with."
CG: "What's one of the most challenging aspects of your job?"
RD: "The most challenging part of this job is the people. The success of a guided trip rests with how well the group gets along. Keeping the group not just getting along but thriving together is the biggest challenge of any canoe trip. As a guide I want everyone to be best friends at the end of the trip. A successful trip has everyone exchanging email addresses and cell phone numbers at the end of the trip. The biggest challenge for any guide is to enable that to happen. So not only are the people the best part, they are often the most challenging part as well."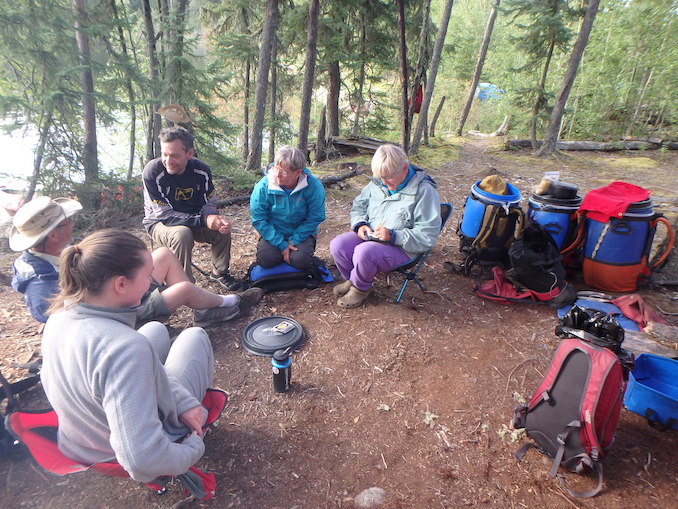 CG: "What type of education/certification/training do you need to be a canoe guide?"
RD: "A canoe guide in Saskatchewan legally doesn't need any training or certification. However, 'need' and 'should have' are two very different things. What one should have is a long list. Certification in lakewater, whitewater, and canoe camping is very important. At least the 40-hour Wilderness First Aid course is critical. Swift Water Rescue training is necessary. Food Safe training is also a very good idea. Then lots of experience being on canoe trips is also a very good thing. Knowledge of the area, the terrain and landscape, and how that impacts that specific trip is also important. A mountain river trip is very different from a shield canoe trip. I think this looks after the physical skills part, but more importantly are the interpersonal skills. I feel it's easy to teach those physical skills listed above, but the interpersonal skills, those are much more difficult. Some people seem to just have it naturally. Others need to continuously work at it. Some guides I have met don't understand the importance of this. I think this skill separates the mediocre guide from exceptional guide. Also good judgement skills. You are at the top of a rapid you have never seen before. Do you run it with your group? Someone with good judgement skills will be able to take all their experience and the skills of the group and make a good decision. Some may not be able to make a good decision with this criteria. Good judgement skills are a requirement to being a good and safe guide. A guide also needs to love people. When I look at a resume for someone who wants to work for me as a guide, I look for the mention of people. If they want to be a guide only because they want to be in the wilderness, I tell them to just go on canoe trips. But if they mention in some way their love of people and sharing the wilderness with people, I will most often hire them."
CG: "Let's take a virtual look at your gear. What essentials do you have with you when you're on the water?"
RD: "I have my life jacket and paddle, and of course a canoe. I have a first aid kit. I have a throw bag and some other rescue gear. I've got a good rain tarp and I have a sat phone or some other device to talk to people on the outside. My raincoat is usually not too far away."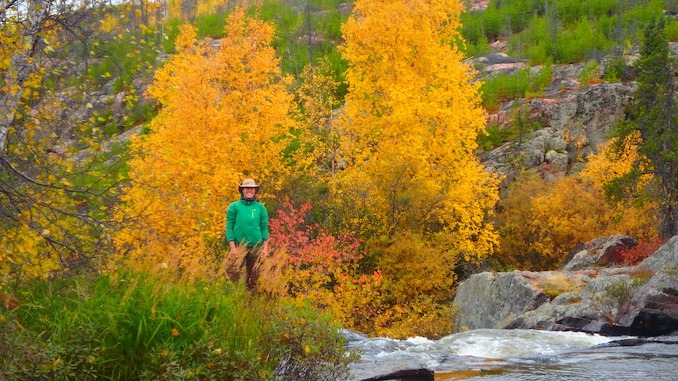 CG: "Canoeing can be an inherently dangerous activity. How do you mitigate risks for your clients?"
RD: "Canoeing is not inherently a dangerous activity. Or I suppose another way to look at it would be to say everything we do is inherently dangerous. The difference is that some risks we accept and others we are less willing to accept. The most dangerous thing we do is drive down the highway. Every time we meet a vehicle we are one meter away from certain death. That is far more dangerous than canoeing, but it's risk we accept and rarely think about. I think it is a far greater risk to not go canoeing than to go canoeing. Where else can you learn the lessons wilderness has to teach? Where else can you grow so close to a group of people? What better place in the time of COVID is there to isolate with people you love? To not go canoeing and instead spend your time in some city is way riskier. Risks on trip are mitigated with a quality guide. I spend time teaching the skills that are necessary for what lies ahead. At the start of the trip I go through all the emergency procedures. I show the group where the first aid kit is. I show the group where the emergency contact device is stored, and how to use these devices. If something happens to me, I want them to be okay. I try to get the group involved in every aspect of the trip, from cooking to navigation. This way they feel more confident and somewhat in control. We talk about the risks. We talk about the difference between perceived risks and real risks. Perceived risks are fun to play with; real risks are not. A quality guide can, at least to some extent, control the real risks."
CG: "Do your clients need to have canoeing experience to go on trips with you?"
RD: "It depends on the trip. We have lots of trips that are set-up for people who have little or no experience. We teach as we go. We have other trips that are set-up for those who have more skills. We still teach as we go, but it is assumed those coming know a little more."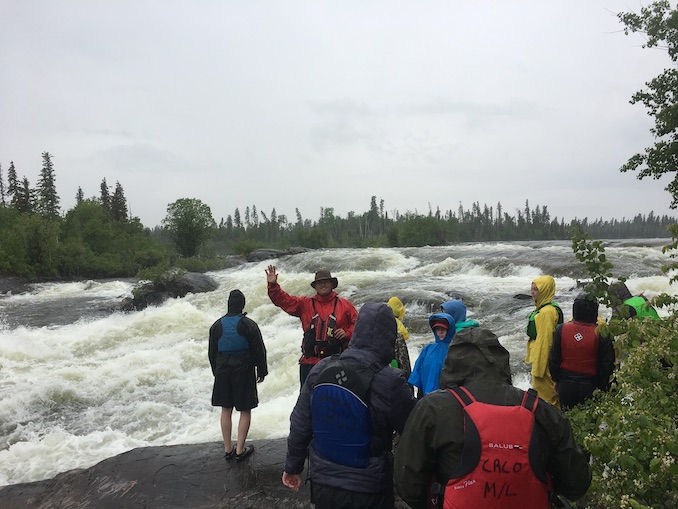 CG: "I'm not asking you to give away your favourite spots, but do you have a favourite place to canoe? What makes it so special?"
RD: "I mentioned earlier the importance of the people. When I think of my favourite spots, my thoughts always go to the people I was with at that spot. If I do have a favourite place to paddle it would be in the McLennan Canoe Area. I remember many of the groups I guided through that area. These people have helped to make the area special to me. But I love the area because it is so interconnected. There are so many lakes. These lakes are so well connected with short portages or short creeks. There is an endless supply of routes and places to explore. It is part of what makes Saskatchewan the best canoe country in the world. The lakes are small and intimate. I also love the Churchill River. The Churchill is a bunch of lakes joined by rapids or falls. The lakes, even though many are large, are so island filled one is never far from shore. Many of the rapids connecting the lakes can be run or easily portaged. So the Churchill can challenge the skilled paddler or can be paddled by a complete novice. During the summer months the water is warm (20 to 24 C). It is a very gentle wilderness."
CG: "Canoeing is a summertime activity, so what keeps you busy during the winter?"
RD: "In the '80s we started a manufacturing portion of our business. I sew tents, tarps, and make fireboxes. For a time until the late '90s we were very busy with this during the winter months. That has slowed since then, but I still spend many hours at my sewing machine every winter. I have a degree in theology. I have spent a number of winters as a pastor in various churches. I also do quite a lot of writing on various topics. Canoeing is a summer activity, but all winter our guests dream about canoeing. I spend a lot of time talking with guests about where they are going to paddle next summer."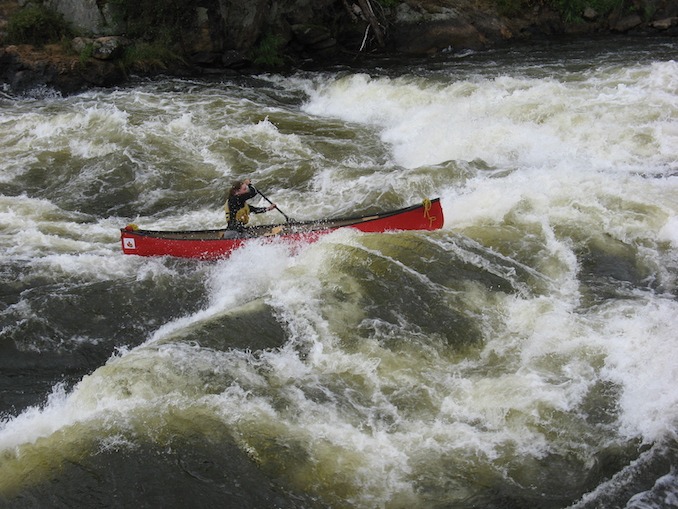 CG: "What sets CRCO apart from your competitors? Why should people choose you for their next canoe trip?"
RD: "First of all, it's not a competition. At least I don't see it in that way. I have a piece of the pie. I can fight with others involved in this business to get a bigger piece of the pie or I can work with others in this business to grow the pie bigger, then my piece naturally becomes bigger. I would much rather do this. There are many others involved in this business that are doing an amazing job. Choosing someone else to guide you on your canoe trip will be a good experience. I don't think you can go wrong. There are several things that sets CRCO apart from others involved in this business. First of all, our location. We are in the middle of the best canoe country in the world. I realize I am only a little biased, but our location puts us on the doorstep to so many adventures. That is a huge advantage no one else can claim. Secondly would be our long history and tradition. We have a tradition of running quality trips for almost 60 years. That tradition continues. Thirdly is our culture. CRCO has a culture of creating relationships. We have a culture of caring for and looking after our guests. We have a culture of relaxation, of retreat, of stepping out of life's rat race and enjoying wilderness. These are the things that set us apart."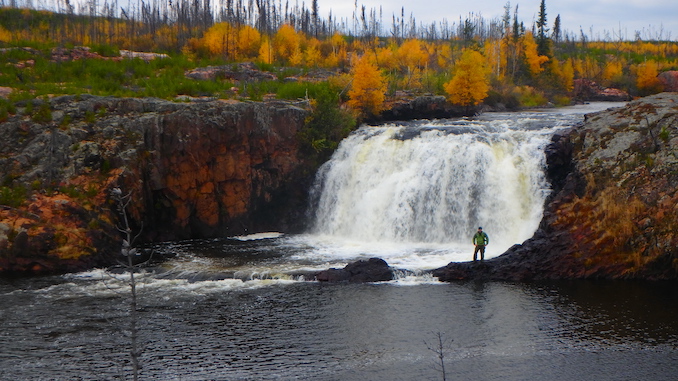 Ric took precious time away from prepping for a busy summer to thoroughly answer all of my questions, and for that I am very grateful. His passion, expertise, and wisdom shine through his words and provide the kind of calm confidence you want in a guide. Thank you Ric, for your time, your patience, and your willingness to be part of this process. It was all very appreciated.
To learn more about Churchill River Canoe Outfitters or to book your next paddling adventure, please visit their website. You can also stay connected on Twitter, Facebook and Instagram.
***
About this column:
Wild Jobs is a running series that focuses on people in outdoor-related professions. It provides a brief snapshot of their career and the duties that it entails. Please see my previous post, Wild Jobs: Kiteboarding Instructor to learn more.