"The more you know, the less you carry."

                                              ~Mors Kochanski
The first time I witness someone light a fire using only a bow drill and tinder I was amazed. I remember watching in awe as the sheer determination eventually gave way to a single ribbon of smoke. As the flames flickered to life, I was hooked. Since that time bushcraft has always fascinated me. The ability to go into the wilderness with minimal equipment and thrive on only what surrounds you is more than impressive.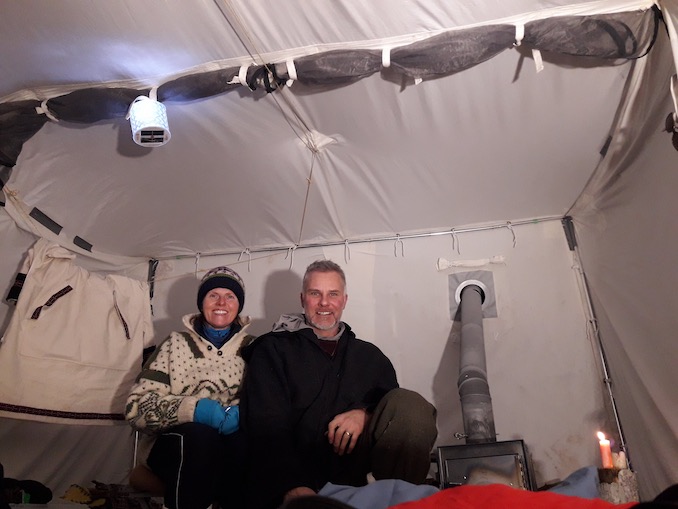 Recently, I hosted a professional development day for outdoor educators. One of the presentations was given by the dynamic husband and wife duo Dale and Colleen Kiselyk. Colleen has been an educator for almost 30 years, and Dale is a bushcraft extraordinaire. In an effort to learn more about the art of bushcraft skills I approached the Kiselyks to see if they'd be interested in an interview for my Wild Jobs series.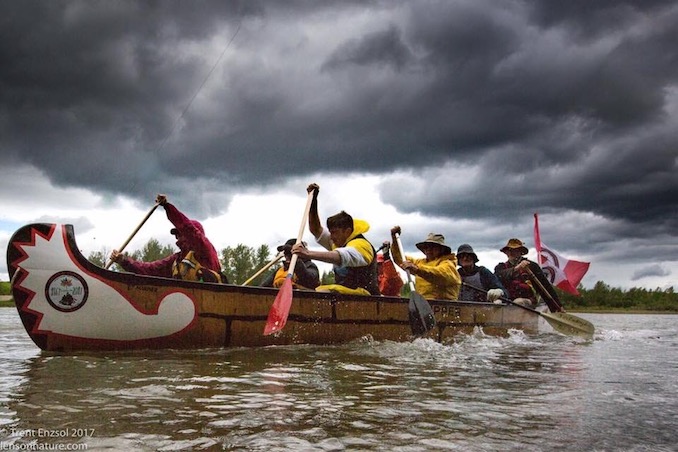 Graciously, they agreed and what follows are the highlights from our interview.
Calgary Guardian: "How long have you been teaching bushcraft?"
Dale Kiselyk: "I started out volunteer teaching in 1996 and by 2001 my reputation had grown enough that I was getting hired by youth groups, schools, and adult groups to offer sessions. In 2003 I was hired as the full time program director at a youth/adult camp near Edmonton, and my teaching of outdoor skills began to intensify with the addition of canoe instructor certifications and drum circle facilitator training. In 2007, I formed my company 'Nature Alive' and by 2017, Colleen and I became an Incorporated Company with the name 'Nature Alive Adventures'."
Colleen Kiselyk: "Dale and I got together in 2014. It was then that I was introduced to the 'bushcraft' world. Up to that point, I was an avid outdoor enthusiast; active in running, cycling, hiking, backpacking, camping, and anything else that got me outside and interacting with nature. Bushcrafting has been a natural addition to what I already love to do and enjoy."
CG: "How did you learn bushcraft yourself? Can you share a little about your background?"
DK: "It started with growing up in the small town of Athabasca. I lived on the edge of town near a forested area where the Muskeg Creek watershed flowed into the Athabasca River. This was my stomping ground where I learned to light fires, build shelters, handle tools like axes, saws, and knives, and this is where I formed my dream to meet an old 'Indian' who would share how to live off the land. As an adult, I started gathering survival and outdoor books on the subject and began practising bushcraft as a hobby in my free time. I travelled to the US and enrolled in numerous week-long courses at the Tom Brown Survival and Tracking School, and Wilderness Awareness School in various class locations. Another aspect of my training and experience was to immerse into Native Spirituality through a Sioux Medicine Man and various cultural ceremonies and teaching over a ten year period. A real turning point in my career was in 2007 when I contacted Mors Kochanski and arranged a mentorship with him via visits to his home, and assisting on his courses throughout the province. As Mors slowed his teaching career, he started passing some of his teaching contracts to me and I took them over. Looking back on my career, I would say that the greatest learning boils down to my commitment to getting out and practising the skills on my own time. It's fairly easy to capture the knowledge from the many books and internet sources out there, but in order to really become an accomplished instructor, you HAVE to get out there and spend countless hours practising the craft. Countless hours indeed."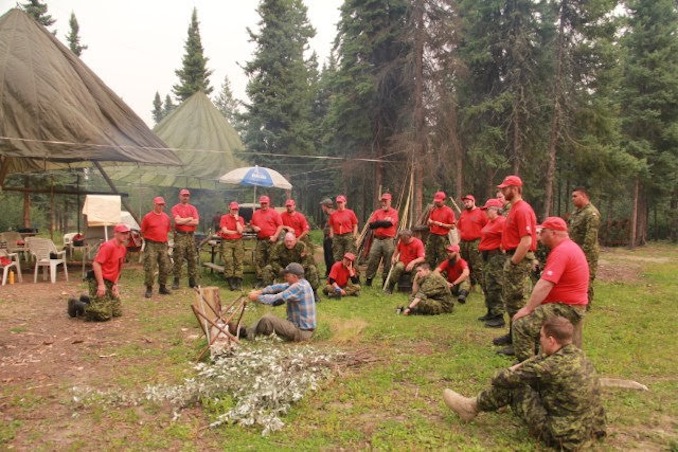 CG: "What types of skills are taught during a bushcraft course?"
DK: "The starting place is usually with the following; knife safety and skills, fire lighting methods and ways to manage fires for cooking, stoves, tying knots and making rope from natural materials, clothing for the outdoors, plant identification and edible and medicinal plants, and shelter building. Further down the bushcraft trail are interesting subjects like hunting and tracking, trapping, navigation, travel by foot, snowshoe, sled, and skis, tools of stone and bone, tanning hides, food preservation, and permanent shelters. The ultimate goal would be learning all the skills to adopt a mixture of a hunter-gatherer lifestyle, mixed with European contributions of metal tools, pots, wool and canvas, and items that they introduced to North America at the time of the Fur Trade."
CG: "What are the tools of the trade?"
DK: "A good solid knife that is basically a pry bar that shaves wood well. Adequate clothing for any given weather. Saws and axes. Ropes and lashings. Matches, flint and steel, and modern metal matches. Cookware and campfire cooking. But most importantly, the mindset to improvise, locate, gather, and build anything you require from the environment around you. For example, if you need a backpack to carry something – then make one. If you need a shelter – build it. If you require good outdoor clothing made from wool, learn to sew. It's all about adaptation in every moment and reliance on your skills and knowledge."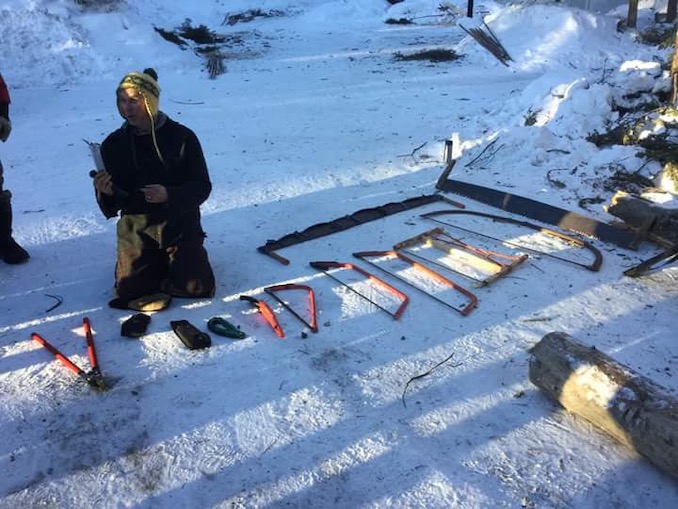 CG: "Is there a difference between traditional bushcraft skills and our more modern approach? If so, what does that difference look like?"
DK: "Great question! I like to break it down into three areas of expertise and equipment. First, Primitive Skills, which is basically primitive bushcraft. This involves living off the land, using rocks, wood, hide, bone, plant fibres, birchbark canoes, natural shelters, and hunting/gathering animals and processing the animals for food, tools, clothing, and shelters. Second, Traditional Bushcraft, which is from the pioneering and Fur Trade era. It's living off the land using forged tools, such as knives, axes, saws, etc., natural clothing made from wool, silk, and cotton, and using materials like iron for fire lighting, matches, canvas tarps, and other manufactured materials. Third, Modern Bushcraft, which is a mix of primitive skills, traditional skills, and modern materials that are often used in the modern No-Trace Camping movement. So the modern bushcrafters utilize nylon tarps, synthetic clothing, plastic items, gas stoves, water filters, composite canoes, GPS, and cell phones. Pretty much anything goes regarding outdoor skills, knowledge, and materials."
CG: "Personally, I feel the terms 'bushcraft skills' and 'survival skills' are used interchangeably. What's the difference between the two?"
DK: "I have it defined on my web site as follows: Bushcraft Skills – Bushcraft is about surviving and thriving in the natural environment, and the acquisition of skills and knowledge to do so. I would add that professional bushcraft instructors are sensitive to the environment and practise low impact activities.
Survival Skills teach the skills required to deal with sudden, short-term, and life threatening situations when participating in outdoor pursuits such as canoeing, hiking, climbing, backcountry camping, wilderness travel, and working in remote areas.  It can also be applied to sudden, life-threatening situations such as plane crashes, battlefields, disasters, famine, and other traumatic situations. Survival instructors ultimately teach that preservation of human life will trump protection of the environment. Basically, you do whatever you need to in order to survive the ordeal."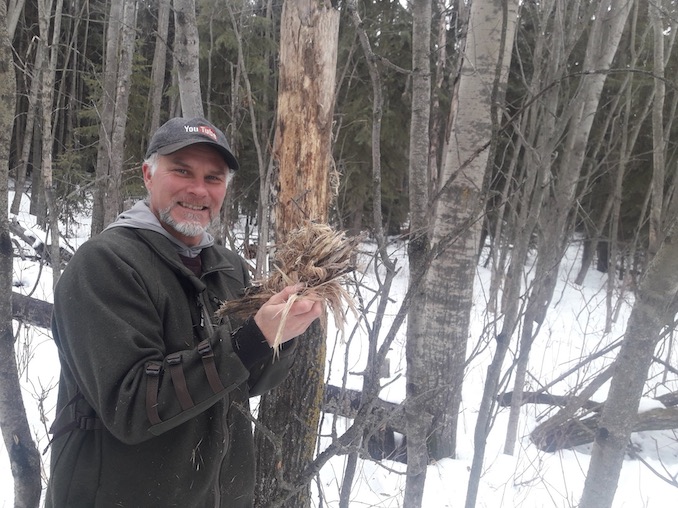 CG: "What's the best thing about teaching bushcraft?"
DK: "Seeing kids and adults succeed at a new skill. Also, hearing from people who work on the skills on their own, then letting me know what they've accomplished."
CK: "For me, I always enjoy the challenge of solving problems with what is at hand. It is neat for me to see others come to the realization that the outside world provides so much of what we need, like food, shelter, clothing, and recreation, if we are willing to learn and put the work into harvesting and preparing what is there. It is a rediscovering of the latent gifts of nature."
CG: "What's one of the most challenging aspects of teaching these skills?"
DK: "Teaching the skills comes easy. Filling courses and making a living is the challenge. We have tried for years to turn it into a full-time business without success. It is super challenging to balance full-time jobs (a plumber and a teacher), full-time family, and our growing, almost full-time adventure business. Logistically and mathematically it is tough to make a living teaching bushcraft. Alberta is relatively sparsely populated and its people are really spread over a large area. Plus, bushcraft enthusiasts are really only a small percent of all the outdoor enthusiasts in the province. To make a living with Nature Alive, we would have to run courses and trips every week throughout the year, and it's just not possible in Alberta. There are similar bushcraft schools that do run programs all year and many have numerous staff members, but they are usually located in the US or Europe where there are millions of people who live much closer together."
CK: "There are so many skills that I want to know and be proficient at all of them. As a relative newcomer to the practice, I feel the pressure of 'so many skills, so little time'."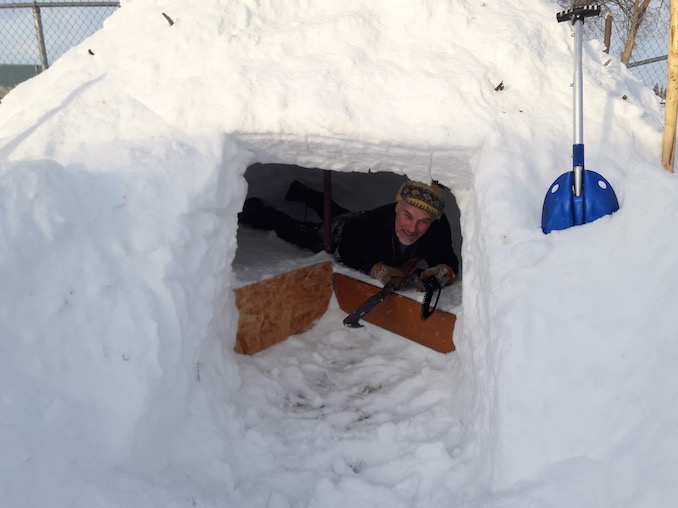 CG: "How do you see bushcraft fitting into today's approach to outdoor education with increased emphasis put on Leave No Trace and ethical/responsible outdoor travel?"
DK: "This can be a hot topic for some people. In the early 90's I spent a few years mountaineering and backcountry camping in our national and provincial parks. During these years, I fully immersed myself into No-Trace Camping, and I feel that adopting No-Trace Camping was a crucial addition to my career path. Practising a No-Trace philosophy is absolutely necessary in many parts of the world and here in Canada it is necessary when our outdoor activities are in or near any park, ecological reserve, or well-travelled public lands where conservation and preservation of nature is paramount. This philosophy is then easily transferred to all our outdoor activities including bushcraft, survival, gathering plants, and building shelters in areas of the province where these type of activities are appropriate. Teaching people to be stewards of the land and to be acutely aware of the impact of all outdoor activities, is always a significant part of all our courses and trips. It just makes sense."
CG: "How long has Nature Alive been around? What prompted you to start the company?
DK: "The fulfillment of a life-long dream to have some sort of outdoor education school or company that I could call my own.  Also, in 2007, the youth camp that I was working at went through some drastic changes, and so the opportunity came up for me to launch into a new career path. So I enrolled in a self-employment program and spent six months writing a business plan and learning how to manage all the aspects of running a business.  The self-employment program helped me to learn the business side of Nature Alive Adventures."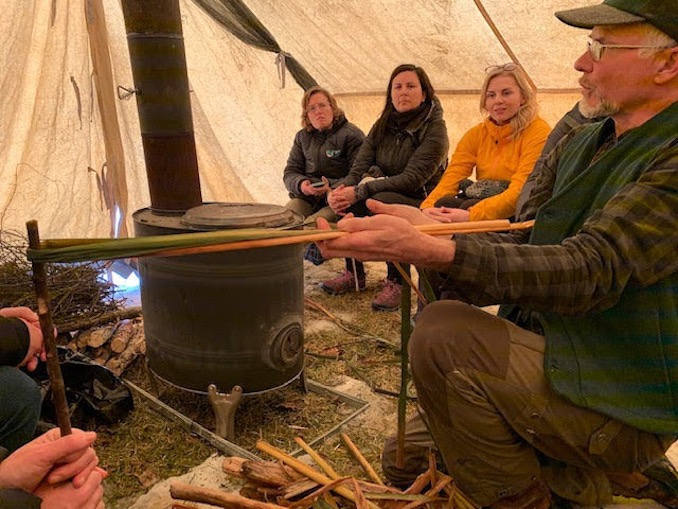 CG: "Other than bushcraft courses, what other types of programs do you offer?"
DK: "A large part of our programming is centered around canoeing. Colleen and I are nationally certified instructors with Paddle Canada, so each year we offer canoe courses under the Paddle Canada curriculum. We also offer single-day and multi-day canoe trips for groups throughout the season. Another aspect to our company is Drum Circle Facilitation. We own roughly 100 drums and hand percussion instruments, so we are able to accommodate a fairly large group. Our Drum Circles are really user friendly and fun, and it is very easy to supplement any event with one-to-two hours of in-the-moment music making. We often combine programs, for example a day of bushcraft or outdoor education may conclude with a drum circle for the group.
Winter camping and snowshoe/toboggan trekking is another aspect of our company. We have enough equipment to take eight to ten people snowshoe trekking with all the camping gear hauled into camp on our own hand-made freight toboggans. We camp in canvas tents with wood stoves and we travel and explore the frozen rivers of the Boreal Forest. It is a wonderful way to experience the outdoors and gain experience with cold weather clothing, footwear, stovemanship, reading ice, and travelling in deep snow. We are also fortunate to be in partnership with a community of professional outdoor educators in Alberta. So we are able to build programs that utilize the knowledge and experience of educators who offer programs outside of our toolbox. For example, we can bring in instructors who are skilled in edible and medicinal plants, ethical trapping and snaring of animals, hunter training programs, kayaking, and wilderness first aid."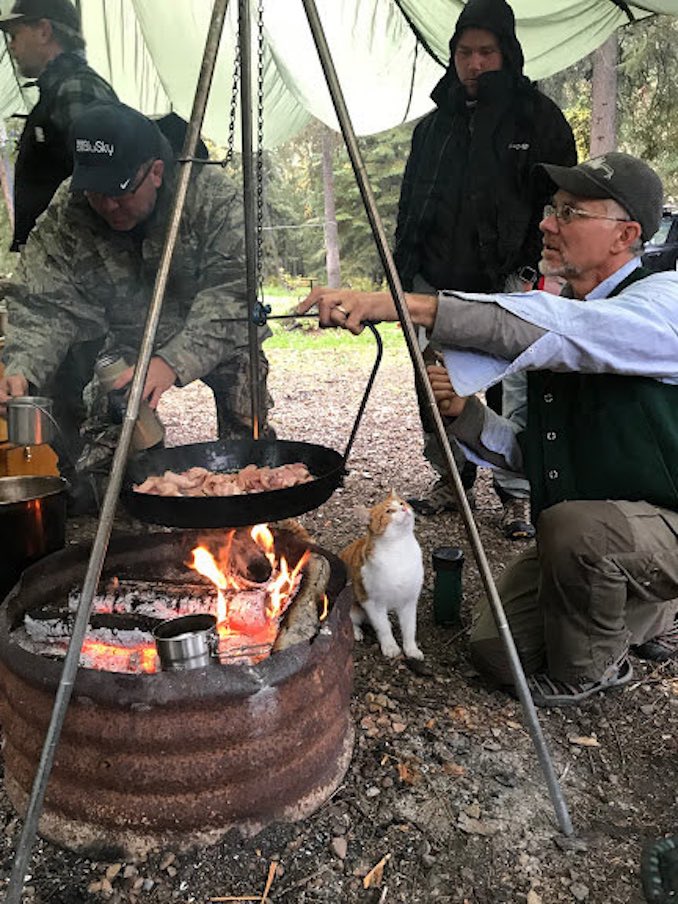 I would like to take this opportunity to thank both Dale and Colleen for taking the time to answer all of my questions. The dedication you display to your craft is really inspirational.
To connect with Nature Alive Adventures, please visit their website or you can find them on Facebook, Instagram, and YouTube.
***
About this column:
Wild Jobs is a running series that focuses on people in outdoor-related professions. It provides a brief snapshot of their career and the duties that it entails. Please see my previous post, Wild Jobs: Heli-Ski Guide to learn more.