The very first story I published when I started writing for the Calgary Guardian back in 2014 was all about stand-up paddleboarding (SUP). More specifically, how one could change their perspective on the traditional mode of transportation, from raft to paddleboard, while floating down Calgary's riverways.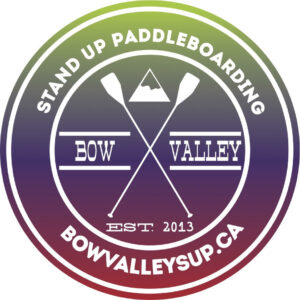 Back then, paddleboarding was just beginning to break into the mainstream consciousness of Albertans who recognized their potential on both flat and moving water. I caught the bug early, purchasing my first inflatable board, an NRS Earl 4, in early 2012 and haven't looked back. I remember the first time I launched my board on Lake Louise. With my dog, Rome, perched on the front, we were like a novelty act. It was likely the closest I have ever been to reaching celebrity status as countless tourists acted like the paparazzi, snapping our photo. Even an employee of the Lake Louise Boathouse asked if he could photograph us, as he'd never seen anything like it.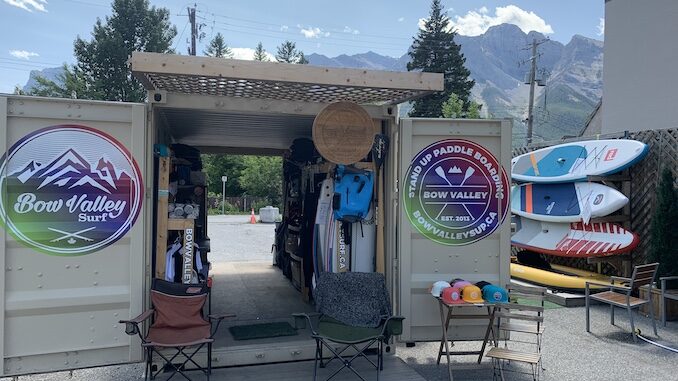 The sport has come a long way since those humble beginnings and now it's not uncommon to see SUPs on any vehicle-accessible lake in the Rockies, and even a few more that require a hike to gain access. The technology that is being implemented and the board designs being released are incredible. Now there are boards specifically designed for white-water, flat water, fishing, yoga, surfing, touring, and more. Even the deluge of brands will make your head spin. When I bought mine, the options were extremely limited, now there are dozens of companies vying for your hard-earned dollars. It's nice to have options, but with that many choices things can get confusing fast.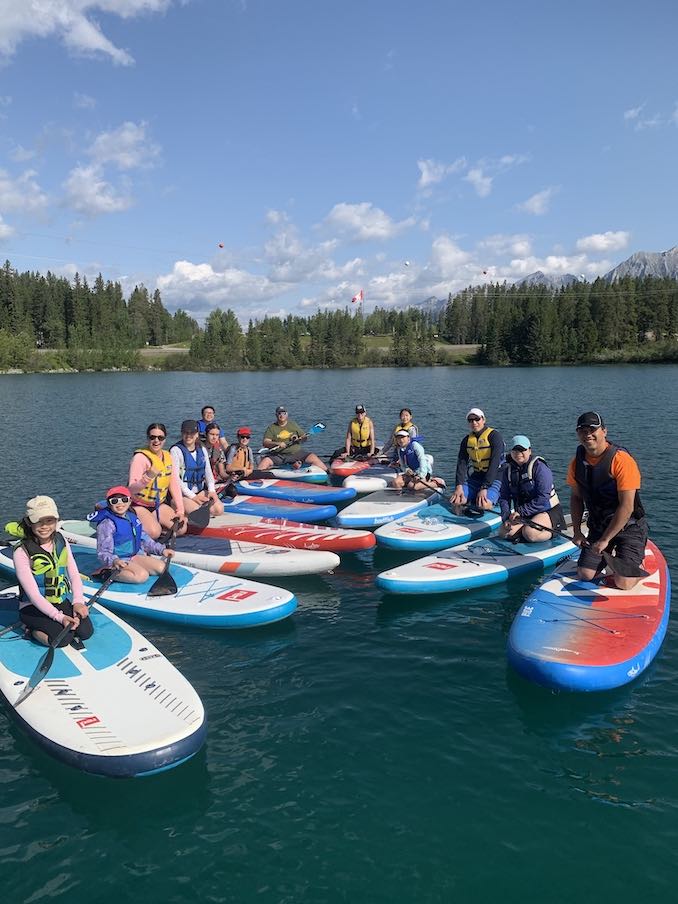 With that in mind I reached out to Bow Valley SUP to help shed some light on the paddleboard scene in the Rockies and get some insight into their guiding program. Bow Valley SUP is located in Canmore and has been in operation since 2013. They are a tight-knit group of five employees, including Julie Chang, the Shop Manager, who graciously answered all of my questions. Continue reading to learn what it's like to be a paddleboard guide, to get some recommendations on specific boards, and to discover some of the best paddling spots in the Bow Valley.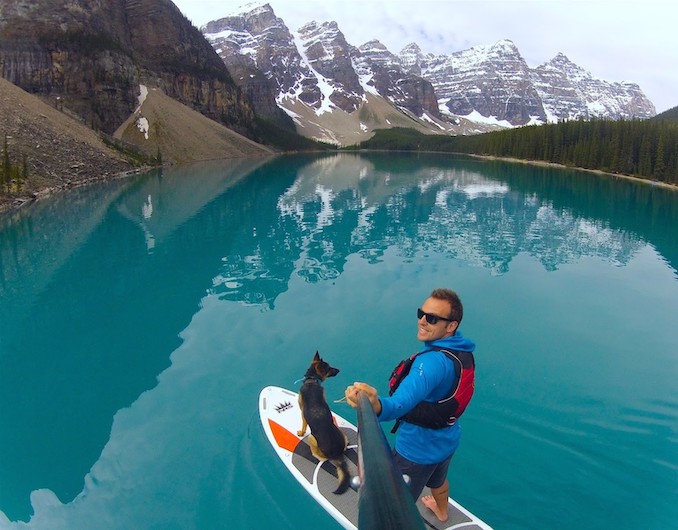 Calgary Guardian: "I know you offer lessons and guided tours. What type of certification/training do your guides need to be qualified?"
Julie Chang: "There is actually no certification required to teach Stand Up Paddleboarding however it's definitely preferred to have Paddle Canada certified guides, which all of our guides are. Within national parks you need to have an Interpretive Guide Certification and standard First Aid/CPR training is also crucial."
CG: "What's the trickiest part for first-timers learning to SUP?"
JC: "I would say that finding balance on the board is the most challenging part for beginners. Their bodies are usually quite rigid and tense when standing on a SUP for the first time. The cold water is definitely the number one mental barrier for first-timers."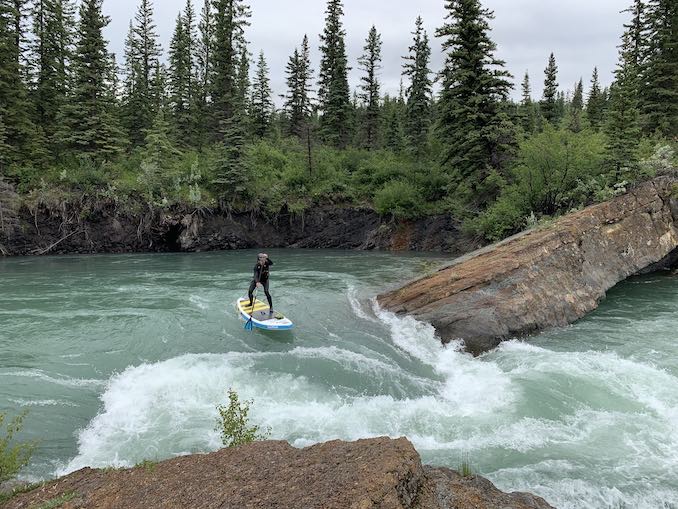 CG: "If I was looking to purchase a SUP for the first time what would you recommend I look for in a board?"
JC: "You basically get what you pay for with a SUP. There are cheap versions out there, but they are typically not built as well. It depends what someone is looking for, but stability is typically the number one thing to look for in a beginner board. The tri-fin set up is also good for added stability."
CG: "Are you loyal to certain brands or does it really matter in the end?"
JC: "We've been selling Red Paddle Co, Kootenay Paddle, and Badfish SUPs for a number of years now and they make some of the best boards on the market. They are very high-quality boards that we've tested out ourselves year after year and know they can be trusted."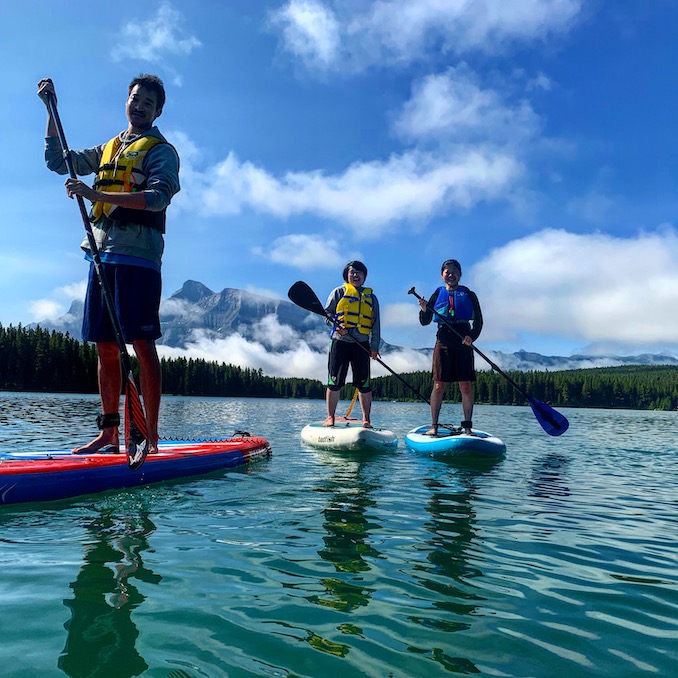 CG: "What are some of your favourite places to paddle in the Bow Valley? What makes them so special?"
JC: "Some of our favourite lakes to paddle are the Canmore Reservoir (Rundle Forebay) and Two Jack Lake, which are both close to our location. If you're willing to go off the beaten track a bit there are other spots such as Bow Lake and Herbert Lake."
CG: "When you hit the water what are your must-haves?"
JC: "A Personal Flotation Device (life jacket) is definitely the most important thing to have on the water. Also a leash and communication device, such as a whistle, are also imperative. Due to the ever-changing weather here in the mountains it's crucial to dress appropriately and have back-up clothes as well."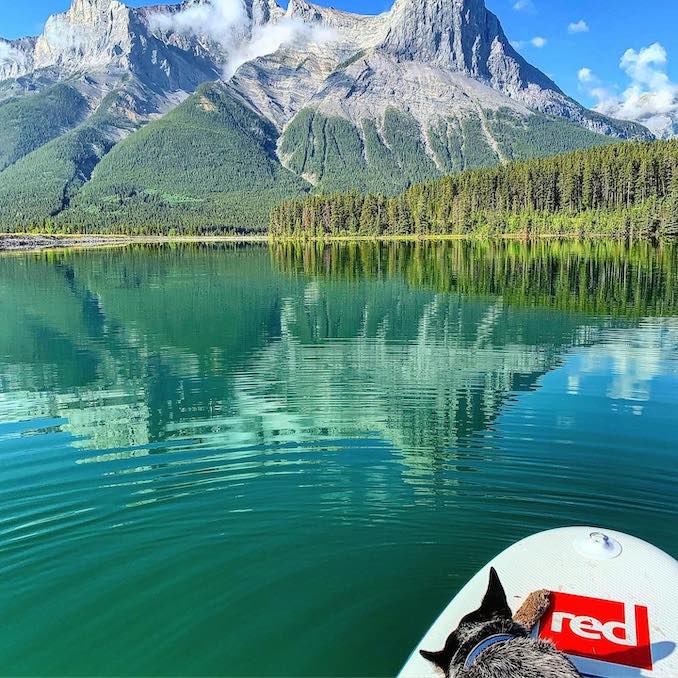 CG: "Do you prefer flat water or moving water for your adventures? Do you need additional skills to paddle on moving water?"
JC: "It depends on the type of experience you are after. Flat water paddling can be very calming and meditative whereas the river is much more fast-paced and ever-changing. Yes, you definitely need your balance to be dialed-in on a SUP before you hit the river and coordinated footwork, think moving around on the board, is also key."
CG: "In your opinion what would you say are the biggest hazards while SUPing? How do you mitigate those dangers while on the water?"
JC: "Cold water and shallow water are two of the top hazards when SUPing. Proper clothing, such as neoprene or Gore-Tex suits, are key to mitigate the cold water. As for shallow water, dropping down to your knees is a skill that can help."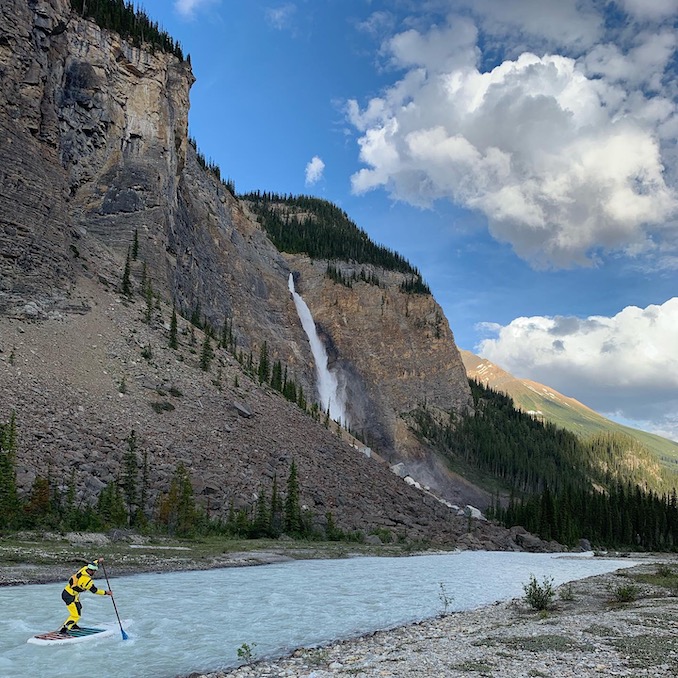 CG: "What sets Bow Valley SUP apart from your competitors? Why should people choose you for lessons, rentals, tours, and information?"
JC: "We have been in the SUP industry for seven years now and have seen the growth of the sport over the years. We are the only company that is permitted to operate in Banff National Park and all of our SUP guides have their Paddle Canada certification. Combined, our guides have over two decades of experience guiding and teaching this sport."
CG: "Thank you very much for your time and expertise Julie, it's really appreciated!"
The next time you're looking to get out on the water, swing by Bow Valley SUP and talk to their team of experts. They'll make sure you have the proper gear, confirm you know how to use it, and point you to the best paddling locations around. Make sure you say hi to their resident shot dog Blu before you leave though!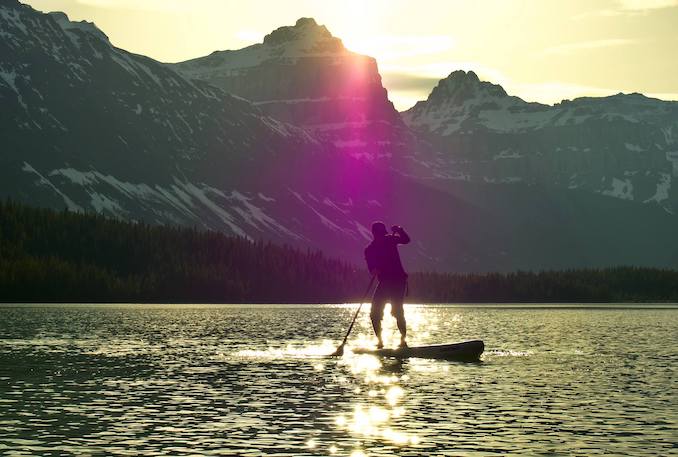 To book your next set of lessons or a tour please visit the Bow Valley SUP website. You can also stay connected online via Facebook and Instagram. See you on the water!
***
About this column:
Wild Jobs is a running series that focuses on people in outdoor-related professions. It provides a brief snapshot of their career and the duties that it entails. Please see my previous post, Wild Jobs Part Seventeen: Helicopter Pilot to learn more.