This year, Indigenous participation in the Calgary Stampede grows to new prominence! July 12th – 14th will see the first Competition Powwow take place in the Saddledome including competitive dancing, drumming, singing and a showcase of other Indigenous performances. Indigenous dancers from all across Canada and the United States will gather to compete for $175,000 in prize money.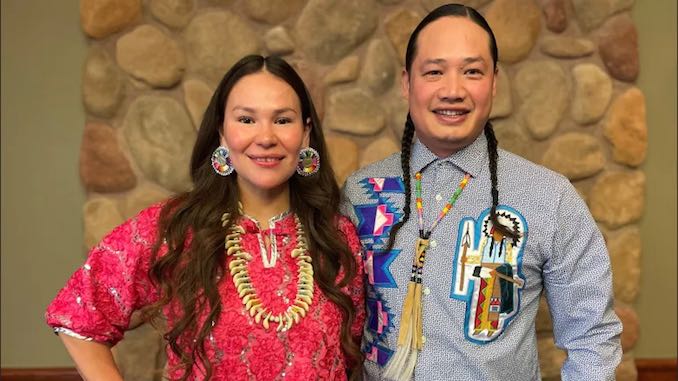 Originally from Treaty 6 territory, Patrick and Marissa Mitsuing are the founders and President and Vice President of Powwow Times. Patrick and Marissa started Powwow Times to help connect people with Native American Culture, Teachings and Knowledge. They are thrilled to be working in collaboration with the Calgary Stampede and members of the Tipi Encampment to bring the best Indigenous dancers to Treaty 7 territory to compete. "This is definitely going to be an international event," says Patrick. "We have dancers coming from Texas, California, and Ontario."
Indigenous Peoples, and especially those from Treaty 7, have always been an integral part of the Calgary Stampede. The first Calgary Stampede and Exhibition was held in 1912. Guy Weadick, the founder of the Calgary Stampede, was adamant that the participation of Indigenous Peoples would be critical to the success of the event. Weadick had already spent several years traveling with Wild West Shows, touring vaudeville halls and circuses all over Europe and Russia. When he arrived in western Canada, he decided to start his own Exhibition. However, during this time, many Indigenous Peoples were confined to reserves across Canada and the United States, and reliant on government permission to leave. Many traditional practices were banned. Weadick successfully pressured the government to not only allow the Treaty 7 Nations to attend Stampede, but also to pay their way.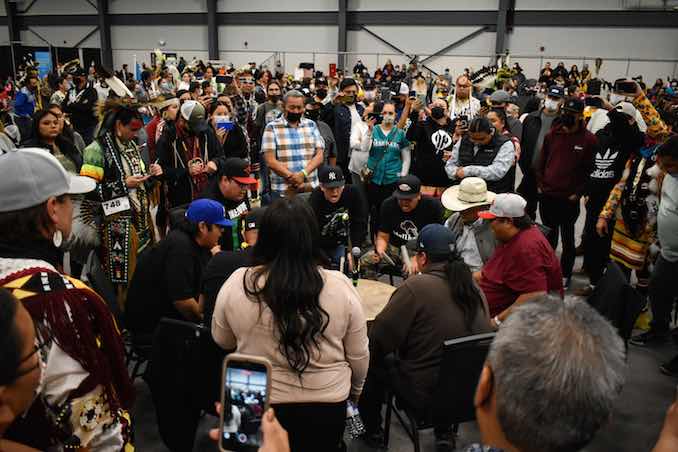 While the Calgary Stampede has not been immune to criticism from Indigenous groups in the past (including a protest organized by the American Indian Movement in 1975) many Indigenous people view their participation in Stampede as an ongoing resistance against government assimilation policies.
"When we signed treaty a lot of our ways of doing things, our culture, our gatherings were outlawed. The Stampede was a loophole for us to sing and dance without going to jail. Every year the Calgary Stampede was hosted, it was a way for us to not have to be in hiding, to sing our songs and do our dances, set up tipis, speak the language, it was a way for us to still do that" says Patrick.
The Stampede, through the Elbow River camp, has hosted powwow 'demonstrations' in the past (and will continue to do so), but the Competition Powwow will offer a glimpse into the true breadth of powwow culture, welcoming dancers and drums from all around North America. Staging the powwow inside the Saddleddome, also accommodates larger audiences than would be possible at the Elbow River Camp.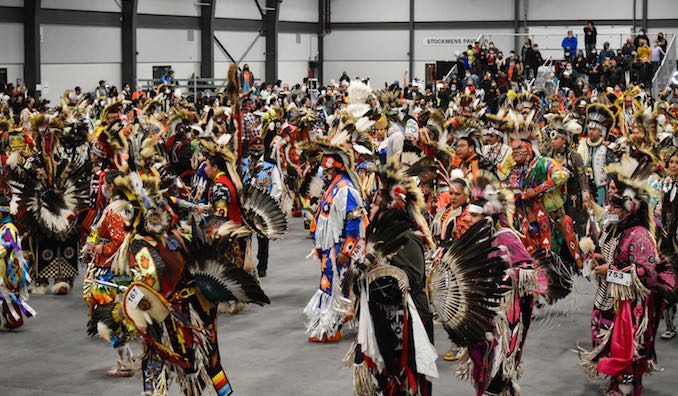 While the modern day powwow is recognized as having its roots in Plains Indigenous culture, it evolved into an important event for inter-tribal sharing of songs, dances, and other cultural aspects. Patrick and Marissa anticipate that having such a major powwow at Stampede will help raise the profile of all powwows in Alberta, incentivizing the best dancers to make a longer stays in Alberta so that they can participate in the thriving powwow circuit that already exists.
Both Marrisa and Patrick are champion dancers themselves, and have been producing events for over 15 years. Patrick has been competing at powwows since the age of 13, while Marrisa, a child of residential school survivors, was able to reconnect and learn about her culture through powwow and dance. They are both strong advocates for powwows as an important bridge to help disconnected Indigenous people step back into their culture.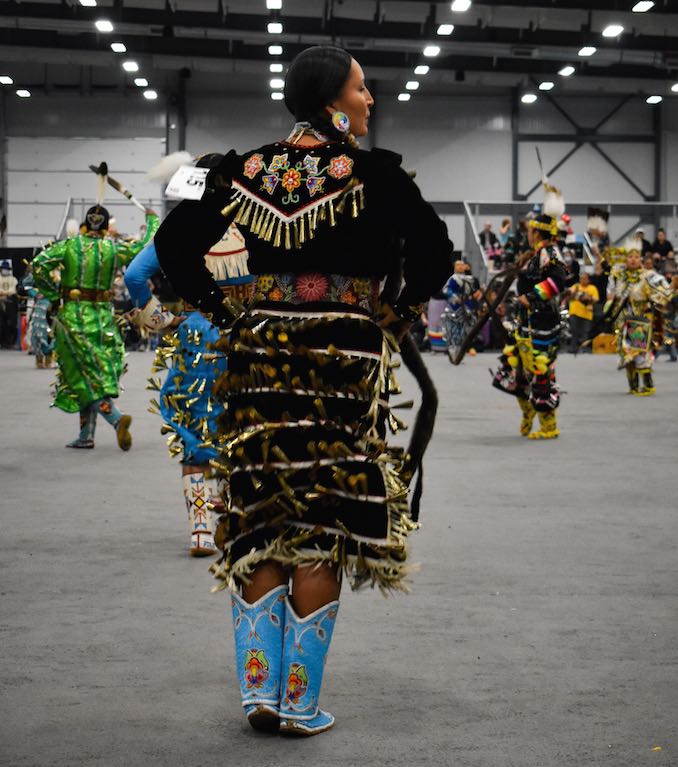 "Through traumas and residential schools, a lot of our people's connection with their culture has been lost or broken, but through events like the Stampede Powwow, we are able to share the tradition of Powwow and help reconnect Indigenous peoples to their own culture, while introducing and sharing it with non-Indigenous peoples as well."
All are welcome and invited to attend the Calgary Stampede Competition Powwow, happening July 12th – 14th.  Admission to the powwow is included in a general admission ticket to the park. Check the Calgary Stampede Website for more information.