In December 2020, Salomon TV released 'The Chairlift', an ode to our favourite mode of transportation. Through stories, humour, and conversation, the film explores the question, 'what is your favourite chairlift?' The film's creators celebrate the invention that brings skiers and riders together and changed modern snow sports forever. Skiing and snowboarding wouldn't be nearly as popular without those spinning chairs. But anyone who has ever been transported to the summit on one will tell you that those chairlifts are only as good as the people running them.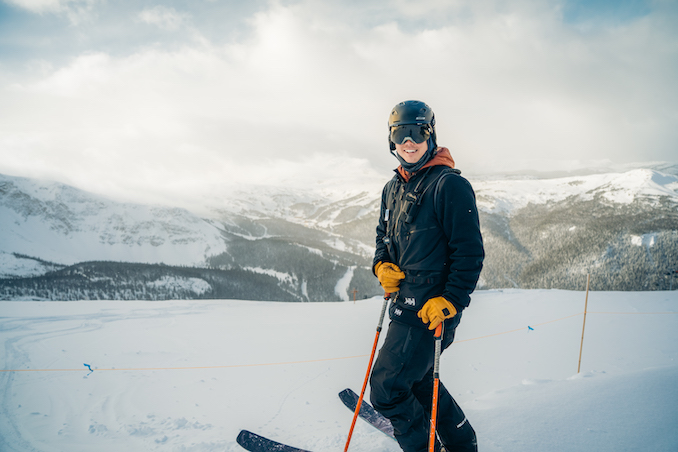 Lift Operators, commonly referred to as lifties, are the face of winter resorts. They're integral to the day-to-day operation and are the staff members that interact the most with the public. Ticket agents get you on the hill, instructors up your game, ski patrol are the on-mountain 'celebrities', bartenders quench your thirst, and avalanche dogs are adorable, but lifties are standing out in the elements, smiling, laughing, dancing, and wishing you well as you catch the next chair to the top. They provide insider info on favourite runs, powder stashes, and when closed terrain may be opening so you can obtain those elusive first tracks.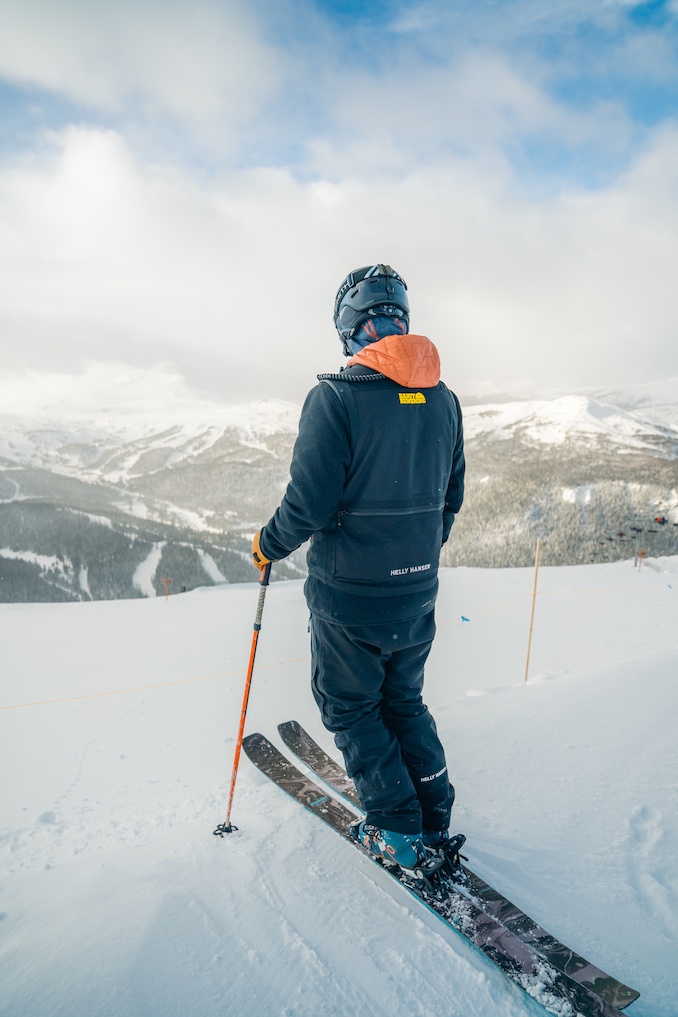 I've wanted to get this story off the ground for the past couple of winters. It was challenging to find the right person as the profession tends to have a transient nature to it. Thankfully, I was virtually introduced to Spencer McFeetors, the current Lift Operations Supervisor at Sunshine Village Ski Resort. Spencer was just as keen about making this story a possibility as I was, and after some communication it became very apparent that he was the the ideal person to be interviewed for the latest entry in my Wild Jobs series. What follows is an insider look at the career of a Lift Operator. I present to you the life of a liftie!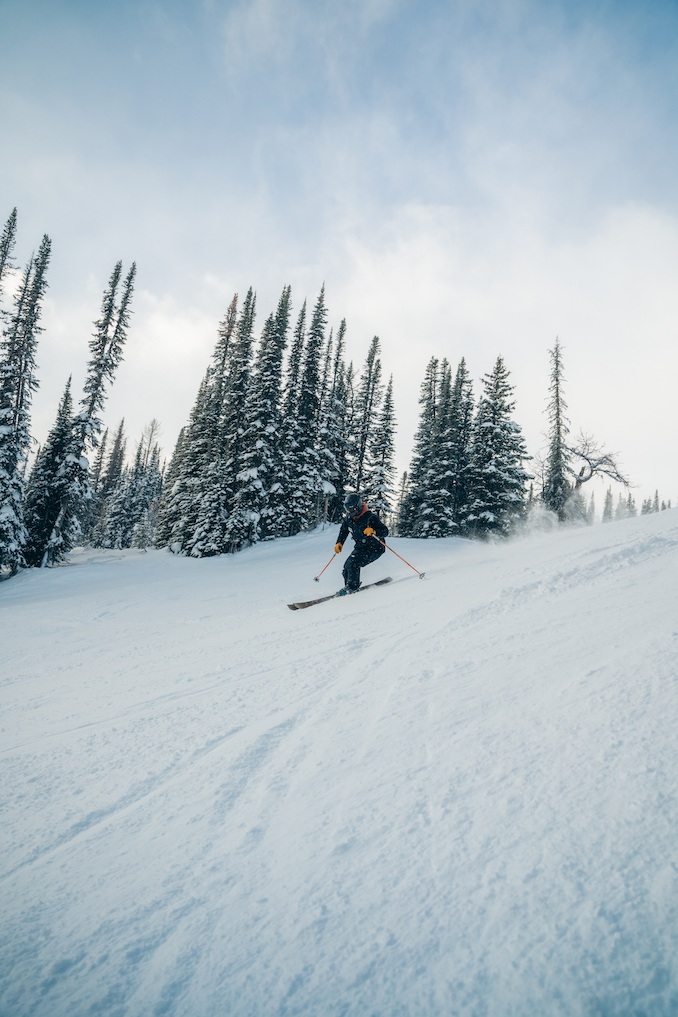 Calgary Guardian: "How did you get your start as a Lift Operator?"
Spencer McFeetors: "I have been working at Sunshine Village now for the last four years, which have been some of the best times of my life. Originally, I began as a Lift Operator for my first year, then moved into a Lift Administrative Clerk role, and now  I am the Lift Operations Supervisor. I got my start with the company after completing a Ski Resort Operations and Management (SROAM) college program out of Nelson, BC, which was another amazing experience that I would highly recommend to others looking to begin a career in the ski industry. After receiving a job offer and scholarship from Sunshine, I decided to take a role at this resort starting as a Lift Operator. The experience I gained from operating lifts, learning about the department from the ground up, and gaining knowledge in the maintenance department has allowed me to progress in the role of supervising the department. Before Sunshine, I had worked for Whistler Blackcomb, as a lead hand in food service for the Roundhouse, and during my time in Nelson completing my college diploma, we worked very closely with Whitewater Ski Resort."
CG: "There are a lot of international employees at Sunshine Village and in the ski industry as a whole. Where are you from originally? What brought you here?
SM: "Working in a ski resort and being involved in this experience is such a magical place to be. From the people you meet and work with, to the perks of skiing and snowboarding everyday. There is truly no other industry like it. Personally, I feel I have been able to travel the world while staying here in Canada. Meeting all kinds, and building relationships with people who have travelled far and wide to experience the beauty of the mountain environment. This common goal for adventure and adrenaline is what brings us all together, and helps create this remarkable atmosphere to work and live in.
Originally, I am from Winnipeg, Manitoba. If you know much of the prairies of Canada you know that your skiing options are particularly limited. But that was not off-putting for my parents, as they made the effort to teach us how to ski, take us to the mountains, and help build this love for the mountains and sport, which is now the centre of my life. I have been living in Canmore, Alberta for the last four years and couldn't be happier with my decision to make a life doing the things I love most."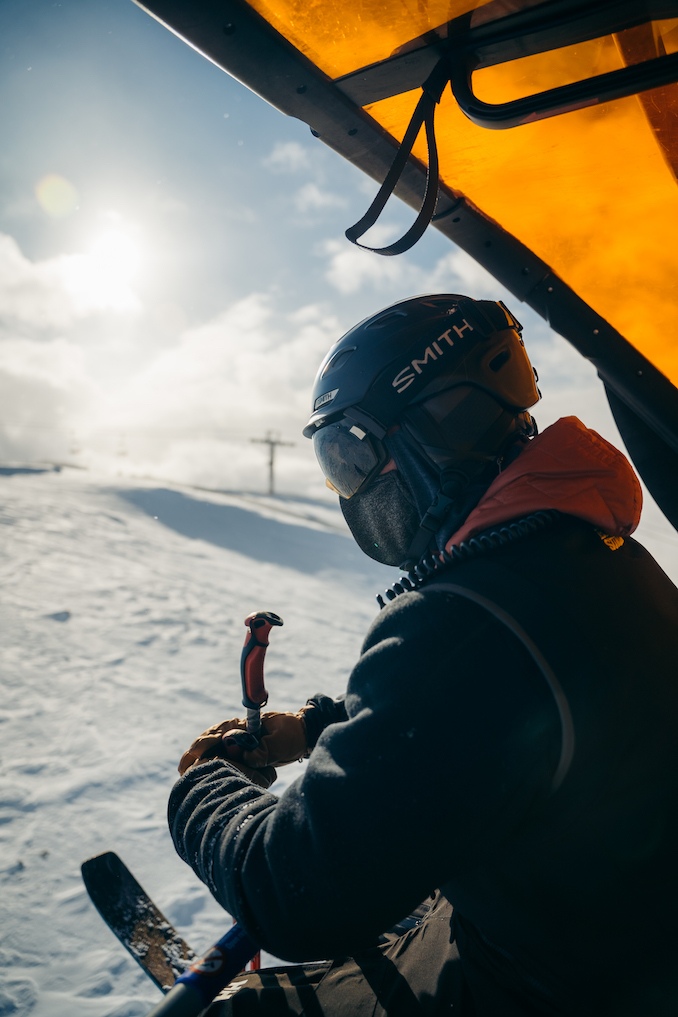 CG: "Why did you want to become a liftie? What drew you to the profession?"
SM: "I wanted to become a Lift Operator because of the job description and the perks that come along with it. We get to operate heavy machinery safely and efficiently, which includes safety checks, stopping distances, zone tests, snow maintenance, and daily operation etc. I chose this profession because of all the likeminded people working collectively towards the same goal; TO SKI POWDER AND HAVE FUN DOING IT!"
CG: "You may have just answered that question, but what's the best part of your job?"
SM: "There are many reasons why being a Lift Operator is such an amazing job. To start, the access to skiing/snowboarding 100+ days a year, while being able to catch the most amazing views from your office (sunrise or sunset), day in and day out is second to none. Next, is being a part of the guest's experience on the mountain. As an operator you have ample opportunity to create relationships with the guests and talk with people as they come through the lift lines. No matter the skill level, it is truly amazing to witness the joy and happiness people gain from a day on the slopes. Being part of that, especially during these current times, is very special to me, and has created memories that I will never forget."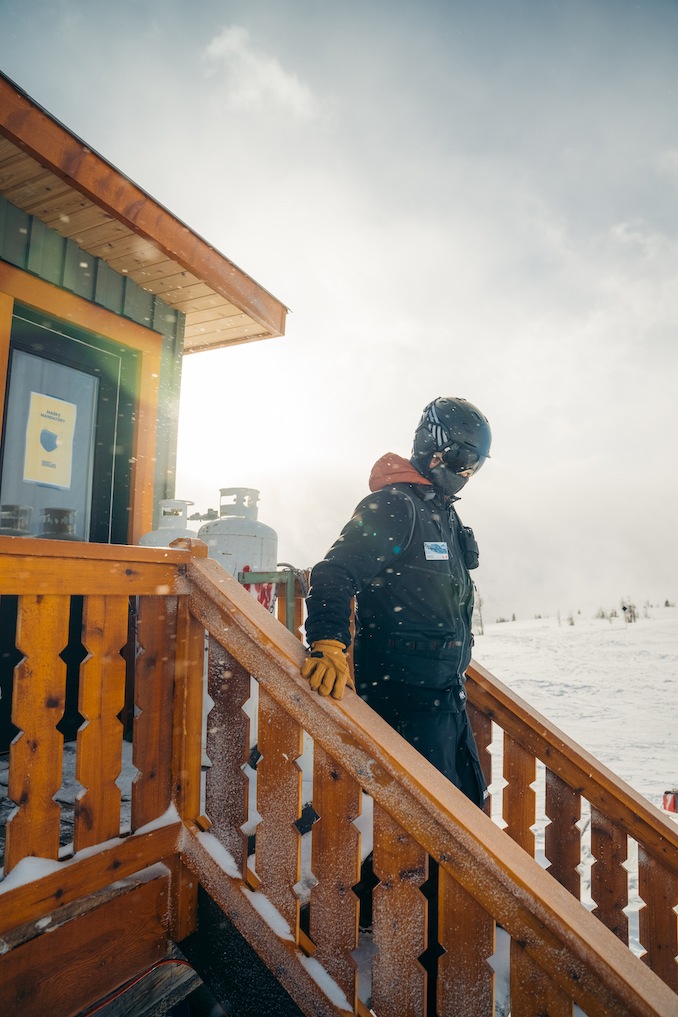 CG: "What's the most challenging aspect of your job?"
SM: "Working in the tourism industry presents many challenges. For my world, I think the most difficult aspect of the job is that there is never an ordinary day. This means that as a supervisor I am always adapting to a changing environment and thinking quick on my feet. Some days it's -30 Celsius and lifts are on hold, the next the winds are gusting upwards of 100km/h. We really are at the mercy of the climate and environment, and do our best to operate with the guest's and staff's safety in mind, while providing this amazing guest experience."
CG: "Unless you're following the seasons around the globe, your job is a seasonal one. What do you do during the summer months?"
SF: "During the summer months I also work for Sunshine Village in the Lift Maintenance department. This has been an amazing experience for me to work with a great group of guys, while seeing a different side of the chairlifts. A lot of people don't understand how much work gets done throughout the summer months in preparation for the next year to come. I have been lucky enough to help with haul rope splices and replacement, tower work, preventative maintenance, non-destructive testing, grip building, and more. Gaining this experience from the maintenance point of view has also benefited my knowledge of the lifts, which is very valuable for me in the operations aspect. With that being said I'd like to give a shout out to the Lift Maintenance crew for all the hard work they put in over the summers. Their efforts allow us to enjoy the beauty and joy of skiing/snowboarding safely every winter season."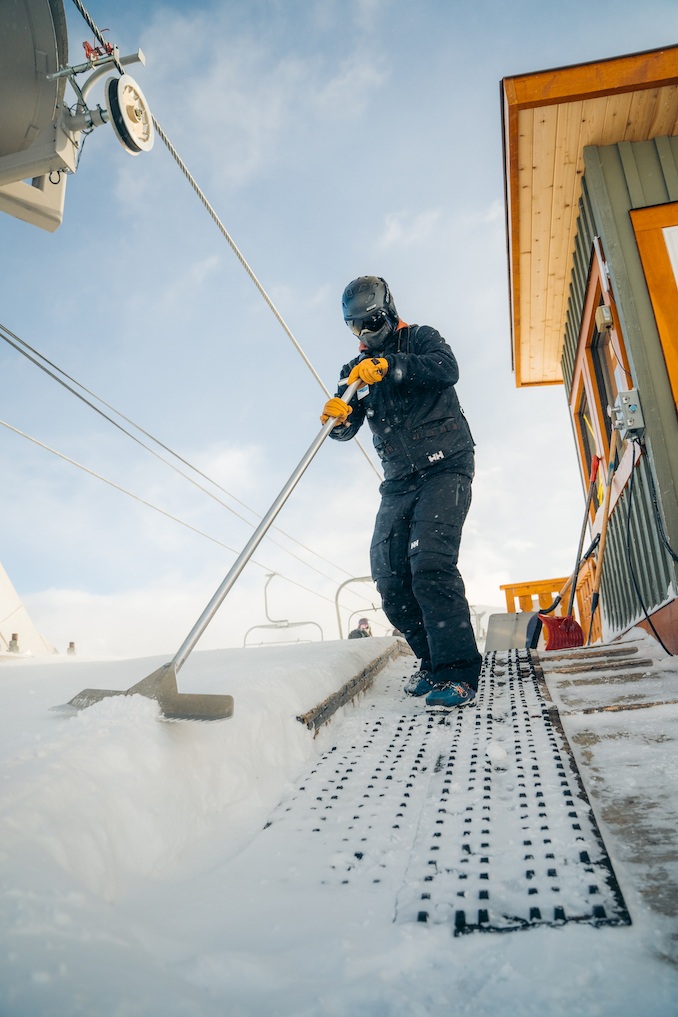 CG: "Are there any types of certification/education required for your job or is it mostly on-the-job training?"
SM: "To work as an operator, you do not need any prior experience. We developed a comprehensive training process that instructs new staff how to operate the lifts in a safe and efficient manner. For my role as supervisor, there is some experience required. First, as the supervisor it is essential to have experience with the lifts. I gained this experience from being an operator, Lift Administrative Clerk, along with working with the maintenance team for the past three summers. I have been able to apply this understanding in the current role I am in now. Also, previous leadership experience is required, as I do look after 60 staff members."
CG: "You mentioned there's no such thing as a 'typical' day, but could you walk me through what a regular day at the office might look like?"
SM: "The days begin by catching a free staff shuttle from Canmore at 6:45am and arriving at the base of Sunshine Village at 7:30am. Once at the base area, I will start up my snowmobile and let it warm up. From there my assistant and I will drive the sled up the ski out to our home base, Lift Operations. Now signed in, I will begin to prepare for the arrival of the team. The operators will begin to arrive at Lift Operations around 7:50am, where they will get geared up to spend the day outside in the elements. Every day I will do a morning meeting at 8:10am to discuss the day, do a COVID assessment, and help inform the team of anything we would like to adjust. After the meeting, all the operators and leaders will ski/snowboard to their assigned lifts to begin the start-up process and safety checks. Every day each operator completes a lift log, which includes safety checks, stopping distances, lift signage and speed, snow maintenance, line checks, and zone testing. These daily checks/logs ensure the lift is ready and safe for operation to the public for 9:00am. At this moment the sun is cresting over the neighbouring mountains, always creating a beautiful charming sunrise. Now the lifts are open, the operator will begin their day interacting with guests, and maintaining a safe work place. With the lifts open I now have time to tackle some administrative duties, including payroll, scheduling, training, and whatever else comes up throughout the day. Like I said before, there is rarely a regular day in this department so finding time to get all of this done while answering calls and checking on the operation can prove difficult. At the end of the day, each lift has a very important closing procedure which ensures the line is clear before heading home. Once each lift has called last chair and successfully cleared the line at 4:00pm they will clean up, power down, and do their snow maintenance so the ramp can harden overnight. Finally, each person will arrive back to Lift Operations to be signed in so we can guarantee no employees are left on the mountain. This is a typical day in the life of a Lift Operator, but is always and will be subject to change. A good operator has a positive attitude, is safety oriented, is keen to adjust to changing conditions, and wants to enjoy the mountains and the perks that come with it."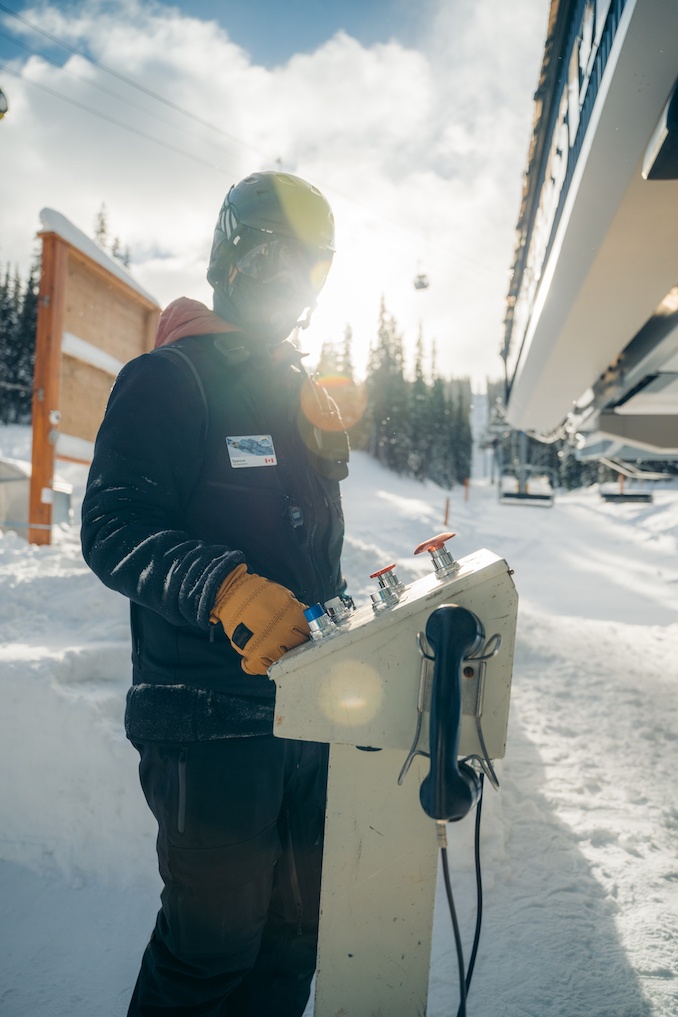 CG: "Do you have any exciting, interesting, or funny stories that have happened to you while on the job?"
SM: "I will touch on the constant laughs, positive memories, and life changing moments I have had working at this beautiful ski resort. From skiing the best runs of my life, which I could have only dreamed about as a kid, to the amazing camaraderie within the team. This is what creates a positive work environment that I look forward to each day."
CG: :What advice would you give somebody that's looking to get into a similar role as you?"
SM: "My advice would be to just get out there and submerse yourself in the industry. Send an application to a resort you like and want to work with, but don't limit yourself to a certain department. There are many positions that open up throughout the season, and we highly encourage promoting staff within the company. Take a chance, leave your comfort zone behind in the wind, and do something that will truly make you happy. I want to encourage others to follow their dreams, take a gap year, and set new goals to achieve a healthier lifestyle. It is easy to get caught up in life, chasing a paycheque, or feeling stuck with no purpose. Life is short, get outside, get skiing, and get healthy. LIVE THE DREAM!"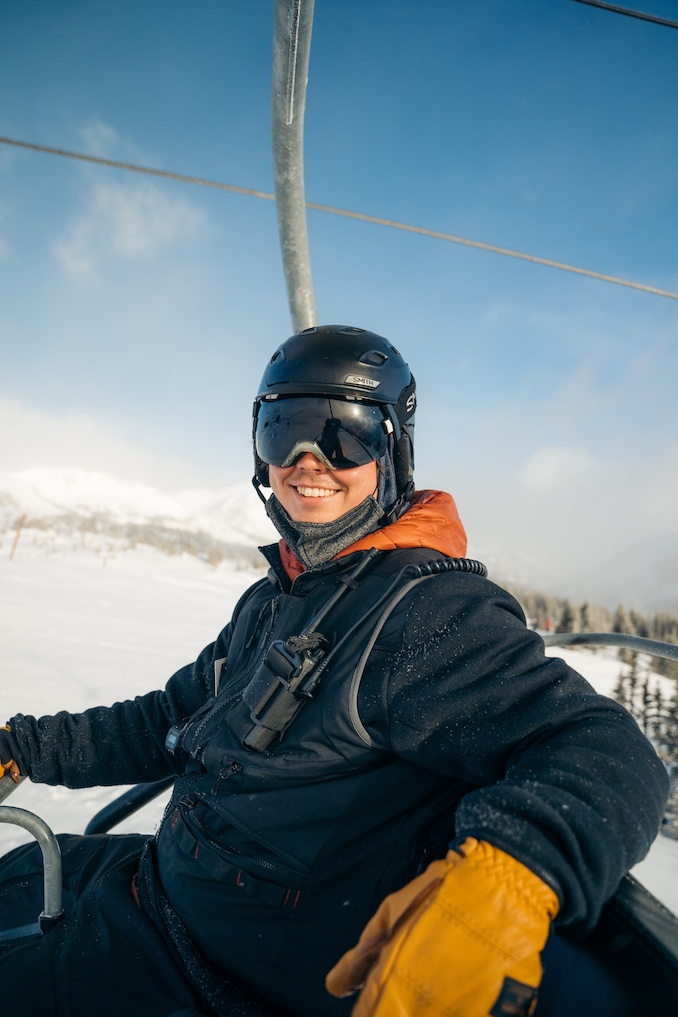 I would like to take this opportunity to thank Spencer for answering all of my questions. I know his time is valuable, especially during the winter months, so I truly appreciate him offering a glimpse into his unique career.
For the latest information about Sunshine Village always consult their website. You can also stay connected socially on Facebook, Instagram, and Twitter.
***
About this column:
Wild Jobs is a running series that focuses on people in outdoor-related professions. It provides a brief snapshot of their career and the duties that it entails. Please see my previous post, Wild Jobs: Outdoor Clothing Brand Owners to learn more.