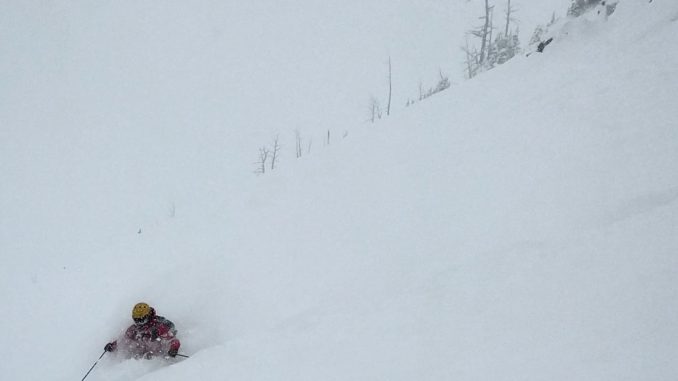 "The sensual caress of waist deep cold smoke…glory in skiing virgin snow, in being the first to mark the powder with the signature of their run."

                                     ~Tim Cahill, founding editor of Outside magazine
Recreating at ski and snowboard resorts is a favourite pastime for many Albertans. The exhilarating thrill of carving through deep dry powder, whether on one plank or two, is sure to bring a smile to anyone's face, regardless of age or ability. There's just something surreal, and truly Canadian, about being in the mountains during the winter; braving the cold, the snow, and the harsh elements for one's own personal enjoyment. Mountain landscapes are inherently dangerous places though and these hazards are compounded during our coldest months. Backcountry users need to be acutely aware of the intricacies of the surrounding environment to ensure their own safety. Unfortunately many of us that visit mountain resorts are blissfully unaware of the dangers that can also be present within the roped boundaries. This is where Mountain Safety Teams come into play. These unsung heroes of the winter resort world work tirelessly to mitigate hazards, namely potential avalanche risks, in order to keep all users safe while enjoying the facilities.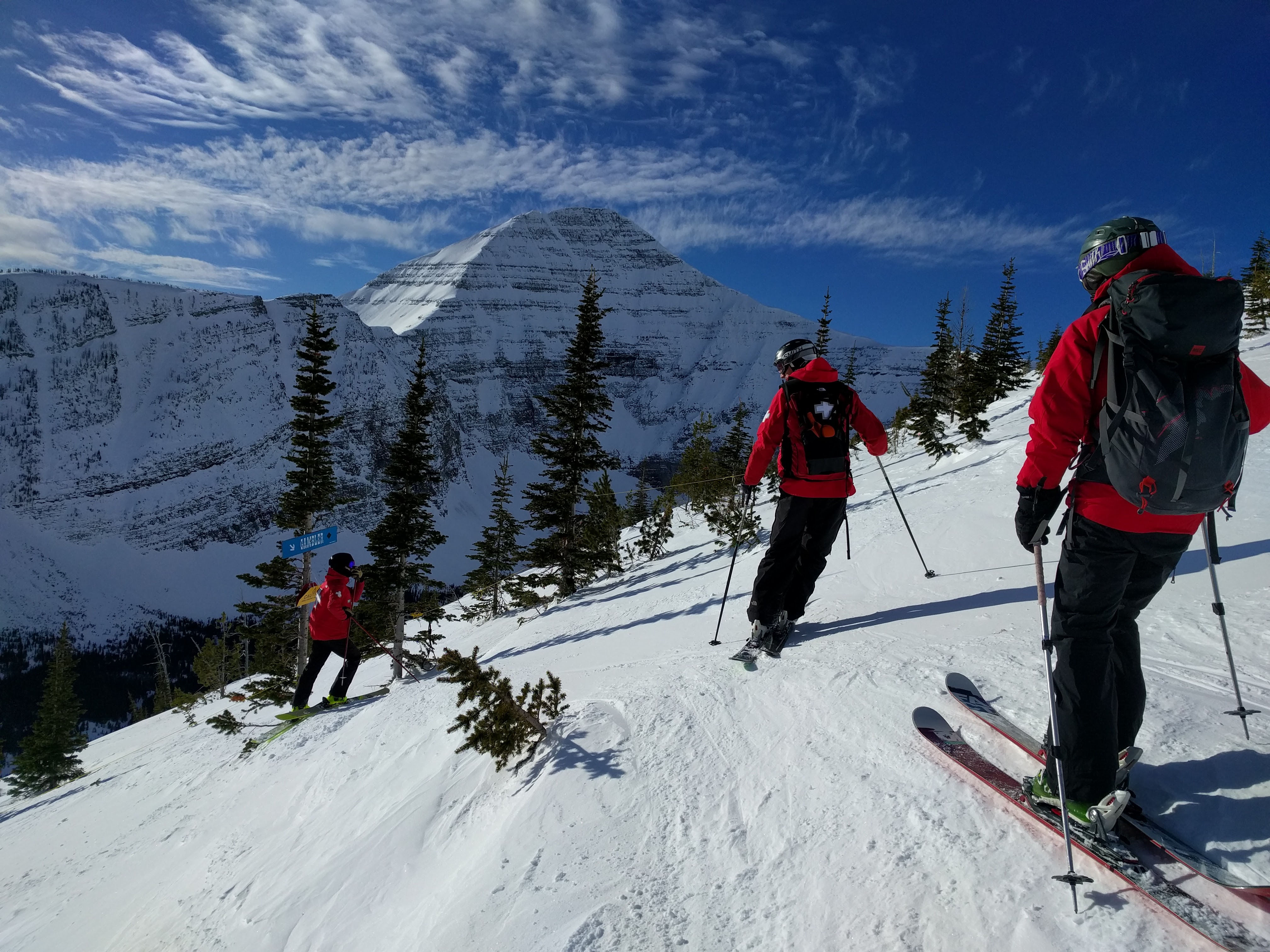 Recently I had the pleasure of chatting with Dave Stimson, the Mountain Snow Safety Manager with Castle Mountain Resort. Dave has been with Castle Mountain his entire career (he started in 2008) and has a deep understanding of the inner-workings of the quaint mountain resort. Castle Mountain is nestled in the Crowsnest Range of Alberta's Southern Rockies, approximately 250km southwest of Calgary, and has been in operation since 1965. This under the radar resort has a legion of loyal followers and was recently mentioned as one of Explore magazine's top secret Canadian powder stashes. With the recent publicity and over seven meters of snowfall already this season Dave and his team will have their work cut out for them. The Mountain Snow Safety Team works behind the scenes to ensure the safety of all guests at Castle and rarely do they receive the recognition they deserve. Their work is integral to Castle's continued operation and was so interesting to me I thought I'd share it with all of you. But that's enough from me, I'll let you learn about snow safety measures from the man himself…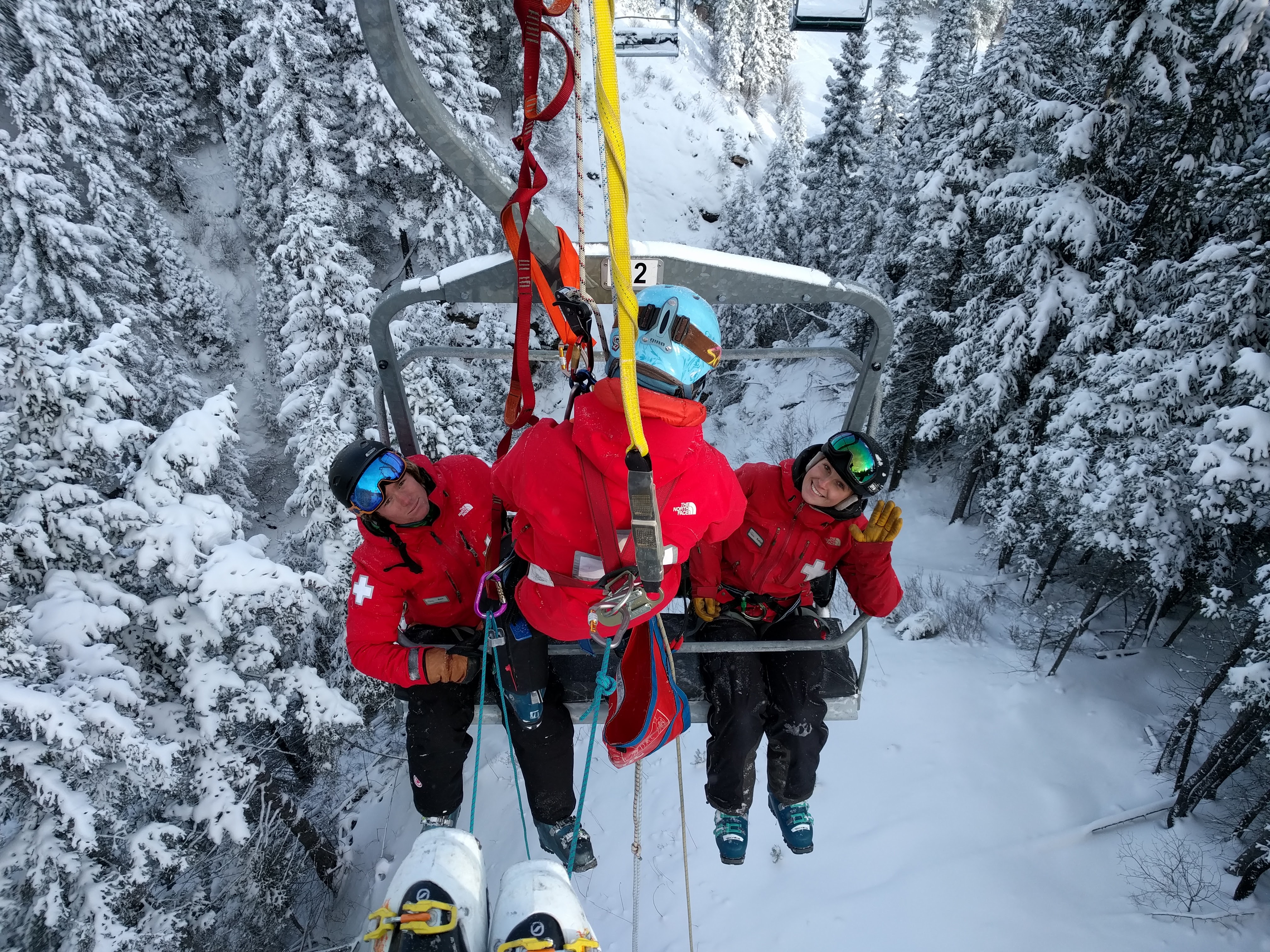 Calgary Guardian: What qualifications/certifications are required for your job?
To begin my career, I possessed a Canadian Avalanche Association (CAA) Operations Level 1 and an 80-hour First Aid course. As I continued, I completed the CAA Operations Level 2 program, and maintain my First Aid certification every 2-3 years. I also hold an Alberta Blaster's ticket to use explosives for avalanche control. As well, I am a Professional Member of the CAA and have continuing professional development requirements to maintain that membership. Lastly, though not necessary for my job, I am now working on an International Federation of Mountain Guides Association (IFMGA) Mountain Guide certification through the American Mountain Guide Association.
CG: In addition to certifications what skill-set does one need to work in mountain safety?
First and foremost expert ski skills and high fitness and physical durability. I am on skis 80-110 days a season, skiing in some of the most extreme weather conditions in serious ski terrain. Avoiding injury is one of the hardest parts of the job. Additionally, keen observation skills are critical. My team and I are the operations' eyes and ears. We are out looking for changes in the avalanche conditions, as well as missing and injured guests. We're also trying to anticipate where people will get hurt and attempting to mitigate the hazard beforehand. Past that, there is an almost endless list of skill sets in this job. I know how to operate a snowmobile and how to ski with a toboggan loaded with a person. Rope skills and rescue techniques come in handy too. We train endlessly in avalanche search and rescue (AvSAR) skills and there is a never-ending refinement of first aid skills. Then there is avalanche forecasting; a dark art! I know how to read weather maps and models. Effective communication is critical. Even my past work as a carpenter has come in handy at this job!
CG: What are your responsibilities at Castle Mountain?
As the head of our snow safety program, my main responsibilities lie in the avalanche forecasting and mitigation aspects of our Mountain Safety department. Day to day, I work with a team to identify our avalanche hazard. We then head up on to the mountain to mitigate that hazard to an acceptable risk level for our customers. I am also responsible for our snowpack data collection. We collect weather observations and measurements, as well as snowpack information. That information is shared within the industry, but also interpreted into a hazard analysis. Another huge part of my job is working with and mentoring my staff as they become route leaders, work towards their CAA Level 2 courses, and become CAA Professional Members themselves.
Bigger picture, I have projects such as Avalanche Safety Plans, Explosive Security Plans, and AvSAR Plans. With the Ski Patrol manager, we do the hiring for our department. I also liaison with outside organizations in our area, like Parks Canada, to develop a web of local resources to help in the event of an incident.
CG: A "normal" day likely doesn't exist in your profession, but could you outline what a typical day might look like for you?
The day starts at 6:00 AM, for me. A cup of coffee, breakfast, and a peruse through my computer. I look at the weather models, as well as the "nearest neighbor" reports from other operations in our forecasting area. At 7:00 AM, I meet with my forecasting team. We discuss the reports, then come up with our best forecast for the day's avalanche problem and hazard. This helps us build our avalanche control program, including the explosive "payload" we will need to get the mountain opened for the public. The rest of the staff is in at 7:30 AM, and we present the fruits of our forecasting meeting, as well any other work projects or events on the hill. Then it's up to the top of the mountain where we break into teams of two or three and head on our control routes. This is where the action takes place! We begin by traversing the upper slopes, trying to get an idea of how the real hazard matches up with our forecasted hazard, before getting to the real avalanche start zones. Once there, we'll use ski cuts or explosives to trigger avalanches in the start zones. As we complete these routes, we're able to begin opening areas of the mountain. Often, one section of the mountain is open to skiers, while we are doing avalanche control on other sections of the mountain. We continue working in this way until all our terrain is open. From there, we go into regular duties. There are always two patrollers at the top of the mountain capable of responding to accidents on the hill. Other patrollers may be out doing various work projects like cleaning rope lines and signage, or raising pads on lift towers. Patrollers may also be working on training scenarios. On days with heavy snow, we keep patrollers out looking for an increasing avalanche hazard and of course, we ski! At the end of the day, we meet at the top of the mountain and get a sweep assignment; one last run of the day to look for people still on the mountain. Then it's to afternoon debrief, where we bring everyone up to speed on what was accomplished that day, what tomorrow's crew needs to work on, and an evaluation of the day's actual avalanche hazard. My forecasting team then finalizes our day's reports and submits them to the industry information exchange, to keep our nearest neighbors up to date on our operation. On a good day, I'm out at 5:00 PM, enjoying a cold beer!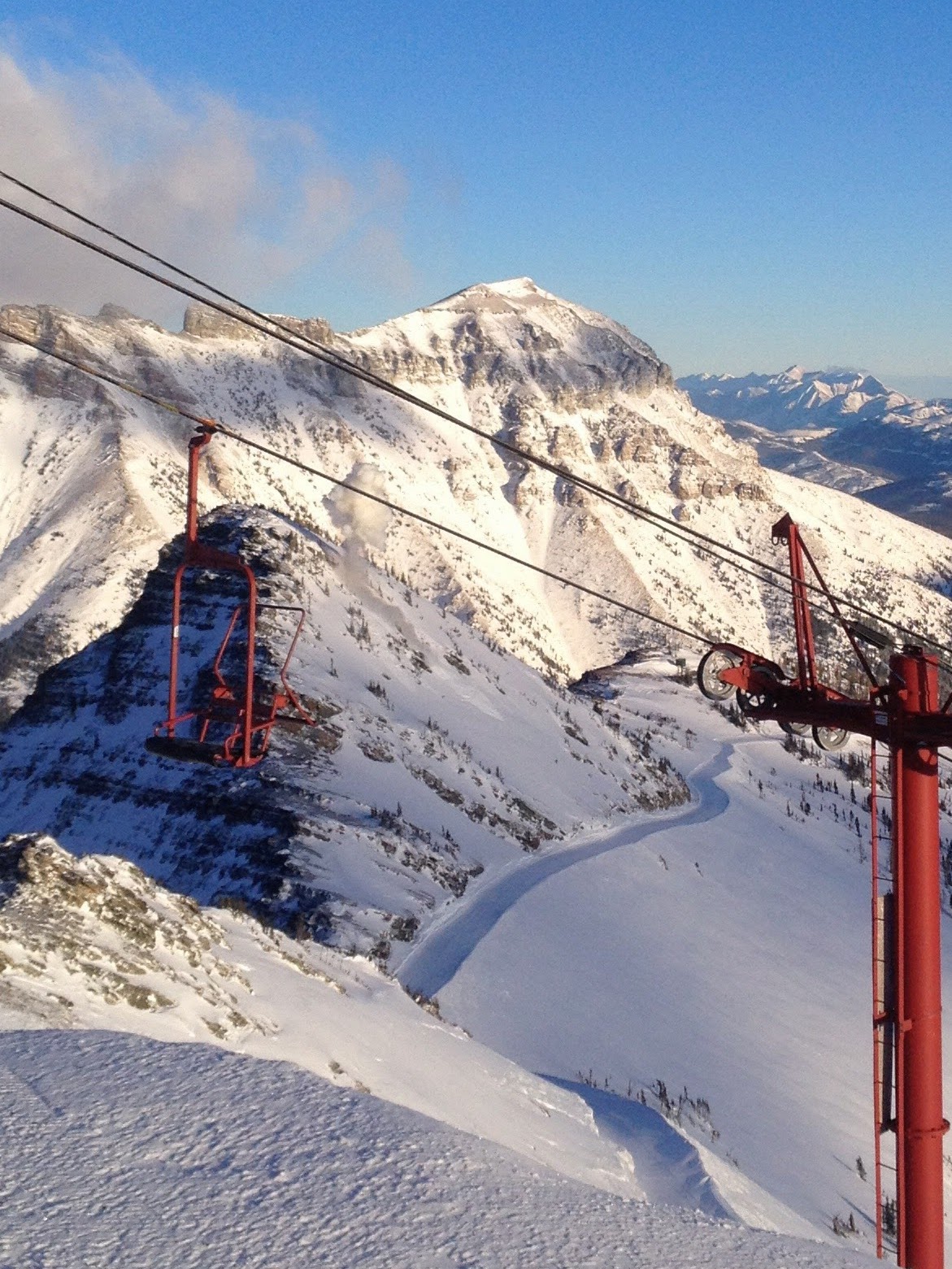 CG: What are the tools of the trade? What can't you leave home without?
Eyes, ears, and brain, first! Shovel, avalanche beacon, and probe, next. Skis and boots, and enough winter clothes to brave -30 degree Celsius temps or 100 km/h winds! A first aid kit is crucial too. And lastly, electrical tape…so much electrical tape. It sticks to itself and is the only tape that works in the cold.
CG: How are ski cuts and explosives used to mitigate avalanche risk at Castle Mountain?
The general goal in avalanche control is to trigger the avalanches before (a) they get too big and/or (b) the skiing public gets on the terrain. How explosives work in that manner should be obvious; we light an explosive, a la Wile E. Coyote, throw it into the start zone, then wait for the ensuing explosion to trigger the avalanche to slide.
Ski cutting is a little more complicated. It involves putting a trained professional onto the slope to trigger it themselves, in a safe manner. A patroller first identifies a trigger point, usually a convex roll. She then builds up speed before skiing onto that roll and triggering the avalanche. She continues with her speed and skis off the slope onto a safe zone. The early morning avalanche hazard discussion is so important here, as we want to ensure our patrollers are not exposing themselves to big avalanches that could pose a real threat to them. Some slopes are too big, or the avalanche hazard is too high to expose people like this. That's when we'll use explosives, but if the hazard is manageable, it's a fast and exhilarating way to control the hazard.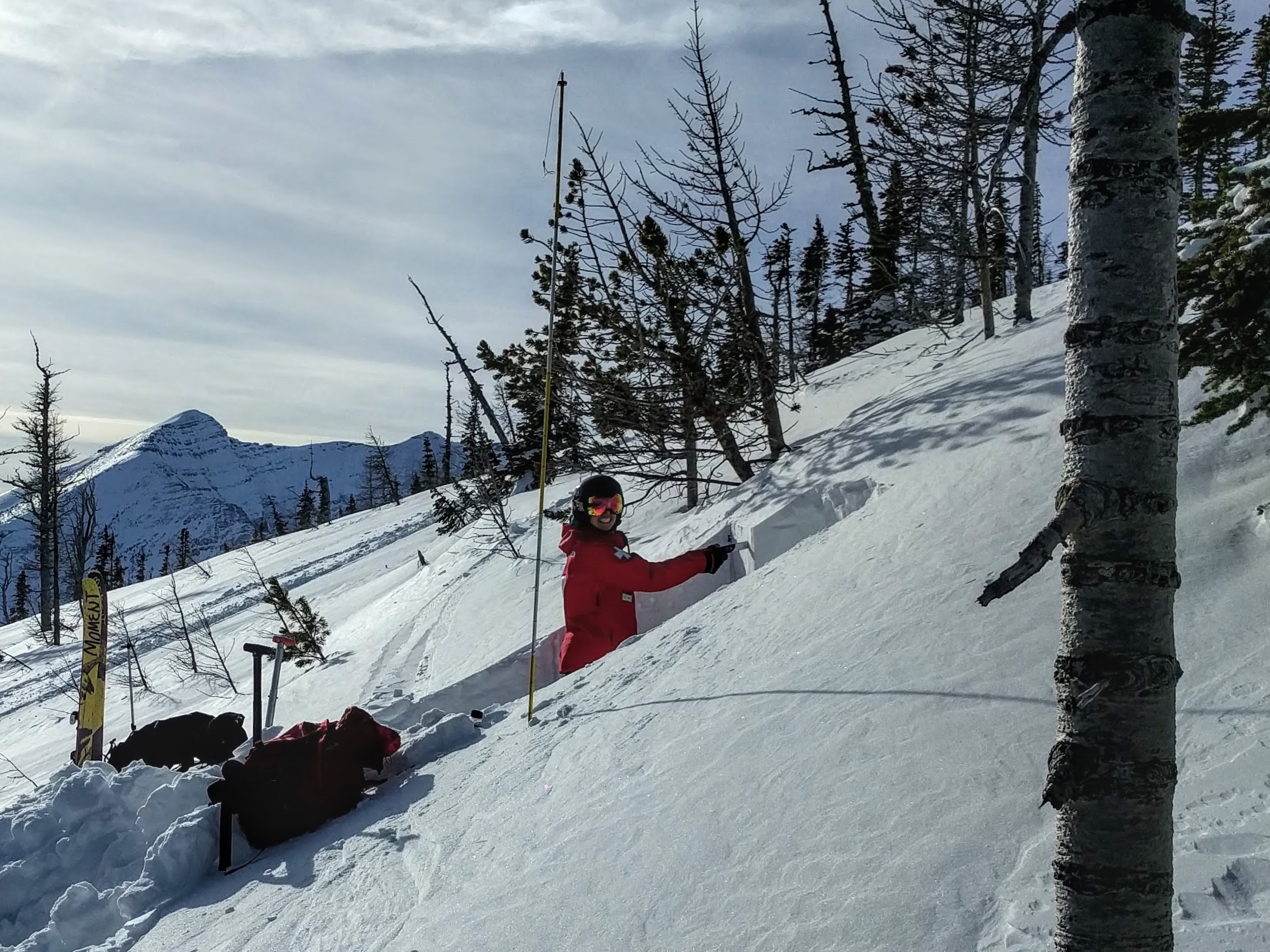 CG: I'm assuming you work as part of a team. How many people are on your team and do they all have distinct responsibilities?
Our patrol is made up of 18 members, with 8-12 on each day. Except for our dispatcher, all patrollers are involved in all aspects of mountain safety. Obviously, there are varying levels of experience though, so responsibility is increased proportionately. For example, our most senior patrollers are on the forecasting team and lead routes. Our mid-level staff are always being mentored and may be route leaders, while our junior patrollers are team members. However, even our most senior patrollers will get their hands dirty and run a rope line, shovel out a tower pad, or haul a toboggan down the mountain.
On weekends, we have a large group of volunteer patrollers (8-20 each day), through the Canadian Ski Patrol, who help us with the on-hill first aid.
CG: Castle Mountain is unique because of the Powder Stagecoach Cat Skiing operation. How does having resort-based cat skiing affect your job?
The cat ski operation falls under Mountain Safety. We work with the cat ski hosts to forecast the zone they work in, and will mitigate avalanche hazard in that area the same way we do on hill, albeit to a lesser extent. We have more control over the risk with small, guided groups as opposed to the main hill. It never ceases to amaze me where the skiing public will go when left to their own devices!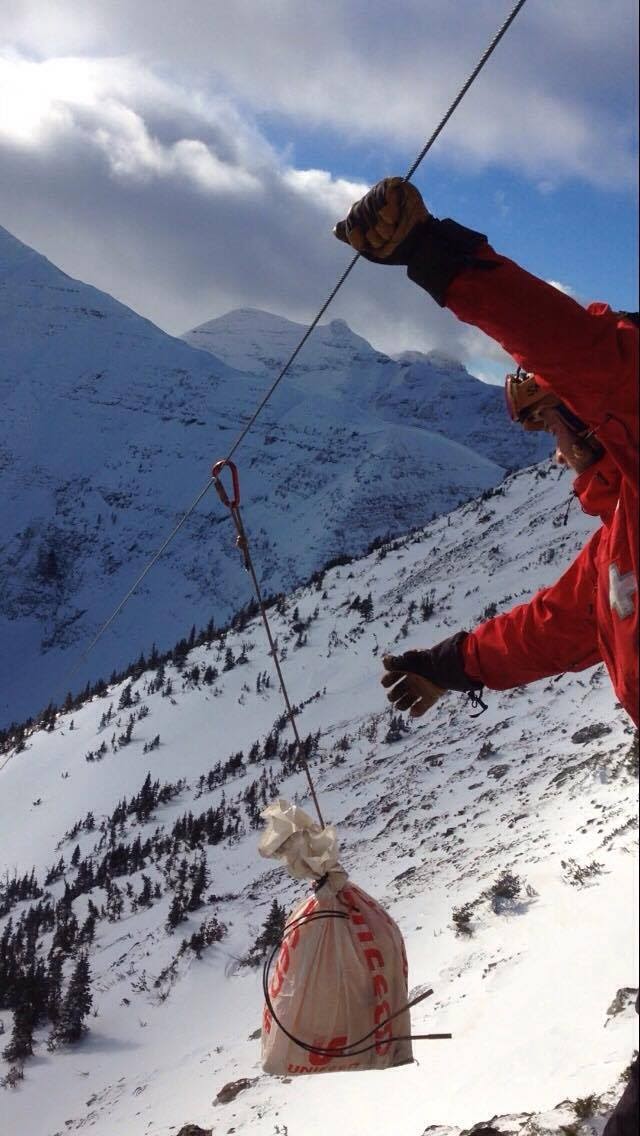 CG: Do you work in conjunction with Avalanche Rescue Dogs? If so, how do they contribute to your work?
We have one validated dog and handler team at our hill, and one in training. The dogs are an amazing AvSAR resource. Watching them search an avalanche debris pile is captivating. Our patrol team will train with the dogs in AvSAR scenarios. Thankfully, we have never used our dogs to search for real human beings in real avalanches. However, we have had in-bounds avalanches and the dogs are critical in "clearing the scene", so we can leave those rare incidents with the peace of mind that there is no one still in the debris pile.
Editor's Note: For additional information about avalanche rescue dogs please refer to my previous story titled Avalanche Rescue Dogs: More Than Man's Best Friend that I wrote in conjunction with the Alberta Avalanche Rescue Dog Association (AARDA).
CG: More people than ever are accessing slackcountry and backcountry destinations via resorts. How do you mitigate the risks associated with this behavior? Are you concerned with those that duck the rope or do your responsibilities lie within the Castle Mountain resort boundaries?
At CMR, our only rope lines are for closed areas. These are zones either permanently closed for an unmanageable hazard, or temporarily closed while we work on avalanche control. Ducking of these rope lines is a serious offense and we suspend the passes of patrons who do this. These closures are for the safety of the public, but also the safety of myself and my team. The last thing I want to do is trigger an avalanche onto a skier who ducks a rope and skis in the zone I'm working. However, we do not rope our boundaries, but we do sign them. As an avid backcountry skier, I believe in the ethic of exploration and in taking risk. We do not bar access to the backcountry, a resource available to all Canadians. Legally, our responsibility ends at our boundary. Ethically, I feel some responsibility extends beyond. We do public outreach, such as posting current Avalanche Canada bulletins, offering CAA Avalanche Skills Training courses, and by being a human resource for people who are looking to travel beyond the boundaries. In the event of an avalanche incident beyond our boundary, my team and I have, and will continue to, work with Pincher Creek Search & Rescue as AvSAR/mountain rescue specialists.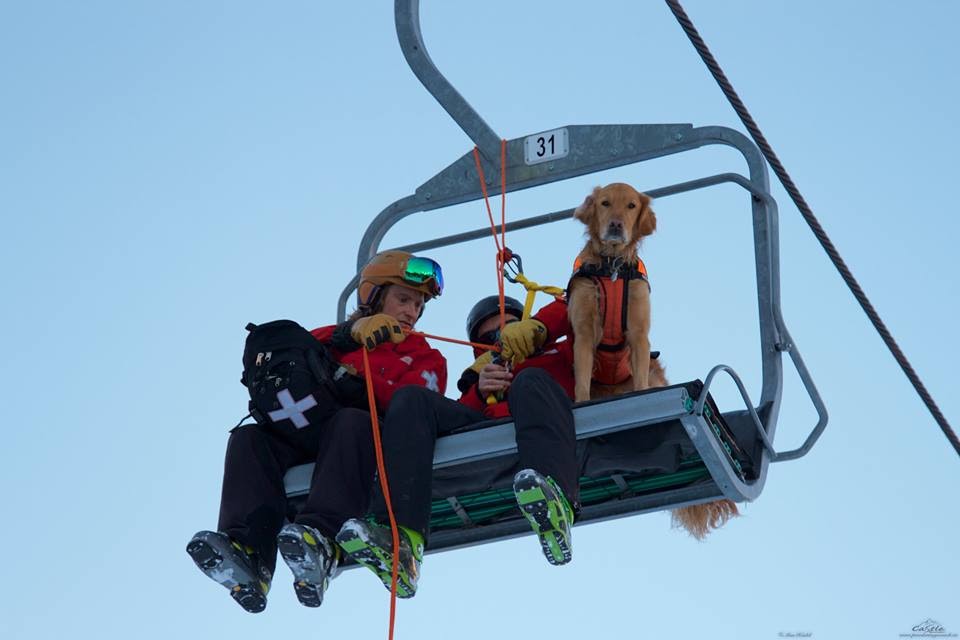 It's easy to see Dave's passion for his work in mountain safety throughout this interview. It is through the dedication of people like Dave and all the mountain safety teams at ski/snowboard resorts across the province that allow the rest of us to enjoy Alberta's coldest months without worrying too much about the hazards of mountain sports. Without them there would be a lot fewer people accessing the mountains during the winter and an elevated risk for those that still do. I would like to take this opportunity to thank Dave for this candid look into his daily life and for the work he does to ensure our continued safety.
For more information about Castle Mountain Resort please visit their website or connect with them on Facebook, Twitter, Instagram, and YouTube. To see what the Mountain Safety Team is currently up to or to stay apprised of Dave Stimson's latest mountain exploits, follow both of them on Instagram.
"We will be the Holy Grail for people whose real passion in life is downhill."

                           ~Fitting words from Castle Mountain's mission statement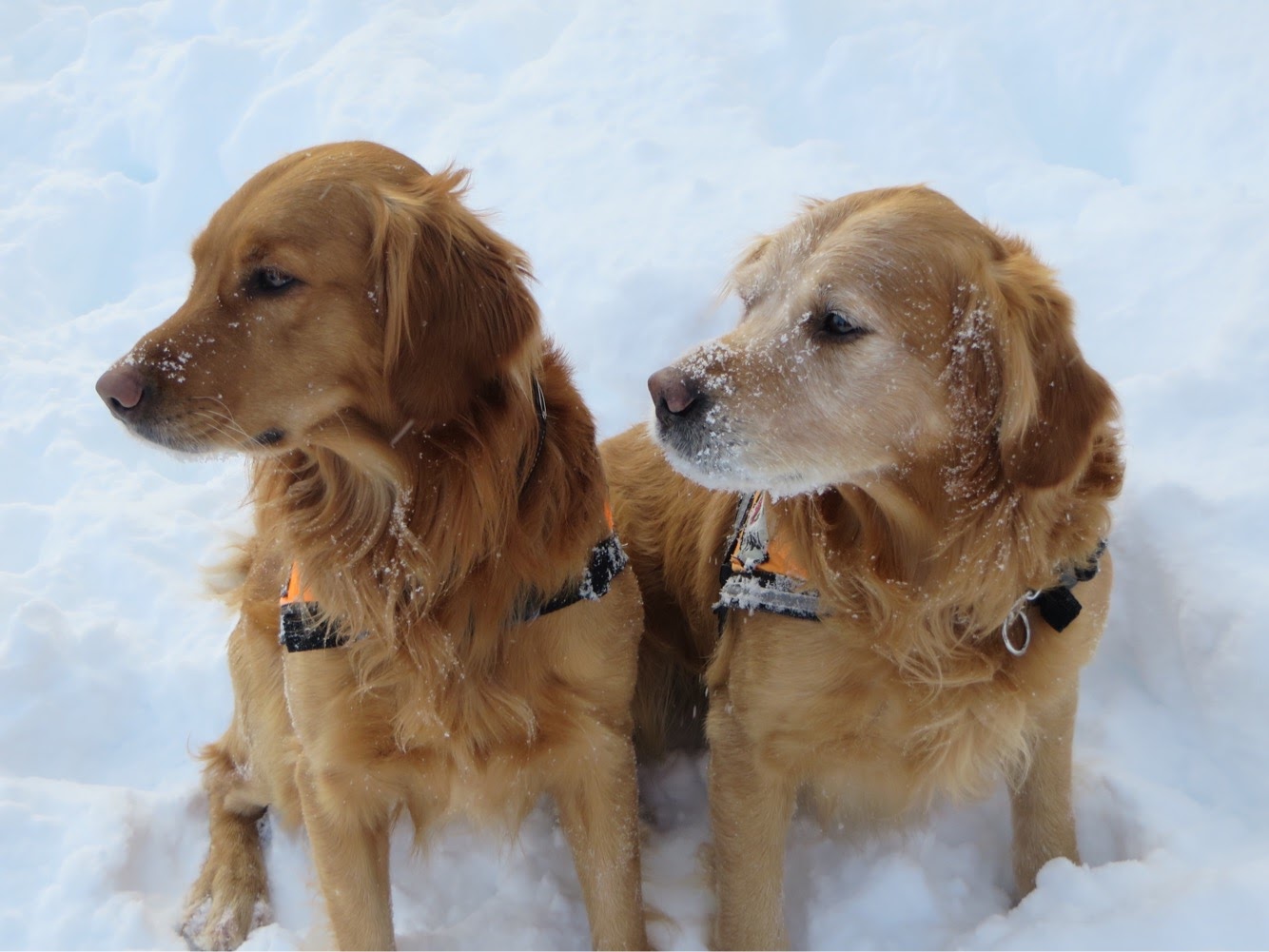 ***
About this column:
Wild Jobs is a running series that focuses on people in outdoor-related professions. It provides a brief snapshot of their career and the duties that it entails. Please see my previous post, Wild Jobs Part Eight: Trappers to learn more.
*featured image (at top) is Claudia Mannering enjoying the powder after a long morning of avalanche control. Photo Credit: Dave Stimson