This year's Shakespeare by the Bow Program hosted by Theatre Calgary hit the road as Shakespeare on the Go (AKA ShakesGo) and truly shook up the theatre scene throughout Calgary over the course of July and August. This year's program stars emerging artists from around the world, showcasing and promoting the brilliant work of Stephanie Alexandre, Thalia Altura, Steph Bessala, Sarah Glubish, Christian Krushel, Matthew Mooney, and Kathleen Faith Ballangan. 'A Midsummer Night's Dream' was the featured performance this year, adapted by actor and playwright Anna Cummer and directed by award-winning Kelli Fox. Running from July 14th to August 6th, the production travelled to every corner of the city, offering free admission. From Inglewood and Chestermere to Brookfield Residential and Heritage Park, making sure anyone and everyone could have a chance to come out and enjoy the show.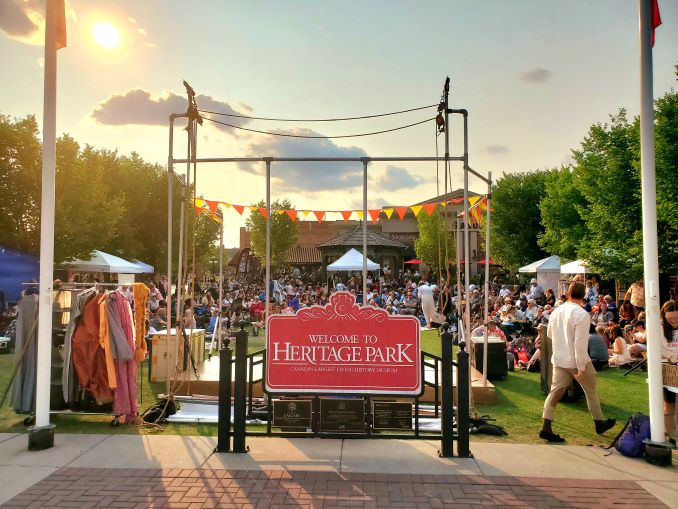 In an interview with Cummer and Fox, we get a closer look into the nuances of creating this play, discussing their collaborations with the emerging artists and the importance of theatre beyond the stage.
What would you say is the most rewarding thing when working with emerging artists and putting on these shows throughout the community?
Cummer responded, "The most rewarding thing about working with emerging artists is being reminded how fun theatre can be."
Artists at the beginning of their careers have a 'Yes, and!' attitude that is contagious. Brimming with enthusiasm and armed with a freshly minted toolbox of technique and craft, these emerging artists bring so much to the table… I have learned so much from these artists, and they have made my work better with their skill and unbridled joy. It has been a gift!
Fox's response was, "The best part for me about working with emerging artists is that they still have a strong sense of play and exploration in their work that actors can sometimes lose as they get older."
[Actors] develop a toolbox that works for us, and we can be a little resistant when a director wants us to step outside our comfort zone and work in a new way. Working with people who are still experimenting with ways of approaching their own work, I feel freer to experiment too,
Fox continued, highlighting the importance of encouraging flexibility and a sense of play in performance. "When you set up your stage in a public park, anything can happen, and you have to be ready to roll with it." A prime example being opening night when the actors had to compete with a "crazy loud" helicopter, and Stephanie Bessala jumped in to bring laughter out of the surprise situation.
Besides being able to bring these talented artists around the city, Fox also discussed how these performances brought the communities together. "It's a great chance for neighbours to meet each other and maybe realize that some of their neighbours are the very artists bringing the work to them… It's an incredibly important program on a number of levels, and the contribution to the community life of Calgary neighbourhoods is hard to argue with."
How do you showcase a part of yourself into these adaptations that are such timeless pieces? And how do you go about maintaining the ambience of the original play?
Cummer explained, "I feel artists always put themselves in their work whether purposefully or inadvertently. I've been told my strengths as an adaptor lie in a full understanding of the theatrical medium and a playful sense of humour."
Cummer acknowledged how "Shakespeare is a different beast", saying how the main challenges were creating a production that could reach the modern audience. She achieved this outcome by "tapping into and playing up the beautiful humour and playfulness innately present in 'A Midsummer Night's Dream'… and doing away with most of the Elizabethan references that don't resonate with us anymore."
Cummer also explained how she prevented disinterest in the audience by removing Elizabethan references that would create more confusion than intrigue. This had proven quite effective, as each show had faced a large turnout. Fox's response reflected upon the society around us.
"I feel like the reason these pieces have stood the test of time is that they reflect our fundamental humanity to us. Whatever else changes through history, however, we perceive our universe and our place in it, however, we re-invent the societies we live in, there are certain fears, needs, joys, certain things that make us human, and these things are eternal." she explains.
"Art that speaks to these things teaches us about ourselves, and somehow we never tire of hearing the stories."
Fox goes on to explain how she does not feel it is necessary to insert herself into these productions. "In fact, the more I can stay out of the way and let the play breathe, and let the actors breathe with it, the more we allow the play to speak for itself, and almost without fail, the themes that are relevant to us now will emerge from this 500-year-old piece of writing no matter what we do."
Fox believed that no matter what setting they chose, whether it be "the world of vaudeville" or inside a video game they chose to base their story in, it would maintain its core values. "In the case of Midsummer, it's a play about the transformative power of love. We knew that as long as we kept that idea at the centre of everything we were doing, we couldn't go too far wrong." Fox concludes.
What, in your opinion, is the most important core value of Shakespeare By the Bow?
Both Cummer and Fox shared similar answers, both being strong advocates in bringing communities together. "Shakespeare by the Bow or ShakesGo, as it is now known, is all about community. And I am so proud to have been involved!" Cummer states. Fox goes on to praise Theatre Calgary's ability to bring out this sense of community: "This program is a chance for the creators of live theatre to meet Calgarians where they live, in their own neighbourhood parks, and to show them how much the city has to be proud of in the artists it nurtures and the work they produce."
Cummer and Fox are strong believers in creating accessible productions for the public such as ShakesGo. This year's Shakespearean productions have showcased great success by providing free public access. People who wish to support the journey of more productions and the emerging artists can send donations through the Theatre Calgary website. Donations will go towards future productions and fund another year of Shakespearean adventures! As Fox states, "Lowering the bar for access gives us all a chance to connect, and that really matters."