The long-awaited Broadway phenomenon Hamilton has finally made its way to Calgary. There's a reason for the hype. It's good. It's great, even. I don't usually critique shows in goosebumps, but this one had me covered.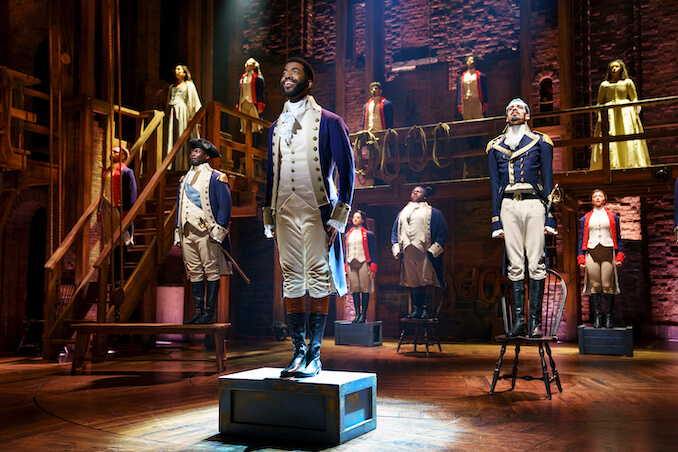 Hamilton with books, music and lyrics written by Lin-Manuel Miranda is a juggernaut of emotion. Inspired by the book by Ron Chernow, Manuel's Hamilton soars through a mesh of classical, hip-hop, and rock stylings. It's an anachronism of history, non-traditional casting and classical references interwoven with contemporary style. It doesn't take one out of the content. It brings them closer in. In a testament to how much this material has grabbed the culture, many of the songs are sung along with by the audience. Many of the moments are anticipated. Certainly, many audiences members had their introduction through Disney's streaming service and then decided to come see it for themselves.
The story tracks the life of Alexander Hamilton, a Caribbean immigrant. It follows him through the American Revolution, through his time as George Washington's aid, through his drafting of the Federalist papers, and finally to his created position as America's first Treasury Secretary. Domestically, the story covers his marriage to Eliza Schulyer and the odd friendship he holds with Eliza's sister, Angelica. Most importantly the show is constructed around the antagonistic relationship between Hamilton and Aaron Burr who kills Hamilton in a duel. Don't like spoilers? Don't read history.
Thomas Kail's direction is awash in eye-popping stage pictures that manage to focus on just the right moments despite the frenetic choreography that sizzles from all directions of the stage. Dazzling moments of the ensemble dancing with furniture turned upside down never for a moment distract from the center of the story. The lighting design by Howell Binkley assists Kail in keeping the focus as shadow and light work together to harness the ensemble in a wonderful background tableau. David Korin's scene design is a wonder. The turntable or rotating stage floor gives an extra dimension to the choreography. Moving and dancing on a circling floor is no small feat, but this group of actors make it look easy.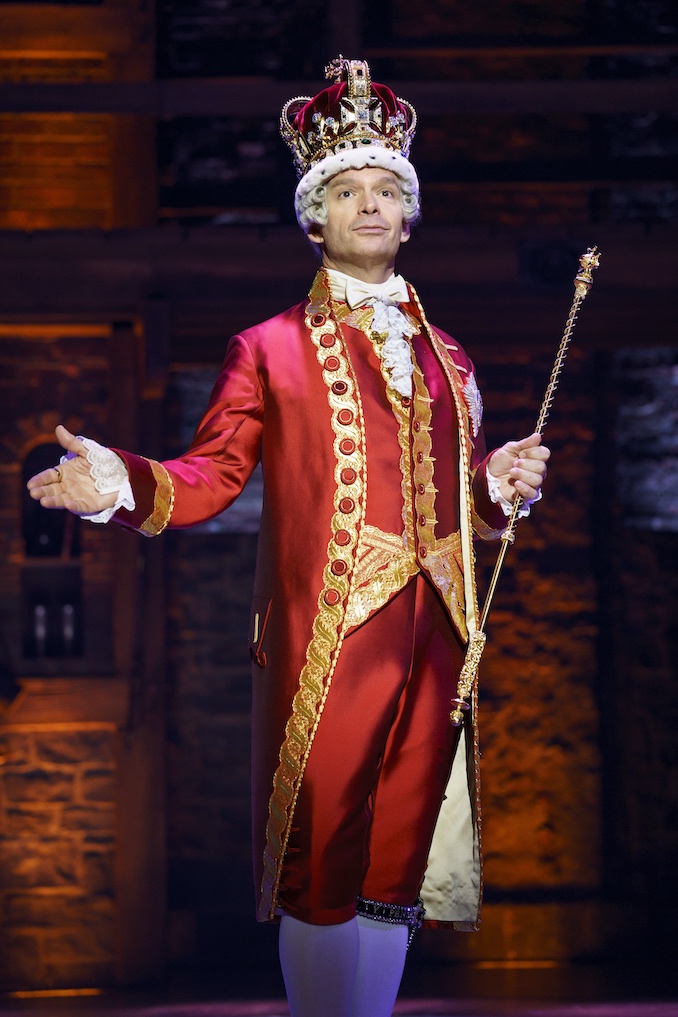 And the acting, singing, and dancing is simply stellar. Julius Thomas III is sensational. His overconfident ambitious early Hamilton contrasts powerfully with the later version whose life is upended by marital infidelity and family tragedy. Eliza Hamilton played by Milika Cheree has some wonderfully sweet and soul-crushing moments. The arc of the story needs a character like this, as so much of the show's energy is pushed through the roof. Milika's performance brings that much-needed levity. Donald Webber, Jr. makes an incredible Aaron Burr, the man who keeps his emotions and his ideas too close to the vest until his anger at Hamilton unleashes. And yet we also see pieces of his heart, especially as it relates to the love he holds for Theodosia, the wife of the British officer whom he has fallen in love with.
Darnell Abraham as George Washington is a powerhouse of a performance. Abraham has a commanding stage presence. His Washington is the adult in the room, the voice that towers above all, and the one that is willing to give Hamilton a chance. And for comic relief? Look no further than Rick Negron whose King George has the perfect recipe of elite snobbery, and light-hearted tyranny (if there is such a thing). His easy-going pop-rock songs are very funny and fit nicely between some of the fast-paced rap.
One of the critiques of the show is that the fast pace makes the lyrics unintelligible, but I don't see it that way. I think it's an invite to a new way of hearing. It's very much like some of the best performances of Shakespeare. It still takes a moment to wrap your ears around phrasing you might not be comfortable with. It's like getting used to a new accent. Eventually, your ears warm up.
This is a show that teaches a history lesson in a revolutionary way. It will be celebrated for years to come.
***
Hamilton playing at the Southern Alberta Jubilee Auditorium runs to July 31st. Running time: 2 hrs 45 minutes with a 15-minute intermission.