Looking for something savoury and warm to cook? Mazola sent us this recipe for their Crispy Polenta with Mozzarella, Parmesan & Roasted Tomato Marinara for our readers to try at home. Enjoy!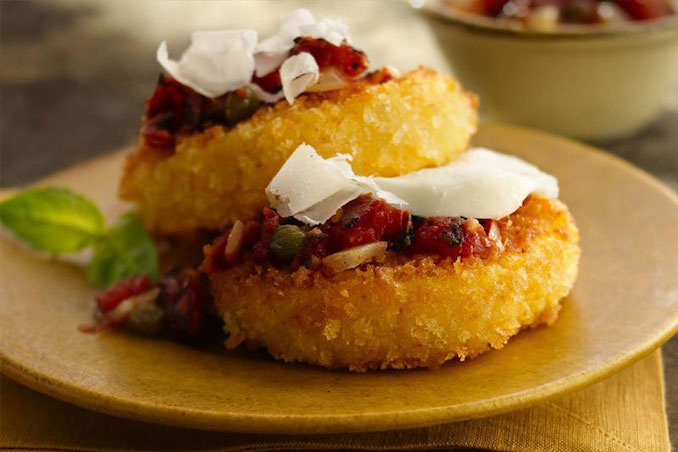 Crispy Polenta with Mozzarella, Parmesan & Roasted Tomato Marinara
Cooking time: 6 hours and 30 minutes
Makes 4 to 6 servings (2 polenta cakes per serving)
Level of difficulty: Intermediate
Ingredients
CRISPY POLENTA
● 1 tube (24 ounces) precooked polenta
● 3/4 cup all-purpose flour
● 1 teaspoon salt
● 2 eggs
● 3 to 4 cups Mazola Corn Oil
● 1/4 cup milk OR buttermilk
● 2 cups panko bread crumbs
ROASTED TOMATO MARINARA
● 2 tablespoons Mazola RightBlend Oil
● 1 cup diced onion
● 1 tablespoon minced fresh basil
● 1 teaspoon minced fresh garlic
● 1 teaspoon leaf oregano
● 1 teaspoon sugar
● 2 cans (15 ounces each) fire roasted diced tomatoes
● 1 tablespoon petite capers
● Salt and pepper to taste
● 1 cup shaved Parmesan cheese
● 3 to 4 ounces fresh mozzarella cheese, thinly sliced
● Fresh basil for garnishing, optional
Directions
1. Slice polenta into 1/2-inch thick slices.
2. Heat 1/2-inch Mazola Corn Oil in a deep-sided skillet over medium heat to 300° to
325°F.
3. Place a cooling rack on a baking sheet and position next to the stovetop.
4. Combine flour and salt in a shallow bowl.
5. Lightly beat eggs and milk in a second shallow bowl.
6. Pour panko bread crumbs into a third bowl.
7. Dip each polenta cake in the flour, turning to coat and tapping off excess.8. Then dip in the eggs letting the excess drip off; press into the panko crumbs coating well.
9. Carefully add polenta cakes to the oil and cook for 1 to 2 minutes per side or until golden brown.
10. Cook in batches to prevent overcrowding. Transfer the cooked polenta cakes to the cooling rack.
11. To make marinara, heat Mazola RightBlend Oil in a saucepan over medium heat.
12. Add onions and cook for 3 to 4 minutes until softened.
13. Stir in basil, garlic, oregano and sugar.
14. Stir in tomatoes and capers; reduce heat to low.
15. Season with salt and pepper; cook for 10 minutes, stirring occasionally.
16. To serve, place crispy polenta cakes on plate, top with Roasted Tomato Marinara Sauce and cheeses. Garnish with fresh basil, if desired.