Canadian MSC Ambassador Chef Charlotte Langley shared with us this recipe for Smashed Brussel Sprouts with Brown Butter Tuna Hollandaise. Taking a (slight) cue from a classic tuna tonnato sauce, these smashed and crispy Brussels shine served with an unctuous brown butter hollandaise that's spiked with MSC certified sustainable tinned tuna. It's a simple dish, using few ingredients, that punches above its weight. This hollandaise is also the perfect way to switch up your eggs benny game.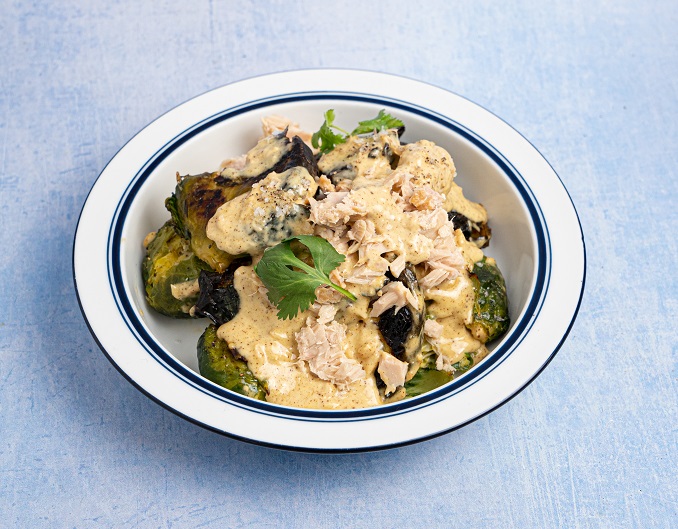 Smashed Brussel Sprouts with Brown Butter Tuna Hollandaise
Prep: 10 minutes
Cook Time: 30 minutes
Serving size: 2 as a main course for lunch or dinner or 4 for brunch (if serving on eggs benny)
Experience level: Beginner
Ingredients:
1 cup (227 g) unsalted butter
1 tin (approx. 150 g) of MSC certified sustainable tuna in oil
4 egg yolks
2 tbsp (30 ml) lemon juice
1 tbsp (15 ml) Dijon mustard
Dash of Worcestershire sauce
2 heaping cups (250 g) Brussel sprouts, whole washed
2 tbsp (30 ml) olive oil
Salt and pepper to taste
Directions:
1. Pre-heat oven to 400°F
2. In a medium-sized pot of boiling water, add Brussel sprouts and let simmer until tender, approximately 10 minutes.
3. When Brussel sprouts are tender, drain and flatten each one with the bottom of a mug until relatively thin.
4. On a parchment-lined cookie sheet, arrange the Brussel sprouts giving each one room, drizzle with olive oil and bake until desired crispiness, approximately 10-15 minutes.
5. In a small saucepan on medium heat, melt the butter and continue to cook until the milk solids stop bubbling and start browning. HINT! You're looking for the colour of light maple syrup. Remove from heat and keep warm.
6. In a blender, add egg yolks, Dijon, lemon juice and a pinch of salt.
7. Start the blender and slowly drizzle in the warm brown butter. The hollandaise will start to thicken quickly, so stop the blender before it gets too thick. Season to taste with Worcestershire sauce.
8. Remove tuna from the tin reserving the oil. Mash lightly with a fork leaving some slightly larger chunks. Fold into the warm Hollandaise.
9. Remove sprouts from oven and divide onto 2 plates. Drizzle with the olive oil from the tinned tuna if desired.
10. Top liberally with the warm tuna Hollandaise or serve on the side as a dip.