Calgary-based Registered Dietitian, Kristyn Hall, CBE, MB-EAT-P shared with us a family favourite recipe for Chicken Lettuce Wrap Salad with Peanut Sauce. This meal is tasty, nutritious and fast to make, making it perfect for busy weeknights! She recommends that you make sure you have your kitchen stocked with some kitchen basics so you will be able to whip up this recipe in no time.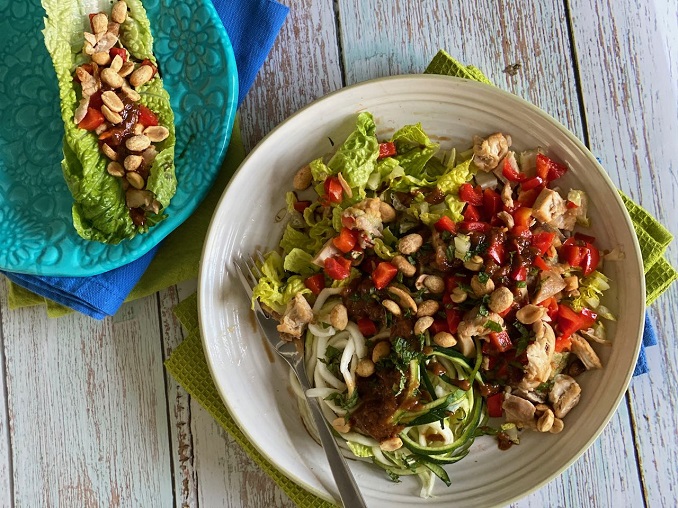 Chicken Lettuce Wrap Salad with Peanut Sauce
Prep time: 30 minutes
Makes 4-6 servings
Ingredients:
1 pound chicken thighs (roasted with salt and pepper, cut into small pieces)
2 tsp extra virgin olive oil
2 red bell peppers (seeded and chopped)
2 garlic cloves (minced)
2 tbsp vegetable broth
2 tbsp tamari or lower-sodium soy sauce
1 tbsp water
2 tbsp rice vinegar
1 tbsp sesame oil
1 tbsp sweetener (honey, brown sugar or non-nutritive sweetener)
2 tbsp natural peanut butter
1 head romaine lettuce, washed and separated into large leaves
¼ cup raw peanuts
Directions:
1. In a large skillet, over medium heat, heat the olive oil. Add in the bell peppers and cook. Stir occasionally until peppers are tender. Add in garlic to the pan and stir.
2. To the same pan, add in cooked chicken to reheat. Add in broth as needed to keep the pan contents moist.
3. To make the peanut sauce, in a small bowl, combine the tamari, water, rice vinegar, sesame oil, sweetener and peanut butter. Using a fork, stir until smooth. Pour sauce over top chicken and pepper mix and stir, allowing to heat through.
4. Serve chicken, pepper and peanut sauce mixture with Romaine lettuce as a lettuce wrap, or on a plate for a simple salad. Top with peanuts.