Looking for something new to cook for breakfast? Mazola sent us this recipe for their Dish Ham and Egg Breakfast for our readers to try at home. Enjoy!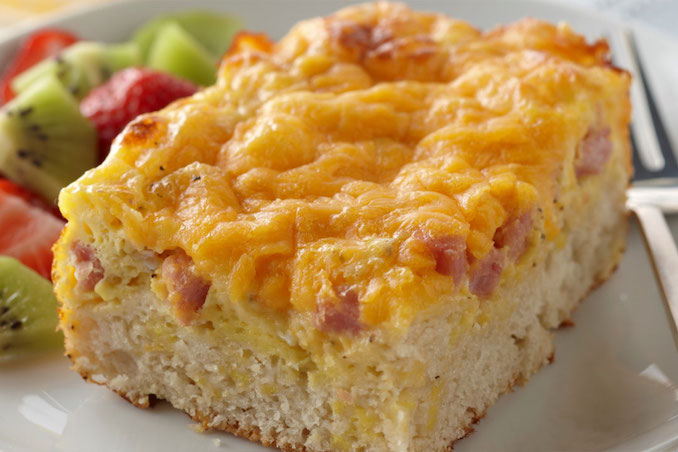 Dish Ham and Egg Breakfast
Cooking time: 45 minutes
Makes 6 servings
Level of difficulty: Beginner
Ingredients
● 1-1/2 cups all-purpose flour
● 2 (4-1/2 tsp.) envelopes Fleischmann's Quick Rise Yeast
● 1/2 teaspoon salt
● 3/4 cup very warm water (120°F to 130°F)
● 3 tablespoons Mazola Vegetable Oil
TOPPINGS
● 4 eggs
● 2 tablespoons milk
● 1/2 teaspoon garlic salt
● 1/4 teaspoon black fine grind pepper
● 4 slices (3/4 ounce each) American cheese
● 1 cup (4 ounces) diced ham
● 1 cup (4 ounces) shredded mild cheddar cheese
Directions
1. Coat 8×8-inch baking dish with oil.
2. Mix batter ingredients together in dish.
3. Beat eggs, milk, garlic salt and pepper together in a small bowl.
4. Top batter evenly with cheese slices, diced ham, egg mixture; sprinkle with shredded cheese.
5. Bake by placing in a COLD oven; set temperature to 350°F. Bake for 30 minutes or until done.