Jon McCaslin is recognized as one of Alberta's premier jazz drummers and educators. He brings excitement and his passion for the jazz tradition and its future to the bandstand and to the classroom.
Raised in Saskatchewan Jon began playing the drums at an early age, soon developing a passion for jazz music. His interest in music led him to move to Montreal and enroll in McGill University, graduating with distinction in 1999. His journey would continue while attending residencies at the Banff Centre for the Arts and studying with master jazz drummers in New York City and Toronto. During the early 2000s, He toured around the world with the violin stage production Barrage.
In 2002 McCaslin completed his Master's in Jazz Studies at McGill University and in 2015 Dr. McCaslin completed his Doctorate in Jazz Studies at the University of Toronto, researching the conceptualization of melodic jazz drumming.
McCaslin has two albums of original music to his credit including McCallum's Island (2003) and in 2012 he released his album Sunalta (cellar live). This music was nominated in 2013 by the Western Canadian Music Awards for best jazz recording of the year.
He continues to perform and record with many of Canada's great jazz artists.
Since 2009 he has authored Four on the Floor one of the world's most recognized online jazz drumming blogs.
He is currently based in Calgary where he maintains a busy performing and teaching schedule across Canada and he will never say no to a good cup of coffee!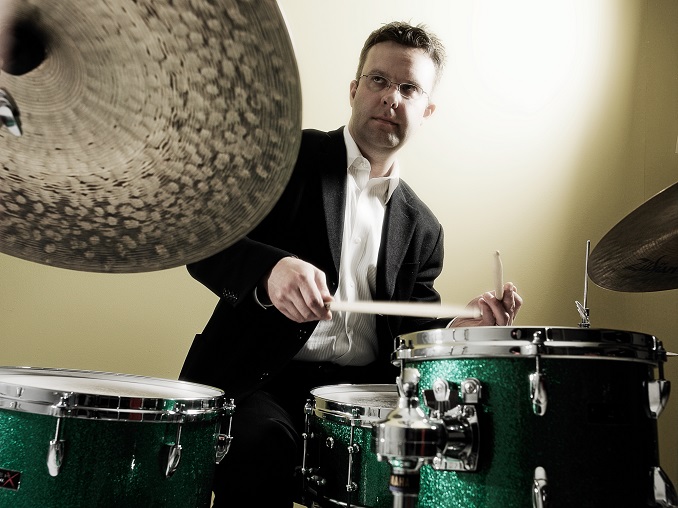 Name:
Jonathan McCaslin
Genre:
Jazz
Founded:
I started playing the drums when I was nine years old, learning how to play the drums in the Regina Lions Band. I moved to Montreal when I was 18 to study at McGill University and spent time in Toronto, New York and on the road before settling in Calgary.
# of Albums:
Two
Latest Album:
Sunalta (2012)
Latest Single:
"The Wild Beast" for solo drums & percussion (2022)
Latest Video:
"Swing Forward!" featuring Lisa La Touche (tap dancer)
Favourite musicians growing up:
Max Roach, Charlie Parker, Sonny Rollins, Oscar Peterson and RUSH
Favourite musicians now:
Joe Lovano, Christian McBride, Lewis Nash, Ron Carter, Billy Drummond, Alan Jones and Allison Miller
Guilty pleasure song:
"Single Petal of a Rose" – Duke Ellington
Live show ritual:
I always play the drums in my stocking feet! (I have a preference for striped socks…)
Favourite local musician:
There are so many talented jazz artists in Calgary (of whom most go unrecognized, unfortunately). However, one artist that I truly always enjoy listening to is my friend, drummer and percussionist Robin Tufts. Robin always brings a sense of joy, openness, musicality and creativity to the bandstand and any musical situation he plays in.
EP or LP?
LP
Early bird or night owl?
Night Owl/Aspiring Early Bird
Road or studio?
On the road…
Any shows or albums coming up?
This Fall I worked extensively with Decidedly Jazz Danceworks, playing drums for the production Family of Jazz, both here in Calgary and then in Toronto for the Fall For Dance North festival.
I am also curating an ongoing concert series at Theatre 1308 called the Calgary Jazz Composers Collective, a project that features original music from an ever-changing roster of Calgary jazz artists and composers.
I also have an exciting ongoing collaboration and residency project with tap dancer Lisa La Touche, researching the rhythmic relationships between tap and drums with the goal of creating a full-length stage production.
Where can we follow you?
Since 2009 I've been writing regularly for my jazz drumming blog Four on the Floor. You can also visit my website, and find me and my drums on Instagram.
***
Rapid Fire Calgary Qs
Favourite local restaurant:
SoughtxFound Coffee Roasters (it's the best in town!)
Favourite street in your city:
9th Avenue SE in Inglewood. It's got everything you need! (great breakfast, coffee, live music, pizza by the slice, retro videogames, two cool bookstores, stationary, used records, an Italian deli, brew pubs, lawn bowling…I could go on Lol)
Favourite park in your city:
Nosehill. It's nice and quiet up there, there are always trails and hidden places to explore and the area by the Siksikaitsitapi medicine wheel offers the most peaceful view of the city and surrounding mountains. It's a great place to put a pause on life, take a deep breath and take in the surroundings.
Favourite music venue in your city:
BuckingJam Palace
Favourite music store in your city:
Recordland