Introspective and enthralling, with equal parts grit and grace, Emmet Michael is a musician who was built on his trials. Turning to music in his darkest times, he found solace in his ability to share his heart with others through his lyrics. Drawing on his experience of embracing his identity, living with mental illness, and battling addiction, his songs carry a tone of desperation and sorrow. With soulful melodies and heart-wrenching lyrics, his music conveys a message that is both powerful and vulnerable. Entirely unique, yet familiar.
There is a lifetime's worth of honesty and vulnerability encapsulated in the Edmonton Music Prize Winning album: "I Hope You're Home", the debut full-length album released in the summer of 2021. A bold, unflinching look at life as an outsider before undertaking a journey of self-discovery that would help mould him into the person he is today, it is the sum of those experiences that resonate throughout the course of the record.
Recently showcased to larger audiences at Canmore and Edmonton Folk Music Festival, Edmonton Fringe Festival, and BreakOut West, his live shows provide an experience simply too incredible for words. His eloquent storytelling pairs perfectly with an always evocative performance, allowing those in attendance to connect – to him, themselves and each other.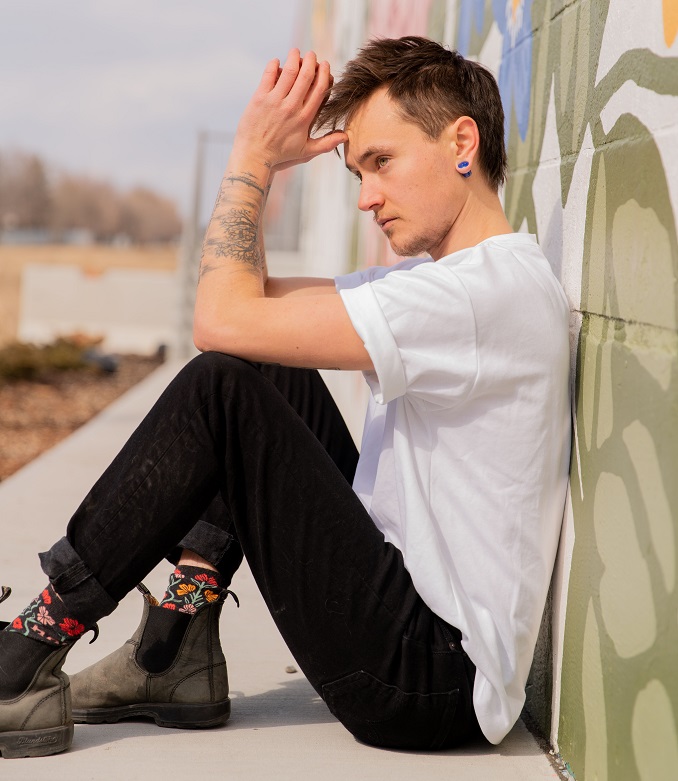 Name:
Emmet Michael
Genre:
Singer-Songwriter
Founded:
2017
# of Albums:
2
Latest Album:
I Hope You're Home (2021)
Latest Single:
Halloween (2022)
Latest Video:
Favourite musician growing up:
Avril Lavigne
Favourite musician now:
Manchester Orchestra
Guilty pleasure song:
Drive by Miley Cyrus
Live show ritual:
I like to sit outside by myself for a few minutes to do some deep breathing and take in nature
EP or LP?
LP 100%. I love to listen to longer collections of songs from start to finish. I feel like you get the full story that way.
Early bird or night owl?
Night owl all the way
Road or studio?
I really like the creative process in a studio setting
Where can we follow you?
Website | Facebook | Instagram | YouTube | Spotify | TikTok
***
Rapid Fire Local Questions:
What is your favourite local restaurant?
Cafe Mosaics
What is your favourite street in your city and why?
124th St because they have a lot of local artisans and shops, as well as farmer's markets and other art and music events
What is your favourite park in your city and why?
I like the Mill Creek Ravine Park because I always walk my family dog there and I get to meet lots of other doggos.
What is your favourite music venue in your city?
The Aviary
What is your favourite music store in your city?
The Acoustic Music Shop on Whyte Avenue