Calgary, primarily recognized for its sprawling landscapes and the globally acclaimed Calgary Stampede, unfurls another facet when twilight descends. Beneath the starry canopy, the city pulsates with nightlife attractions, each offering a unique flavour of the Canadian way of living. You are in luck if you are just looking for a comprehensive guide to the best spots to visit in Calgary at night. Prepare for a taste of Calgary's nightlife.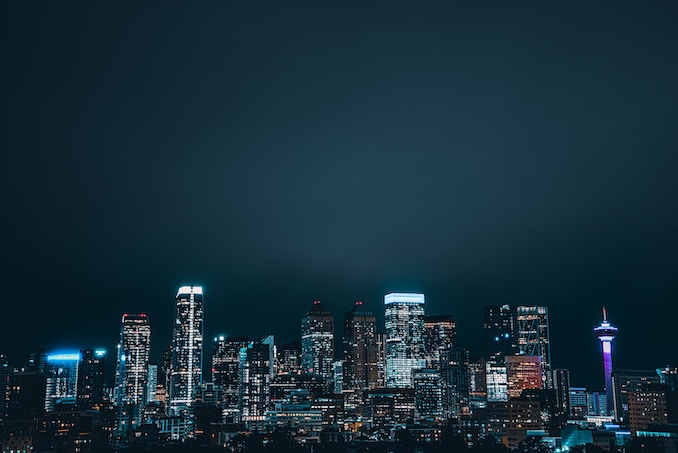 Sky-High Delights: Rooftops With A View
Rooftop bars in Calgary offer more than just beverages; they promise elevated experiences with panoramic views. Don't miss the Rooftop Bar at Simmons, where you can pair cocktails with sweeping views of Calgary's skyline and the Rockies. Vertigo Lounge is another must-visit spot, blending contemporary atmosphere and signature drinks for sophisticated nights out. Before your night on the town, be sure to search for the best bonus codes in Canada to maximize your entertainment budget. With stunning settings and scenery, Calgary's rooftop bars deliver one-of-a-kind evenings you'll long remember.
Groove Central: Where Calgary Dances
The heart of Calgary beats in rhythm with its downtown dance venues. Commonwealth Bar & Stage dominates the scene with its two energetic dance floors, each pulsating to genres from across the globe. For those seeking cutting-edge beats, Hifi Club is a haven, playing host to international DJs and music aficionados alike.
Whispers of the Past: Speakeasies and Secret Bars
Venture into Betty Lou's Library and step back in time. Concealed behind a deceptive entrance, this Prohibition-era bar serves nostalgia with every expertly crafted cocktail. Similarly, The Derrick Gin Mill & Kitchen whispers tales of the past, tempting patrons with its vast gin selection and intimate ambiance.
Liquid Artistry: Calgary's Craft Creations
The city's craftsmanship shines at locales like Village Brewery. Here, guests can embark on a sensory journey, touring brewing facilities and sampling eclectic brews. Spirits enthusiasts will find solace at Eau Claire Distillery, a venue celebrating the art of distillation with its artisanal spirits and informative tasting sessions. It's true that a newsletter marketing strategy is still a relevant way of approaching customers, but the unique craftsmanship of Calgary says more than a million words.
Guffaws and Chuckles: Comedy Hubs of the City
Are you seeking comic relief? Head to Yuk Yuk's Comedy Club, an institution in Calgary's laughter scene. Regular performances by seasoned and budding comedians ensure that mirth resonates throughout the evening. Meanwhile, The Laugh Shop promises a humor menu, featuring renowned comedic talents that leave audiences in splits.
Retro Rhythms: Vinyl Bars and Nostalgic Nights
The warm crackle of vinyl records sets the ambience at The Palomino Smokehouse. As patrons savor smoked delicacies, classic tracks transport them to another era. In a similar vein, Broken City pairs its drinks with a collection of retro hits, perfect for a laid-back evening. On the other end of the spectrum – if you want an end of the day filled with adrenaline, you might want to visit one of the best casinos in Calgary.
Spotlight On: Calgary's Culture and Theatres
Culture aficionados have a haven in Calgary's thriving theatrical scene. Theatre Calgary stands out, not just as a beacon for traditional stage performances, but for its audacious approach to late-night shows. With a roster that delves deep into the realms of drama, the theatre promises nights filled with compelling stories, fervent passion, and unparalleled artistry. Each performance is meticulously crafted to engage, evoke, and inspire, ensuring that attendees leave with a piece of the performance etched into their memories.
Midnight Munchies: The Best Late-Night Eateries in Calgary
Sooner or later, as you weave through the vibrant streets of Calgary, the rhythmic pulse of the night and the myriad experiences are bound to work up an appetite. Whether you're seeking a quick bite or a gourmet feast, Calgary's nocturnal gastronomy promises to satiate every craving. After all, exploring the city's after-dark allure isn't just about the sights and sounds; it's also about indulging in its rich flavours. These are some of the top spots to dine in the city:
Crossroads Market – A bustling hub of gourmet delights, ranging from Canadian classics to global favourites.
Stephen Avenue Food Trucks – A rotating selection of trucks, each dish out scrumptious, quick bites perfect for on-the-go explorers.
Alley Burger – Renowned for their mouthwatering burgers and shakes.
Una Pizza + Wine – Satisfy your midnight pizza cravings with their eclectic range.
This and Much More
Calgary, with its myriad nighttime offerings, promises more than just fleeting memories. It invites visitors to immerse in a tapestry of sounds, flavours, and sights, each narrating tales of a city that truly comes alive after dark. So, as you traverse Calgary's nocturnal streets, let each destination weave a story, making your night one for the books.