What is the cruelest thing about summer? It always comes to an end. For many of us, it is back to school and work but that does not mean the fun has to stop. In fact, there are a great number of fun things to do in our glorious city. So, turn those end-of-summer frowns upside-down. We have got a lot to look forward to. Just like Earth, Wind, and Fire's "September" you can change the minds of pretenders by inspiring them to just go for it. Here are the top ten events happening this month: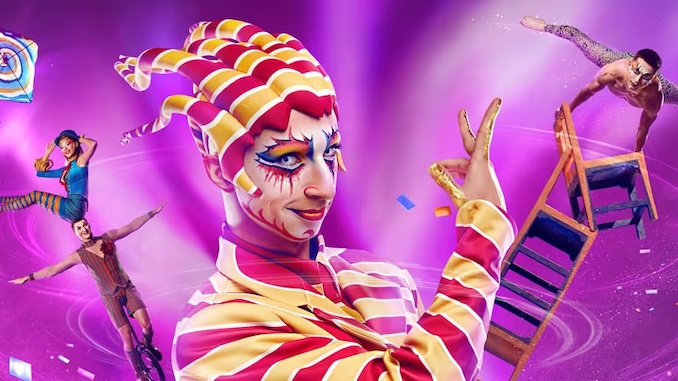 Cirque Du Soleil: Kooza – August 25, 2023 – October 8 – Stampede Park
The big top is coming to Calgary and it is here all September long (give or take a few days). Not a bad start to the end of the summer season. Kooza is about one innocent soul's journey into a world full of surprises. Quirky characters, physical humour along with a menagerie of acrobatic delights is in store for all those who come to see the show. Send in the clowns and you got a visually stunning performance that you would not soon forget.
Get your tickets here: Cirque Du Soleil Tickets
Calgary Pride Parade and Festival – September 2-3 – Prince Island Park
Celebrating our differences in all forms comes on the September long weekend. It starts with a parade that marches down 9th Avenue Southwest and ends at Fort Calgary. We see our city's true colours on display for all to enjoy and then bring it over to Prince Island Park where the party continues. A celebration of love and inclusivity looks like a marketplace, beer gardens, all age performances, and finishes with the movie "To Wong Foo, Thanks for Everything! Julie Newmar." at the main stage.
This is a free event but more information can be found on their website can be found here: Calgary Pride
An Evening with Groucho: September 8, 2023 – November 12, 2023 – Stagewest Calgary
Instead of spending an evening in front of the television, why not try something that is more like an experience. The best thing about Stagewest is that you get a dinner and a show however this month they promise to give us a laugh. "An Evening with Groucho" is a 90-minute farce brought to us by award-winning actor/director Frank Ferrante who is portraying the legendary comical genius Groucho Marx. Not only can you have a wonderful all-you-can-eat dinner that is filled with several different options but a smile on your face when you leave.
Get tickets here: Stagewest Tickets
The Mousetrap by Agatha Christie: September 12, 2023 – October 8, 2023 – Theatre Calgary: Max Bell Theatre (Arts Commons)
The world's longest running whodunit play is coming to Calgary thanks to history's greatest mystery writer; Agatha Christie. A horrible murder has happened in London and seven strangers are trapped in a remote guesthouse. The thing is, one of these guests could easily be that murderer and so the paranoia starts. With a police sergeant in tow, these guests must face some dark secrets with no chance of escape and the possibility that one of them is next on this killer's list. Who can you trust in this frightening situation?
Get your ticket here to find out: Theatre Calgary Tickets
Beakerhead – September 14, 2023 – September 17, 2023 – Telus Spark Science Centre and Century Gardens
What do you have when you get art mixed with engineering and science? An interactive event where we can all feel like kids again and explore all kinds of wonders. You can see the "Forest Guides" which are ice sculptures that won't melt, see some "Revolutionary Realities" that give a glance into a new kind of art, and meet the "Robot in 30 Hours" who happens to be very social. Then later you can enjoy the mesmerizing lights of the Cosmic Nexus, see mind-blowing performances from Cirque De La Nuit, and witness some Aerodynamic Marvels. The options are endless.
To learn more, see this website: Beakerhead Festival
Wild After Hours: Garden Noir (18+): September 15, 2023 – Calgary Zoo: ENMAX Conservatory
Do you ever want to get a little wild after hours in the city? Here is a good chance to do that. A magical world is created for one night only at the Calgary Zoo. This enchanting experience has food stations ready for some decadent dining, exceptional elixirs for those who love a good cocktail, an auction for treasure-hunters looking to collect, a dance floor and performers to spend the night dancing in elegant style.
Get out your little black dresses and finest suits because tickets are sold here: Calgary Zoo Tickets
Fashionable Affair: September 16, 2023 – Deerfoot Inn and Casino: Chrome Room
Have a stylish brunch on this Saturday with endless mimosas and DJ JGROOVE turning on the tunes. For a short time during the day, you can enjoy a full buffet brunch, a fashion show that showcases Calgary's local designers, and as many mimosas as you can drink. It is a good gamble that you and all your friends will enjoy this fashionable fiesta. Who knows? You might get some clothing inspiration, catch a new trend, or find the designer of your dreams.
Get tickets here: Fashionable Affair Tickets
Calgary International Film Festival – September 21, 2023 – October 1, 2023 – Various Locations
Forget Hollywood! It's time to see what the local movie-makers can do and they know their stuff. There are films of every genre to be seen at this occasion whether you are a horror film buff or looking for something romantic. As the largest film festival in the province and the sixth biggest in the country, the CIFF believes in the artistic vision of independent filmmakers. If you are looking for something off-the-beaten-path but want something a little more chill than look no further.
Get your tickets here: CIFF Tickets
Calgary Flames vs. Edmonton Oilers – September 27, 2023 – Scotiabank Saddledome
And the rivalry between these two cities continues. You can almost write a book about it but it is better to see it at a live hockey game. Canada's favourite sport has always been a highlight at our Saddledome Stadium but there is something special about seeing Alberta's biggest metropolitans settle the score on the ice. The question is; who is going to win? Flames fans are always optimistic that it will be them while the Oilers followers argue that they won the last game and will continue to do so.
To find out the answer, get your ticket here: Flames vs. Oilers Tickets
Serena Ryder with Calgary Philharmonic Orchestra – September 29, 2023 – Jack Singer Concert Hall
Our beautiful Canadian folk-rock singer is going to perform for us with the help of the Calgary Philharmonic Orchestra. Her sensational songs are going to be showcased in a thrilling and unique happening right in the centre of our city. Her lively performances bring us a lot of joy, make us see the world through her eyes, and set our souls into a new sense of freedom. Just think with the help of the CPO, such a performance from this remarkable Juno-award winner will take us to amazing new places.
Get the tickets here: Serena Ryder Tickets.
***
It's true that September means we have to get back to reality but here is some good news. We can always take a break and find some enjoyment to be had. Don't let the winter blues get you yet. After all, the season of autumn has a lot to offer, i.e., pumpkin spice lattes. Take a sip, let the good times rip, and watch the fall leaves zip. When you know where to look "there will never be a cloudy day." Just ask one of the best-selling musicians of all time.