If you think something seems familiar about Orchard Sky, you're not wrong. However, the Western Canadian trio has put its previous identity as The Orchard firmly in the past and is excited to debut its dynamic new Country sound.
When the group's long-time musical collaborators Mitch Smith and Andreas Wegner were in search of a new lead vocalist, they struck gold in landing two-time Western Canadian Music Award winner Krystle Dos Santos. Along with her stunningly soulful voice, she brings to Orchard Sky a powerful stage presence that has also been displayed in productions of Dreamgirls, and The Chelsea Hotel: The Songs Of Leonard Cohen,
Orchard Sky's debut single, "Canadian Party Song"—which sounds as raucous as the title suggests—was released June 24 through Royalty Records, with the equally exciting tracks "Flashbang" and "Honest" from the band's forthcoming EP.
With it, Orchard Sky is poised to become the next major Country export from western Canada, following the trail blazed by the many artists from that province who have come before them. For Orchard Sky, the sky is the limit.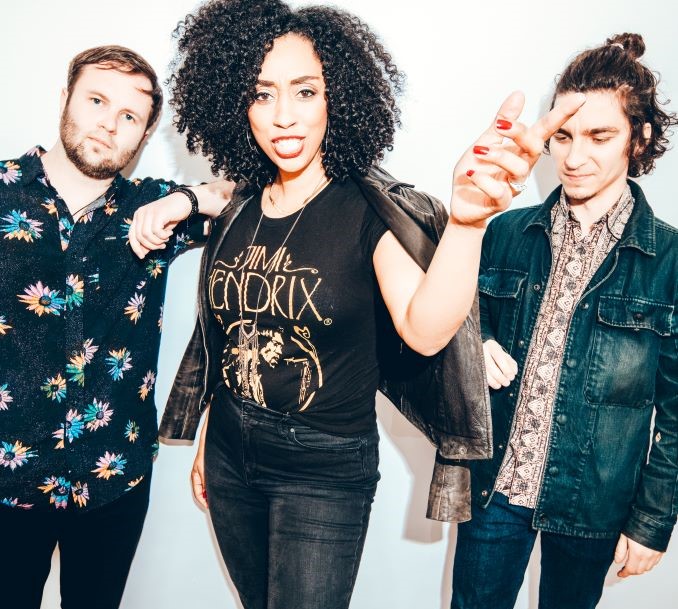 Name:
Orchard Sky
Genre:
Ahh… This one is always tough, it can be a bit open to interpretation with this record! Country/rock, whatever that even means I guess, haha!
Founded:
2021
# of Albums:
1
Latest Album:
Orchard Sky
Latest Single:
Canadian Party Song
Latest Video:
Favourite musician growing up:
That changed a lot throughout the years, I was born in the 90's so before I had musician tastes it was all the popular stuff on the radio, backstreet boys, TLC, Spice Girls, all the boy and girl bands of the 90s. It was really fun stuff because if thought you had your heart broken as a little kid, it was great music for that, haha!
Favourite musician now:
We love the southern rock stuff, all the slide guitar-sounding stuff and just raw talent, you know? We actually have a Bonnie Raitt track on our album that is coming out later this year. There's so much music out there to be inspired by.
Guilty pleasure song:
Mine was actually Levitating for quite a while, haha.
Live show ritual:
Group huddle!
Favourite local musician:
As cheesy as it sounds, I am lucky enough to be in a band with them!
EP or LP?
LP!
Early bird or night owl?
Oh, I go back and forth, there's something sweet about both.
Road or studio?
Both! I would say studio, but post covid there is something about playing live and connecting with people
Any shows or albums coming up?
First single is out now, look for the album later this year!
Where can we follow you?
Instagram | Twitter | Facebook
***
Rapid Fire Qs
Favourite local restaurant:
Dadeo's is an Edmonton must!
Favourite street in your city:
Whyte ave still has the coolest feeling, like most places some of it is turning into mostly chain stores but there's always the odd record shop or something to do down there!
Favourite park in your city:
I have a big dog so I tend to spend time in the river valley, we are so lucky to have it!
Favourite music venue in your city:
Starlite Room
Favourite music store in your city:
Stang Guitars! Great guys, no ego, the coolest guitars!