Featured on November 4th at The Palace Theatre is something not often found in Calgary: an electronic dance music concert performed by a classical orchestra. Founded by violinist Joshua Park, the crossover ensemble Electronic Symphonia will be performing songs by artists including Calvin Harris, Swedish House Mafia, Avicii, David Guetta, Tiesto, Armin van Buuren, and more.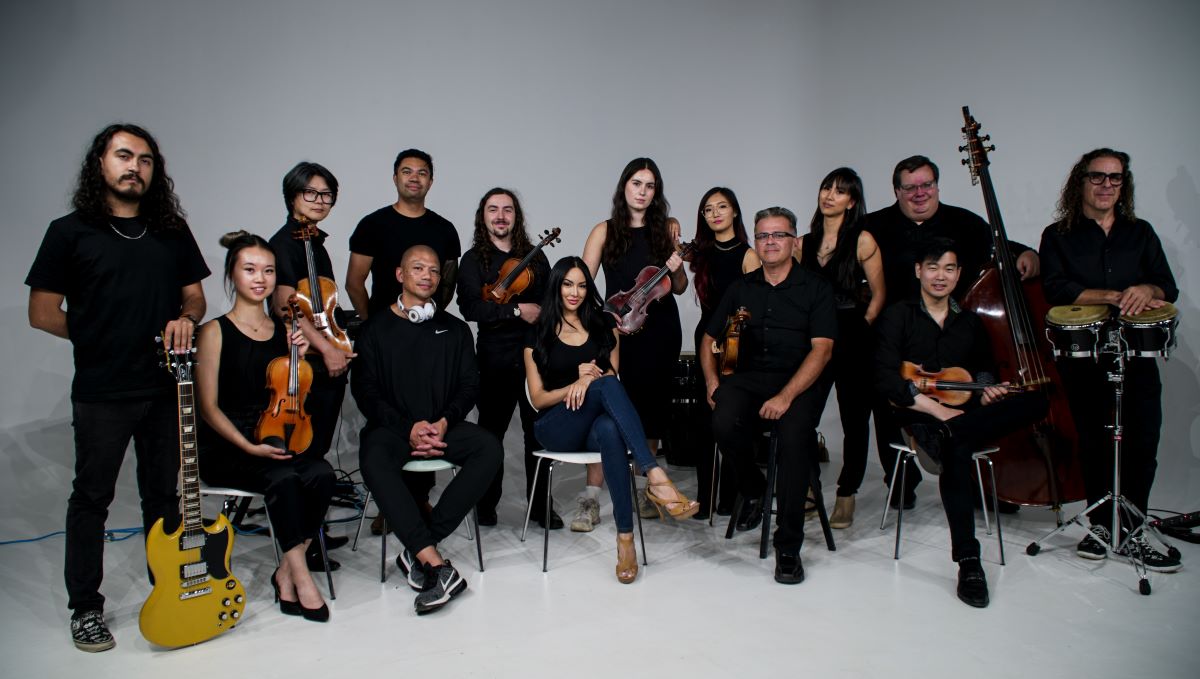 After completing his two-year diploma at the Mount Royal University and a Bachelor of Music degree at the University of Calgary, both in classical violin performance, Park began performing extensively as a freelancer, at weddings and corporate events in particular. The Dark Arts Restaurant, a local pop-up, gave Park a weekly performance residency, and after bringing in his string quartet, Park went on to invite a larger group of his friends and colleagues to join him in performing at the restaurant. Their sold-out concert, titled "Music 101," put an educational spin on their performance, showing the evolution of music throughout history, from baroque music to today's pop songs, with narration and introductions for each piece. The success of the concert and the enthusiasm of both the performers and the audiences led to the creation of the ensemble Stringendo YYC.
Composed of fourteen classically trained musicians, Stringendo YYC has now produced over seven successful concerts combining classical music with other genres, including rock, pop, jazz, and R&B. Their concert-goers tend to be different from regular attendees at the Jack Singer Concert Hall or other traditionally classical venues. Knowing that many are intimidated by the idea of a classical orchestral concert, Park wanted to bring the orchestra to new ears, saying that at one of their first concerts, an audience member in their mid-40s told him that they had never thought about watching an orchestra live, not having realized what sound and possibilities could come from such an ensemble.
For their upcoming performance at beloved Calgary venue The Palace Theatre, the ensemble, together with DJ Joel Jove and singer Riza Raquel Santos, is rebranding themselves as Electronic Symphonia. Inspired by the well-known EDM festival Tomorrowland, Park hopes to use holographic technology in collaboration with local mixed media arts studio, Studio Luma, known for their expertise in experiential marketing. Experienced with putting LED lights on their instruments for added festivity, Stringendo YYC would like to see 3D glasses paired with holographic sound waves at their future events. The ensemble will be performing arrangements by pianist/singer Natalia Chai, violinist James Watson, and composer Karl Edh.
Park says that their group is following the trend of crossover ensembles in both Europe and the US. He hopes that Stringendo YYC can one day perform at festivals like Chasing Summer and eventually go on tour to other cities. With a number of composers among the ensemble's ranks, he would also like his ensemble to perform original works and potentially expand to other genres such as hip-hop. Stringendo YYC's upcoming concerts also include a Christmas concert on December 17th at Hitman's Bar inside the popular Cowboys Casino, featuring a solo set by pianist and singer Natalia Chai.
Saturday, November 4th, 2023, 9:00 pm-3:00 am
The Palace Theatre
219 8 Avenue SW
Calgary, AB T2P 1B5