OraQ AI will provide advanced patient assessments and detailed risk profiling by shifting the current reactive model to one of risk reduction and prevention. We spoke with Dr. Amreesh Khanna, Founder and CEO of OraQ AI, to find out more about what they do.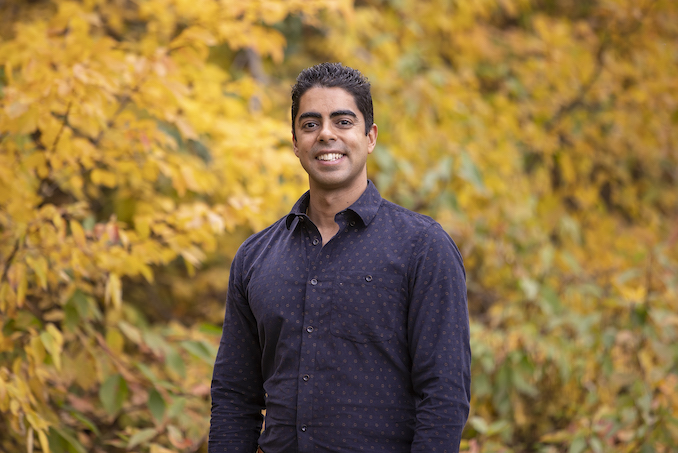 What is your business called and what does it do?
OraQ's AI technology enables precision, patient care that is customized to the needs of every patient all by giving dentists what they need at their fingertips, in real-time, all within one patient visit! Dentists and patients no longer have to be concerned about the knowledge lens that one dentist brings to evaluating a patient and how that differs from another dentist. OraQ AI will provide advanced patient assessments and detailed risk profiling by shifting the current reactive model to one of risk reduction and prevention.
What made you want to do this work?
As a practicing dentist for over 15 years and co-owning 2 dental clinics, I saw the problem of inconsistency in dentist productivity and its negative impact on patient care and the challenge of growing a dental business. I knew there had to be a better way for what we do to close that gap, grow successful businesses, optimize patient care and do the dentistry we love!
What problem did you want to solve with the business and how is Google for Startups Accelerator Canada supporting those goals?
We want to solve the problem of inconsistency amongst dentists leading to missed treatment opportunities and negative patient outcomes by leveraging the power of AI and machine learning by bringing "the mind and wisdom of 1000 dentists" to the centre of the Dentist-Patient relationship. Shift the current reactive model of care to one of risk reduction and prevention. We are looking for the expertise from the Google Accelerator Program to help us with gaining valuable insights into our AI Models, guidance on our development of newer models that will not only be incorporating NLP but also computer vision and how to truly leverage the power of data to create health risk scores for patients so they understand the value and impact of dental treatment on their overall health!
Who are your clientele/demographics?
Our clientele are "dental practices" and the dental team! We work with dentists of any background, age and all years of experience. Our target market is 50% of dental practices in North America (>100 000 practices) that are "multi-dentists" as they see this problem of inconsistency between dentist productivity and its negative impact on patient care multiplying as they try to grow.
How does your business make money? How does it work?
OraQ will launch to market as a cloud-based software subscription solution, seamlessly integrating with dental practice record systems and existing workflows, starting at only $500 CDN per month, per practice with a promise of a 10X ROI on this spend.
It will have a freemium component, with a simple upgrade path to unlock access for the entire patient scope of a dental practice. We estimate capturing up to 10% of the 200 000 dental practices within 6 years of launching OraQ. Our goals are ambitious but we're not asking dentists to change their current tools. We're offering them a new tool that enhances their existing processes
Where in Calgary can we find your business?
We are fully remote at this time from a company perspective but launching our beta into Calgary Dental practices and into our western Canadian Dental Group Passion Dental this August!
What makes your startup unique from your competitors?
Today, every dental office relies on plugging in various software solutions to run their business: from patient management and marketing, radiography and imagery, to billing and insurance. While AI already exists in radiographic analysis dental solutions, OraQ differentiates and sets itself apart from the competition through its focus on the overall clinical exam process with an integrative and wholistic approach and combining all sets of data into a validated risk profile with recommendations that Dentists can trust, ultimately bringing far more value to a practice and patients over what radiographs can do alone.
To add to our competitive advantage we have a two-pronged approach to development, an automated product alongside the full-scale AI solution that would be fully usable once the AI is fully approved, this will allow users to have access to OraQ's technology prior to AI regulatory approvals are achieved and then "upgrade" to the full AI solution at that time.
What is the best part about what you do? What is the worst part?
The best part of what I do is creating something that can change the way every dentist looks at their patient with the potential of a global reach! Help patient's in parts of the world that don't have access to the quality of care we do here in North America!
The worst part…that's a tough one, I do miss picking up a dental mirror and drill, though my patients wouldn't say the same hahaha.
What is your favourite joke about your own profession?
"Saving lives one tooth at a time"
PAY IT FORWARD: What is another Calgary business that you love?
ZayZoon! Love what they are building and the culture they have developed being remote is truly inspiring!
What are your social media channels?
***
About Google for Startups Accelerator Canada:
The three-month accelerator program is designed to bring the best of Google's programs, products, people and technology to startups that leverage machine learning and AI in their company today or plan to in the future.
The accelerator features a cohort of 12 startups that come together to tackle specific technical challenges that can help grow their businesses through a mix of remote and in-person, 1-to-1, group learning sessions, and sprint projects.
Founders outline the top technical challenges for their startup and are then paired with relevant experts from both Google and the industry to solve those challenges and grow their business.
In addition to mentorship and technical project support, Google for Startups accelerators includes deep dives and workshops focused on product design, customer acquisition, and leadership development for founders.
Google for Startups Accelerator Canada Blog: Blog post – Introducing the Google for Startups Accelerator Canada Class of 2022