Chef Hannah Che shared her recipe for Stir-Fried Corn & Pine Nuts from her book, The Vegan Chinese Kitchen – Modern Recipes and Stories from a Thousand-Year-Old Tradition.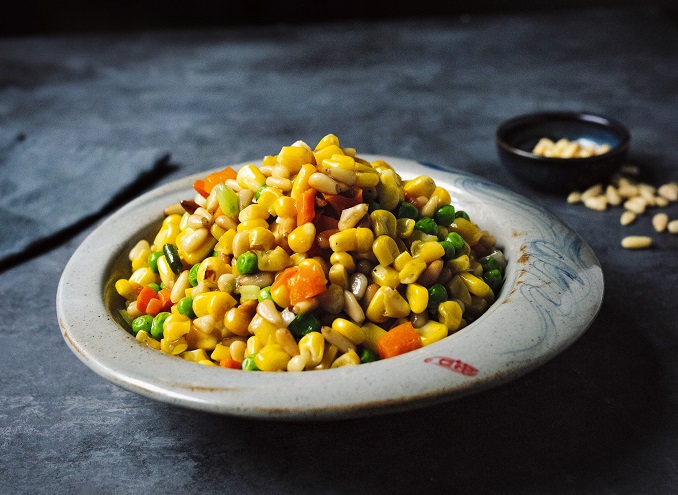 Stir-Fried Corn & Pine Nuts
Serves 4
Ingredients:
– ½ teaspoon potato starch
– Kosher salt
– 2 cups (10 ounces / 280 grams) sweet corn kernels, frozen or cut off 2 fresh cobs
– ½ cup (2½ ounces / 70 grams) shelled peas
– ¼ cup (2 ounces / 50 grams) ¼-inch-diced carrot
– 3 tablespoons vegetable oil
– ²⁄₃ cup (2½ ounces / 70 grams) pine nuts
– 1 scallion, white part only, cut into ¼-inch pieces
– 3 garlic cloves, minced
– ½ small red bell pepper (2 ounces / 50 grams), seeded and cut into ¼-inch dice
– 1 tablespoon sugar
– ½ teaspoon toasted sesame oil
Directions:
Make a slurry by combining the potato starch with 1 tablespoon of cold water in a small bowl. Stir until smooth and set aside.
Bring a pot of salted water to a boil and blanch the corn kernels for 1 minute. When the water returns to a boil, add the peas and cook with the corn for 1 minute. Finally, add the carrot and blanch for 30 seconds. Remove everything with a slotted spoon and drain well in a colander. (If using frozen vegetables, skip this step and add them to the wok frozen to prevent them from becoming soggy.)
Heat a wok or skillet over low heat and add the vegetable oil, swirling to coat the sides. Add the pine nuts and stir-fry until they are light golden in colour and smell wonderful, about 3 minutes. Remove the pine nuts with a slotted spoon and set them aside to drain on paper towels, leaving behind the fragrant oil.
Increase the heat to high. Add the scallions, garlic, and bell pepper and stir-fry until fragrant, about 30 seconds. Add the blanched corn, peas, and carrots to the wok and stir-fry briskly. Season with sugar and 1 teaspoon of salt. Add ¼ cup (60 mL) water and cook for about 2 minutes, until the vegetables have absorbed the flavours and the corn is juicy and tender. Give the starch slurry a stir and gradually add it to the wok, stirring continuously until the liquid has thickened and coats the vegetables with a thin, glossy sheen. Adjust the seasoning with salt and stir in the toasted pine nuts. Remove from the heat and drizzle with the sesame oil. Serve immediately.
***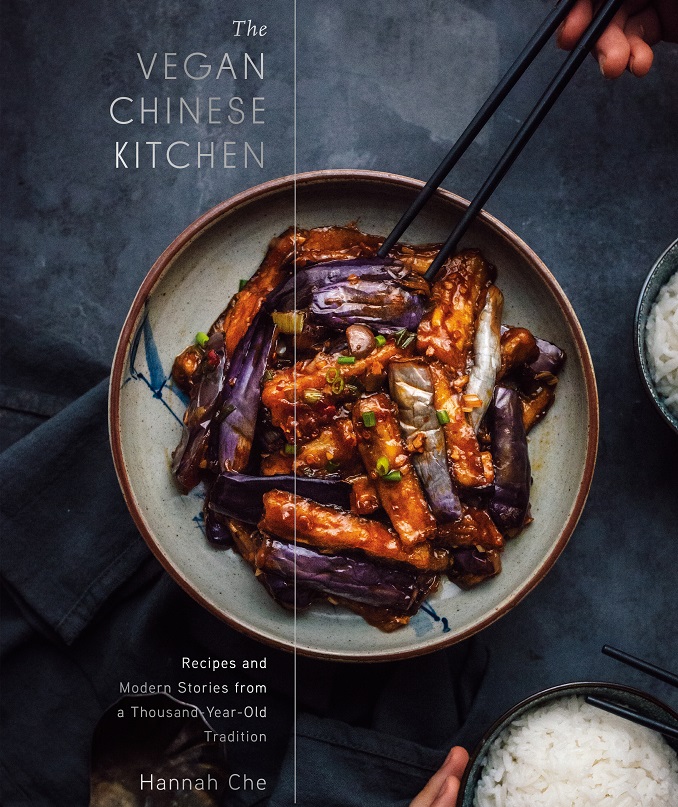 The Vegan Chinese Kitchen – Modern Recipes and Stories from a Thousand-Year-Old Tradition, By Hannah Che. Featuring over 100+ fresh, plant-based, umami-packed recipes for regional Chinese classics we all know and love.
Hannah Che is a cook, writer, and photographer based in Oregon, USA. Born and raised in Detroit, Michigan, she lived in China for several years with her family and most recently spent a year travelling throughout China and training as a chef at the Guangzhou Vegetarian Culinary School. She is the creator of the blog The Plant-Based Wok. 
When Hannah Che decided to become a vegan, she was concerned that it would alienate her from the traditions and food that her Chinese family celebrated. But that was before she learned about Zhai cai, or vegetarian cooking, a fascinating subset of Chinese cookery that emphasizes umami-rich ingredients and can be traced back over hundreds, if not a thousand, years to Buddhist temple kitchens.
In The Vegan Chinese Kitchen, Hannah Che shows us the magic of the highly developed and creative tradition in which nearly every dish in the Chinese repertoire can be replicated in a meatless way, such as Blistered Dry-Fried String Beans, Sweet and Sour Tofu, Sichuan chilli-oil wontons, or using spicy mushrooms in dan-dan Noodles. As a graduate of the prestigious Guangzhou Vegetarian Culinary School – the only culinary institute in China dedicated to traditional vegetarian cooking – Hannah brings a strong sense of authenticity to the subject of plant-based Chinese cuisine.
In the book, readers will find recipes that are naturally plant-based with a rich culinary history that are as irresistible as they are nourishing. The Vegan Chinese Kitchen will delight vegans and omnivores alike, inviting them not only to explore a whole new world of flavours and ingredients, but also to create conversations about food, cultural traditions and identity, and wholesome, sustainable cooking.