People come from all over the world to gaze in wonder at the Canadian Rockies. There are so many ways to immerse yourself in their rugged beauty, from your own two feet to the back of horse, from inside a canoe or atop a pair of skis. Even from the comfort of your car one is awestruck as jagged peaks fill every window. No matter your chosen method of travel you are sure to be astounded as majestic scenery unfolds in every direction. Out of all the ways to experience the Rockies, the best might be from above. It's difficult not to be jealous of an eagle, soaring high above snow-capped peaks, enjoying unobstructed views of a diverse and dangerous landscape. Unfortunately, we humans don't have the luxury of flight, but we can do the next best thing, jump on board a helicopter.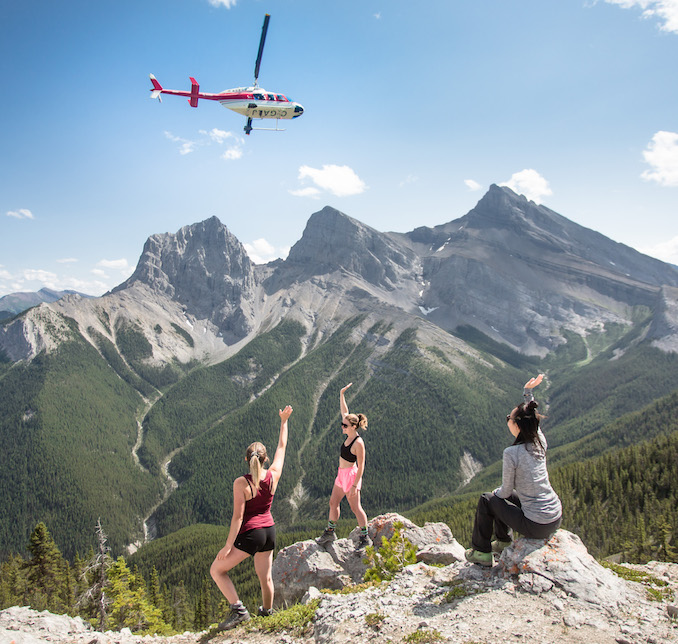 Alpine Helicopters opened for business back in 1961 and have steadily grown into the go-to operation for both heli-assisted tourism and commercial services in western Canada. Their initial base of operations was located in Calgary, but they've added six additional bases across Alberta and BC, including Canmore, Kananaskis, High Level, Grimshaw, Kelowna, and Golden, for a total of seven. They currently have a fleet of 36 Bell Helicopters and their reputation of safety and quality service is unmatched in the industry. You're likely well aware of Alpine's presence in the tourism sector, but you'll also find their pilots assisting with forest fire suppression, mountain rescues, servicing backcountry lodges, power-line maintenance, various construction projects, and a host of other commercial ventures that aren't as widely publicized or visible to the public. Alpine Helicopters have established themselves as a go-anywhere, do-anything operation, which is ultimately what lead me to them for this interview.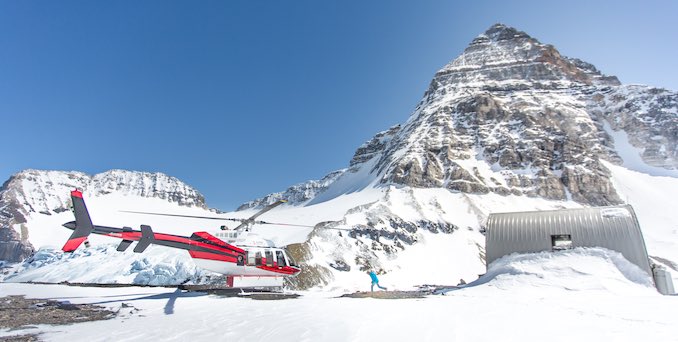 Todd Cooper is the Director of Flight Operations for Alpine Helicopters. He's been flying for the past 22 years, 14 of which have been with Alpine. Previously he worked with Yellowhead Helicopters of out Valemount, which is where he completed his rescue pilot certification with Parks Canada back in 2002. Todd was born and raised in the Bow Valley, so if you're lucky enough to have him seated in the cockpit of your next tour you'll have the best local knowledge on your side.
You might as well hear some of that insider knowledge right from the source instead of from someone who has never even been inside a helicopter. What follows are the highlights from my interview with Todd. His experience and passion for the work is evident through his responses. I hope you enjoy this snapshot of what it takes to be a helicopter pilot who wears multiple hats, sometimes all in the same day.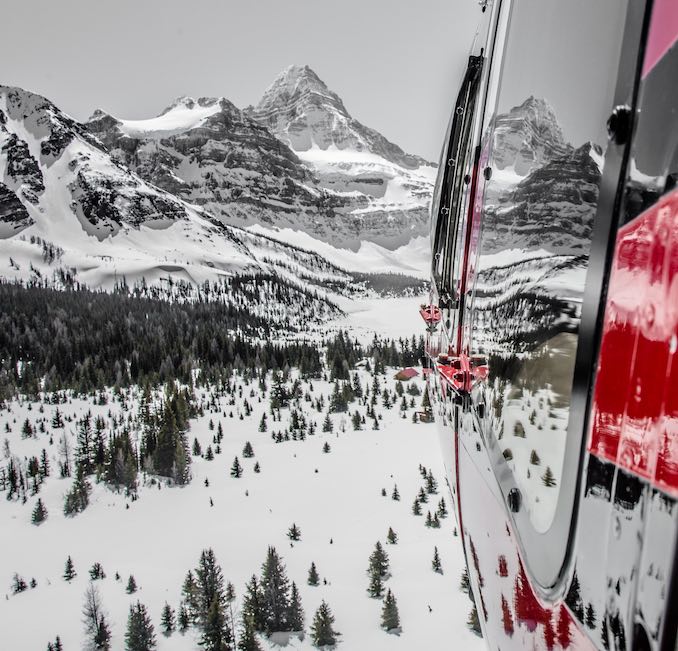 Calgary Guardian: "Let's start with something easy, what's the best part of your job?"
Todd Cooper: "The best part of my job is being able to do rescue work in the area that I grew up in."
CG: "What's the most challenging aspect of being a pilot?"
TC: "The biggest challenge for me is the rescue work itself. People don't usually find themselves in trouble in perfect weather, so when we're asked to go in and help the weather is not always the friendliest and the winds can be strong. But, like I said, it is also the most rewarding part of my job."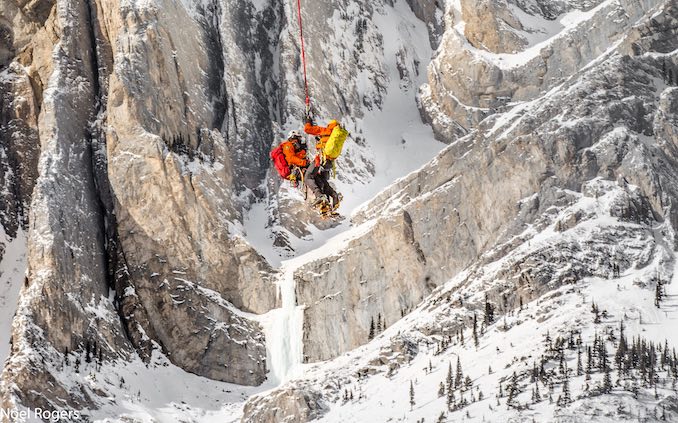 CG: "People aren't just walking in off the street and flying helicopters, so what type of training/licensing do you need for your job?"
TC: "We require a Commercial Helicopter Licence and then after you gain experience there is a certification process through Parks Canada to become a Rescue Pilot."
CG: "Having a bird's-eye view of the Rockies on a daily basis must be pretty special. Do you have one spot in particular that you would consider a personal favourite?"
TC: "The Rockies are a very unique and beautiful area so it's hard to have just one favourite place. Assiniboine and the Bugaboos are two of my favourites because it's pretty hard not to enjoy the view."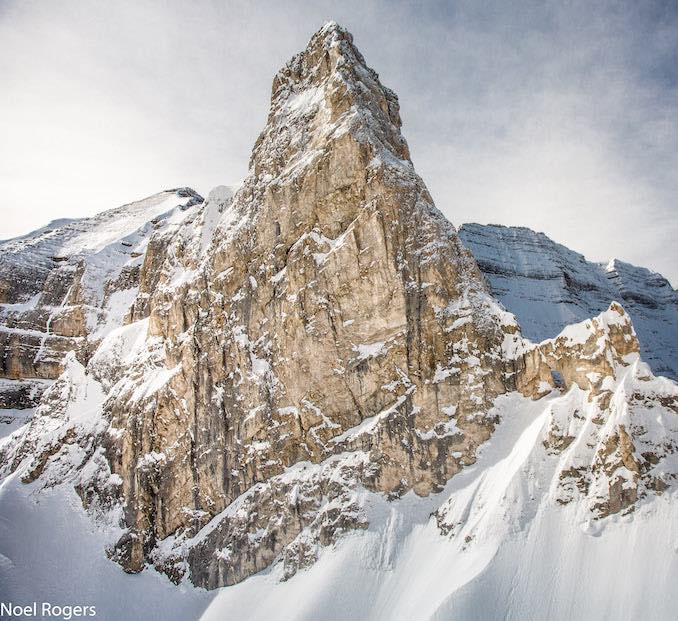 CG: "In your line of work there's likely no such thing as a 'normal' day, but could you walk me through what a typical day might look like?"
TC: "No, I wouldn't call many of our days normal when compared to what a lot of people do for a living. Our days can be very diverse; we service backcountry lodges, move people and materials for trail crews, build and maintain power lines, fight forest fires, help with construction projects, and of course the rescue work; you name it and we have probably done it. We also work with our friends at CMH in a heli-skiing capacity. They are the largest heli-ski operator in the world. It's not unusual to start your day in Canmore and end up in Waterton, Blairmore, or BC before heading back up and towards home at the end of the day."
CG: "Alpine Helicopters are the go-to organization for assisting in backcountry rescues. That is a very prestigious honour, so what does that look like?"
TC: "Our rescue program has two main partners, Parks Canada and Kananaskis Country Public Safety, for which we supply a helicopter and Rescue Pilot 365 days a year. When Alpine Helicopters purchased Canmore Helicopters they took over as the main supplier for those two agencies. We have four certified Rescue Pilots here in Canmore and one in Golden. We all went through a multi-day course to become certified by Parks Canada. We operate in both the provincial and national parks, but also regularly work throughout Alberta and BC for Mutual Aid calls. We have even worked with our partners for Mutual Aid calls in Montana."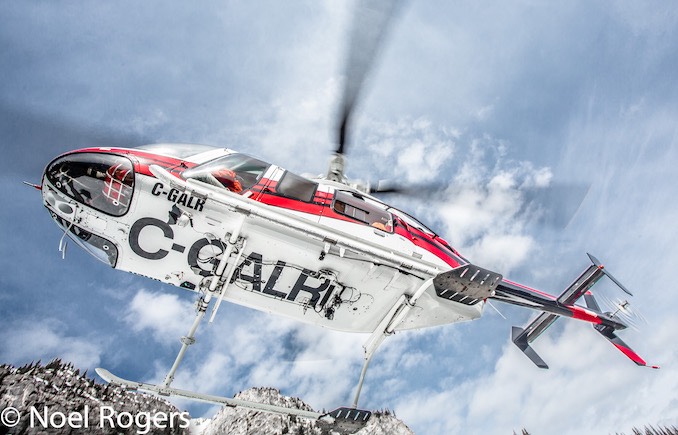 CG: "I've heard about this technique known as long-lining. Could you explain what that is and how it relates to rescue operations?"
TC: "Long-lining is where a line is attached to the belly of the aircraft and is used to move materials, water buckets, people etc. around underneath the helicopter. The long-line loads are controlled by the pilot using the vertical-reference technique, which is basically where the pilot looks down and adjusts the helicopter to control the load. The lines can very in length depending on the clearance required but our standard rescue length is 100ft."
CG: "What separates Alpine from the other helicopter tourism operators?"
TC: "What separates Alpine from other tourism operators is our beautiful back yard and the professional product we provide."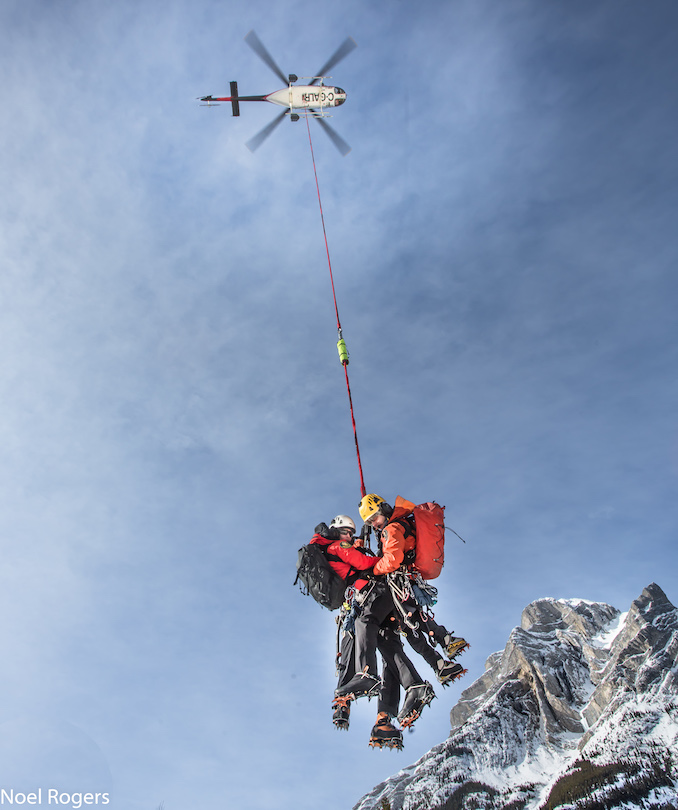 CG: "Do you have any memorable moments from your job that you'd like to share?"
TC: "I have a ton of memorable moments that have happened over the years. It would be hard to limit it to a couple stories…some I probably shouldn't tell anyway!"
CG: "Hahahaha, okay fair enough!"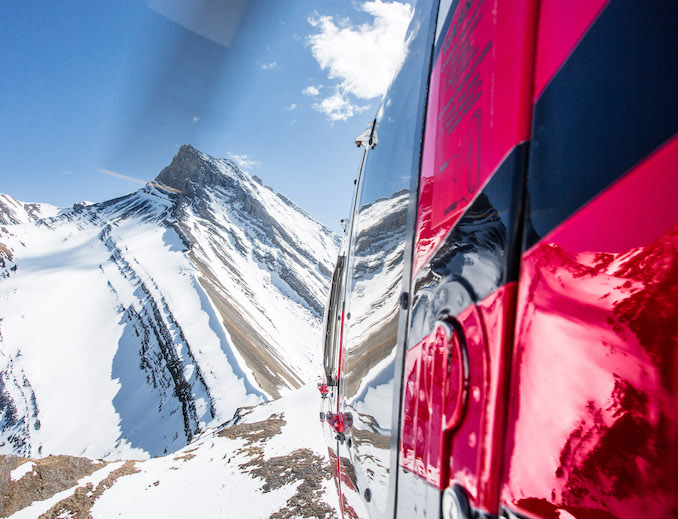 I would just like to take this opportunity to thank Todd for answering all of my questions. He graciously committed to a lengthy interview in the heart of busy season and for that I cam grateful. I would also like to thank Noel Rogers for providing the incredible photos that accompany this piece. Their presence certainly makes the text look a whole lot better. Lastly, I need to thank Alexandra Berard the Marketing Manager for Tourism Canmore Kananaskis for connecting me with Alpine in the first place. Without you this story never would have gotten off the ground.
To stay up to date with everything Alpine Helicopters, or to book your next tour, please visit their website. You can also connect with them on a variety of social media platforms, including Twitter, Facebook, Instagram, and YouTube. For more amazing photos from Noel please find him on both Facebook and Instagram.
***
About this column:
Wild Jobs is a running series that focuses on people in outdoor-related professions. It provides a brief snapshot of their career and the duties that it entails. Please see my previous post, Wild Jobs Part Sixteen: Plaid Goat Mountain Bike Festival Organizer to learn more.