Sedentary lifestyles are becoming all too commonplace in Canadian society. People are sitting, attached to technology, for extended periods of time, during work and play. We've traded exercise and movement, for tablets and smartphones and our health, both physical and mental, is suffering for it. The solution is an obvious one, get up and get moving, but it's not always that simple. Vigorous exercise can be intimidating, uncomfortable, and even dangerous if not done correctly. We're living in an age where we expect things in an instant and exercise-based results take time and effort. This leads many of us to lose interest rather quickly. But what if I were to tell you that complex physical activities aren't the only way to reverse a sedentary lifestyle?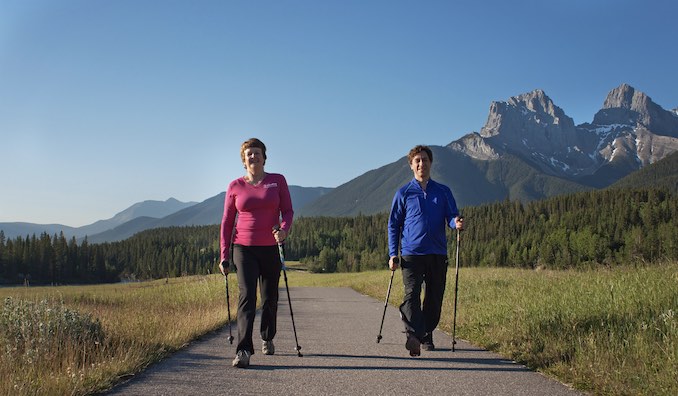 Walking has been called a 'superpower' and recent studies have shown the hidden health benefits of simply heading out and going for a stroll. Walking can improve your overall fitness, posture, endurance, cardiac health, balance, and bone density. It has also been shown to reduce high blood pressure, hypertension, high cholesterol, and body fat, and has been linked to a reduced risk of heart disease and stroke. Walking is also considered a lower impact activity, meaning less stress on bones and joints. And those are just some of the physical benefits, whereas the mental health benefits are equally as impressive. Creativity, focus, self-confidence, and overall mood have proven to be increased after walking. Those benefits are enhanced even further when the walk takes place in nature.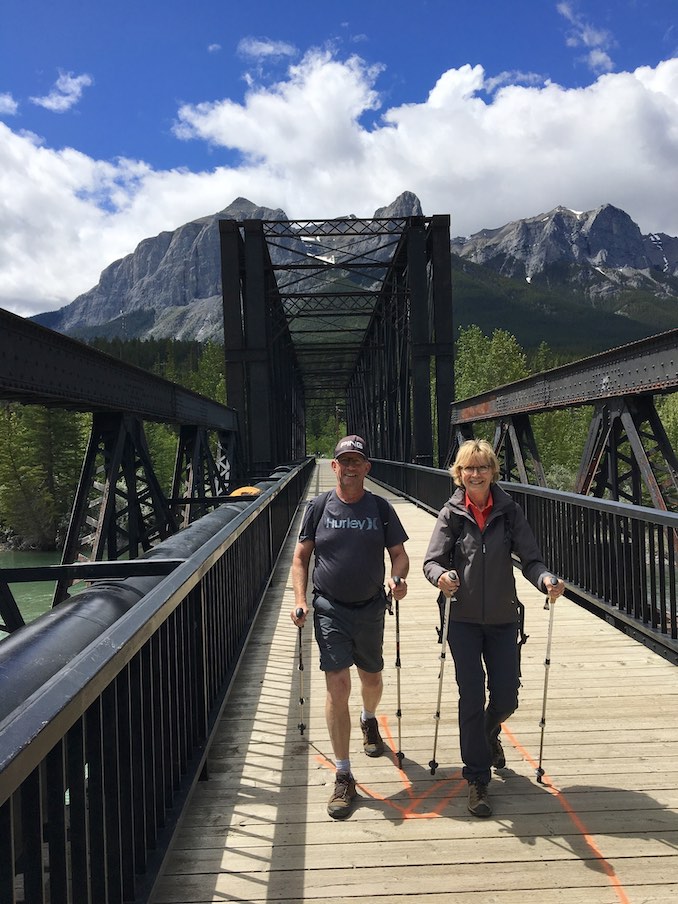 I am not discounting vigorous activities in any way, shape, or form. I, myself, regularly take part in team sports, hiking, mountain biking, and the like. I am merely conveying some of the positives that can from an often overlooked activity, that many of us simply take for granted. For this latest instalment of Wild Jobs I chatted with Mandy Johnson, a transplant from England, by way of Ajax, Ontario, who now calls Canmore home. Mandy is a strong proponent of Nordic walking and the associated health benefits that come from participating in that activity. What follows are the highlights from my interview with Mandy where she discusses Nordic walking, the aforementioned benefits, her company Active by Nature, and some of the common misunderstandings about this sport. Without further adieu…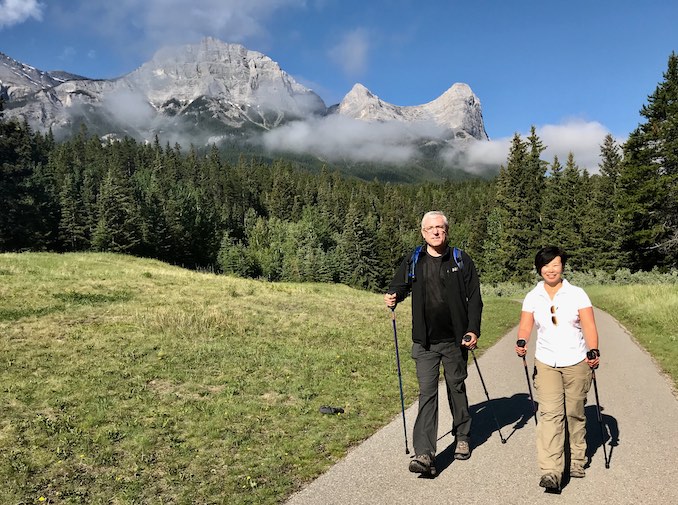 Calgary Guardian: "At its most basic, what is Nordic walking?"
Mandy Johnson: "At its most basic, Nordic walking is cross-country skiing, without the skis."
CG: "Okay, so how does Nordic walking differ from regular walking? What are the benefits of Nordic walking?"
MJ: "When you walk, you are primarily using the muscles of your lower body, from the hips on down. Nordic walking transforms a simple walk into a total-body workout. It is like taking the gym with you. I like to say it turbo-charges a walk. You work virtually every muscle in your body, when you use correct Nordic walking technique, including all your core muscles and your arms. You actually contract your stomach muscles with every step you take and as you take over 1,000 steps when you walk a kilometre (which takes about 15 min), that means you contract your abdominals over 1,000 times per kilometre. How cool is that? Given that tidbit of information alone, why would anyone want to walk without poles? But there are many more benefits. Because you are utilizing so much of your muscle mass in this activity, you burn on average 20% more calories than walking without poles. It promotes very good posture, a valuable benefit considering the 'banana posture' that is encouraged with prolonged sitting and screen time these days. Because you are engaging the core and the arms in the act of walking, you off-load a considerable amount of stress from the joints and muscles of the lower body, onto the upper body. A lot of people who walk in pain due to injuries or arthritis and other musculoskeletal issues find they walk with less pain or even no pain when they Nordic walk."
CG: "I've seen something called 'Urban Poling' while browsing social media. What's the difference between Nordic walking and Urban Poling?"
MJ: "Urban Poling is a Canadian company, headquartered in North Vancouver, B.C. with an office in Toronto. It is Canada's leading brand of Nordic walking equipment and training."
CG: "Can you tell me a little bit about Active by Nature?"
MJ: "I founded Active by Nature in 2008 after leaving an 11-year career as a senior manager in municipal recreation and 1.5-years on contract with the Ontario Ministry of Health Promotion. I started by doing contract work on a number of active transportation projects, primarily for Canada Walks, a project of Green Communities Canada. I am very passionate about the importance of active transportation as a healthy and sustainable means of travelling short distances to day-to-day destinations. In 2008, I also became an Urban Poling Instructor. When my husband and I moved to Alberta in 2012, I was offered the opportunity to represent Urban Poling Inc., as a brand ambassador and master trainer. At the time, there were just a handful of instructors and Urban Poling/Nordic walking was virtually unknown in the province. I also continued to work on active transportation projects for various organizations.
After promoting Urban Poling extensively across Alberta for six years, I decided I wanted to start offering Nordic walking experiences here in my home town of Canmore. After doing a little focus group work, I decided my target market would be visitors to Canmore – regional visitors, visitors from across Canada and around the world. I launched my Active by Nature website for this new focus of my business on January 1, 2018 then fatefully fell and broke both of my wrists skating on Lake Louise. 2018 was a year to recover, rehab, and learn about this new industry I was getting involved with, the tourism industry. I joined the Adventure Hub, a collective of local adventure tourism business, got involved with Tourism Canmore Kananaskis and took some training through Travel Alberta. In 2019, things really began to pick up. Most of my guests came from Calgary, Edmonton, and other parts of Alberta, but I also had a number of guests from the USA, as well as visitors from the U.K., Belgium, Germany and Thailand.
I offer introductory sessions to teach Nordic walking technique, two-to-four-hour Nordic walks and walks on the Canmore recreational trail system. I also lead hikes and snowshoe outings on select hiking trails in the Canmore and Kananaskis areas.  After a request, I offered my first photography walk this winter, which I loved doing. So I will add photography walks to my offerings going forward."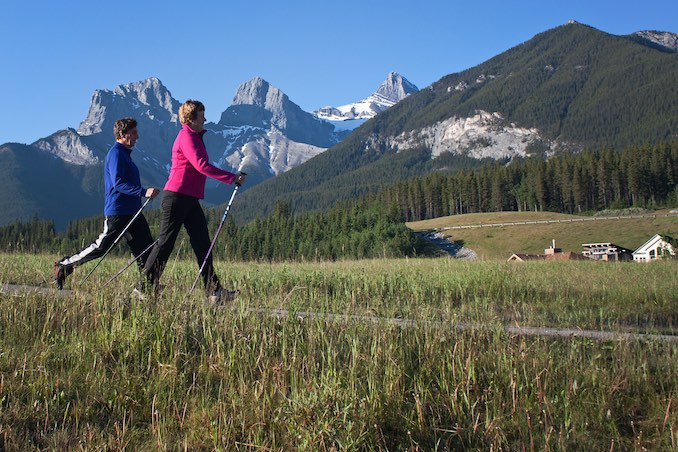 CG: "Which certifications/trainings do you currently hold in relation to your job?"
MJ: "I have a degree in physical education from York University and a certificate in adult education from George Brown College. My entire career has been related in many different ways to physical education. I have worked as an Aquatics/Fitness Coordinator, the owner of an aerobics studio, an employee fitness and health promotion coordinator, a municipal recreation manager, a college instructor, a provincial sport and recreation consultant, an active transportation consultant, an Urban Poling ambassador and instructor, and now, an operator of a tourism business and an interpretive guide. The current certifications I hold are: Urban Poling Instructor: ACTIVATOR Instructor and Master Trainer, Apprentice Interpreter (Interpretive Guides Association), 3-Season Hike Leader (Interpretive Guides Association), Field Leader: Hiking (Outdoor Council of Canada), and Advanced Wilderness & Remote First Aid & CPR/AED Level C (Canadian Red Cross)."
CG: "What's the best way for someone to try Nordic walking for the first time?"
MJ: "The best way for someone to try Nordic walking for the first time is to take an introductory lesson or series of lessons. There is a specific technique to learn. It is not simply 'walking with poles in hand'. The technique is best described in three words:  'plant, push propel'. It is easy to learn, but without an introductory session, most people will not do it correctly. If coming to Canmore to take an introductory session from me is not convenient, then there are now well over two hundred instructors across the province and over 3,000 across Canada. You can find an instructor by going to the Urban Poling website and clicking on the 'Find an Instructor' tab. There are popular programs running in Calgary, Edmonton, Grande Prairie, Drumheller, Medicine Hat, Lethbridge and dozens of smaller communities across Alberta. For people who do not have an instructor nearby, there are great instructional videos on the Urban Poling website. There is also a lot of great information on my Active by Nature website."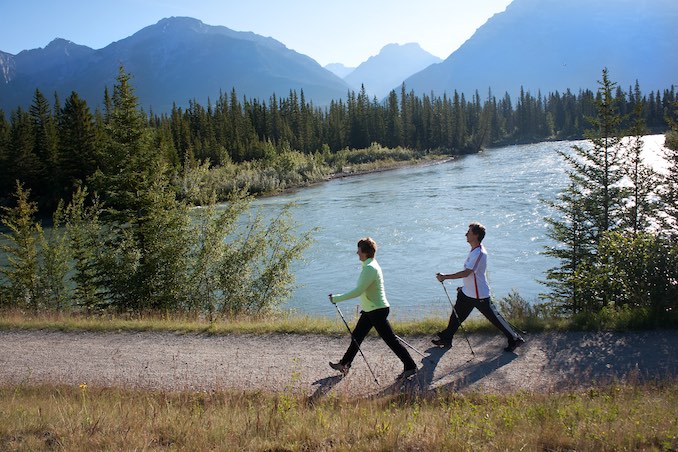 CG: "Would you be able to clarify some of the common misunderstandings about Nordic walking?"
MJ: "Some of the misunderstandings I encounter frequently are, that the activity is just for older adults, when it is actually for everyone – super fit to super sedentary and kids love it too. Another misunderstanding is the activity is for paved walking paths or just for hiking trails, when in reality it is for everywhere, year round. The last one is that you look odd walking with poles, but remember that is what people used to thing about bike helmets and ski helmets, and look at us now!"
I would like to take this opportunity to thank Mandy for taking the time to discuss Nordic walking and the career she has created because of it. If you'd like to learn more about Nordic walking or want to book a tour with Mandy please visit the Active by Nature website. You can also connect with her via social media on
Facebook
,
Twitter
,
Instagram
, and
LinkedIn
.
***
About this column:
Wild Jobs is a running series that focuses on people in outdoor-related professions. It provides a brief snapshot of their career and the duties that it entails. Please see my previous post, Wild Jobs: Alberta Conservation K-9 Unit to learn more.