Cat skiing has been around longer than you might realize. Allan Drury, an Ontario native who was working in Aspen in 1965, witnessed snowcats being used to transport skiers into an unfinished area of the resort where chairlifts weren't operational yet. The wheels inside Allan's mind started spinning and visions of a wilderness-based cat ski operation started to take shape. Ten years later in British Columbia, with the opening of Selkirk Snowcat Skiing, Allan's dream of backcountry cat skiing became a reality. Allan even contacted Bombardier to help design and create an enclosed twelve-passenger snowcat. This improved design would replace the open-air benches and umbrellas previously used to shelter guests from the elements while riding on the back of a traditional cat. The godfather of cat skiing in Canada ushered in a new era of winter recreation that now has dozens of outfits scattered through the mountainous regions of Alberta and British Columbia.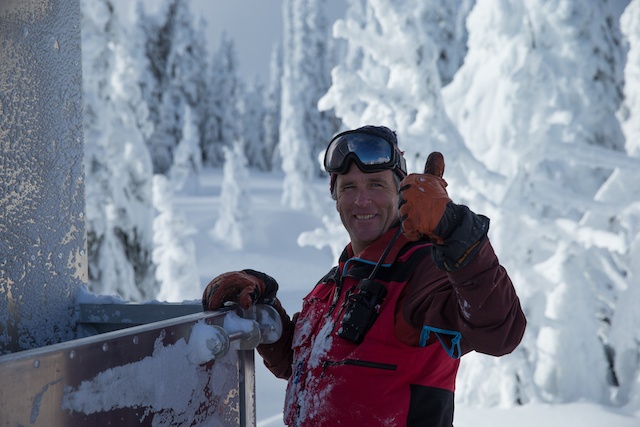 To get a better understanding of what it's like to be a guide in this industry, I reached out to one of the biggest cat ski operations in the world, Big Red Cats. Big Red was founded by Paula and Kieren Gaul back in 2007. In little over a decade, this dynamic duo transformed Big Red from the smallest operation to one of the largest. They boast nearly 20,000 acres, an area three times the size of Whistler Blackcomb, more than 700 named runs (plus even more that are still unnamed), eight main peaks, and over 220-kilometres of snowcat road. Their area is immense! PistenBully 300 and 400 series snowcats, which are the best in the business, transport skiers and riders through spectacular powder-filled terrain. Faster cats mean more skiing, more runs, and less waiting. During peak season they'll be operating five cats at one time, which is half their entire fleet.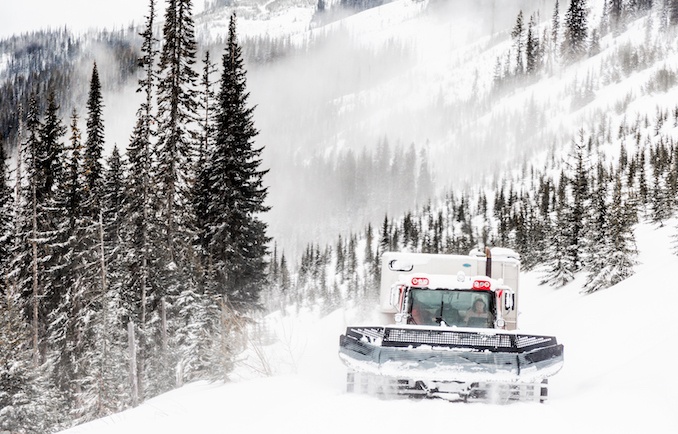 After leaving the corporate world, Paula and Kieren ended up in Rossland in an attempt to purchase Red Mountain Resort. They were outbid by another group, the resort's current owners, but their spirits weren't defeated. They took solace in the fact that the most interesting part of the their business plan was the proposed cat skiing operation they felt the area needed. They ran with the idea and haven't looked back! What follows is a glimpse at the inner workings of a successful snowcat operation and what it's like to be a guide in some of the most beautiful country anywhere.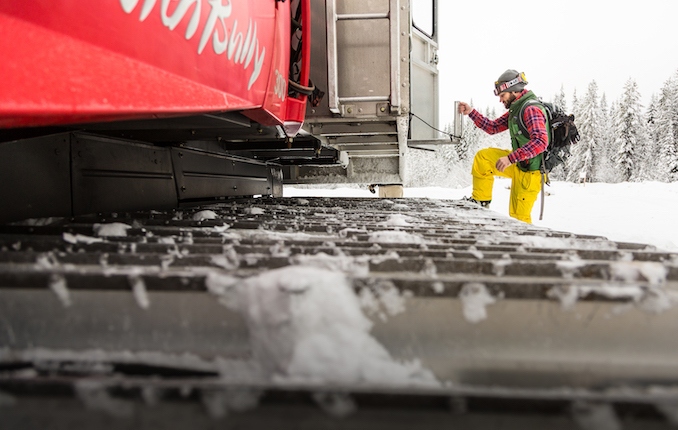 Calgary Guardian: "I am curious about your motivation for starting a cat skiing company when you had no experience in the industry. Could you share how it all began?"
Kieren Gaul: "I love powder skiing and I love taking people out in the mountains. So starting a cat operation seemed like a natural, awesome thing to do. Everything fell into place. Sometimes the universe seems to push you in certain directions, and this was one of those times."
CG: "What's the best thing about owning Big Red?"
KG: "Helping people have their best day ever. Having the opportunity to ski and ride the best powder on some of the best runs in the world."
CG: "What's one of the most challenging things about being a cat ski guide and owner?"
KG: "Managing a big team. We have about 65 people working with us during a normal winter. Managing complexity. We have one of the most complex operations, as we are running more cats, with more people, and four different ability levels. Also, dealing with ever-changing weather and conditions."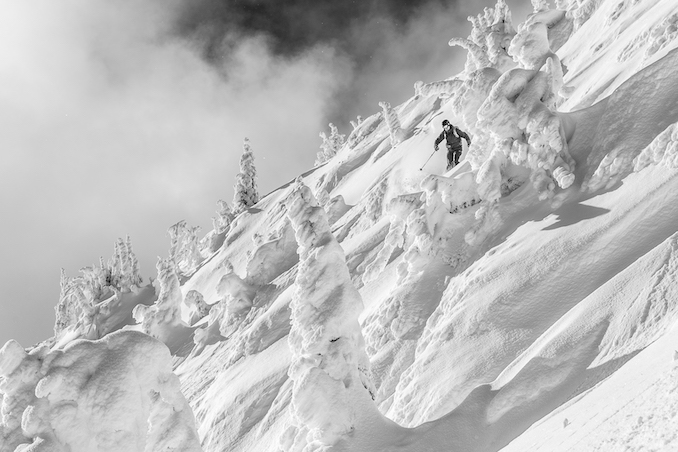 CG: "Other than being an expert skier/snowboarder, what other types of certification/education/training do your guides need for the job?"
KG: "There's a host of certs our guides possess. Professional level avalanche training, professional level guide training, first aid, ski instructor training, and rope rescue training are all required."
CG: "Let's take a virtual look inside your pack. What are the essential items that are always in there when you're out with clients?"
KG: "Transceiver, obviously not in the pack, but essential gear nonetheless, shovel, and probe. Fire starting kit is essential if stuck out in the mountains. Large saw for doing snow tests and cutting firewood. Thermometer for checking temps and for snow science. A first aid kit, headlamp, extra layers, multi-tool, rope and carabiners, GPS, spare gloves, goggles, sunglasses, and skins for climbing back up hills quickly."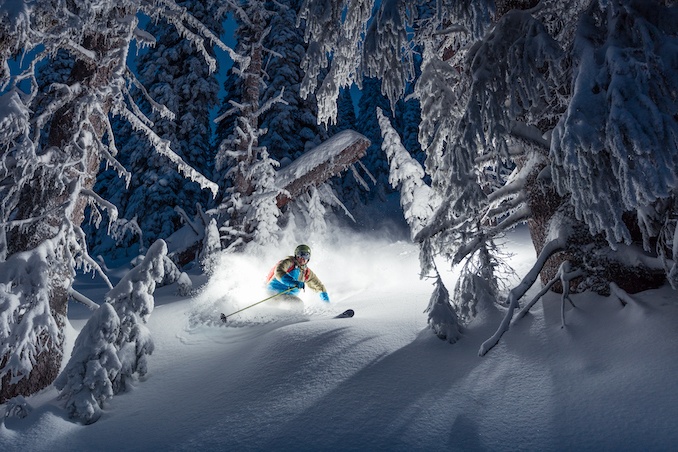 CG: "As someone who has never been cat skiing, can you describe what a typical day might look like for you?"
KG: "The day starts with a half an hour of practicing with probes, shovels, and transceivers. That's followed by 10-14 runs of untracked power. We start the day at 8:30am and we finish around 4:00pm."
CG: "Cat skiing is an inherently dangerous activity. How do you mitigate those risks for yourself and your guests?"
KG: "Risk is relative. Cat skiing is about as dangerous as driving your car for 6-8 hours in winter on snowy roads. You are two times more likely to die running a marathon than going cat skiing. You are 15 times more likely to die if you ride a motorcycle for one year compared to a day of cat skiing. Cat skiing is about 19 times less dangerous than heli-skiing. But, of course, there is still a risk. To mitigate the risk we take a multi-defence approach. Imagine a medieval castle with six sets of walls to keep out invaders. We have a similar approach, but with about 20 layers of protection that we put in place. Some of the key protections or defensive walls include, lots of snow testing. We even have a separate team that takes care of this. Sharing information with other operations and ensuring at least two guides are with each group. There's a strict list of open and closed runs, a checklist for guides to complete before beginning each run, and a stringent set of procedures that must be followed before beginning each run. Of course training and certification for all guides, as previously mentioned."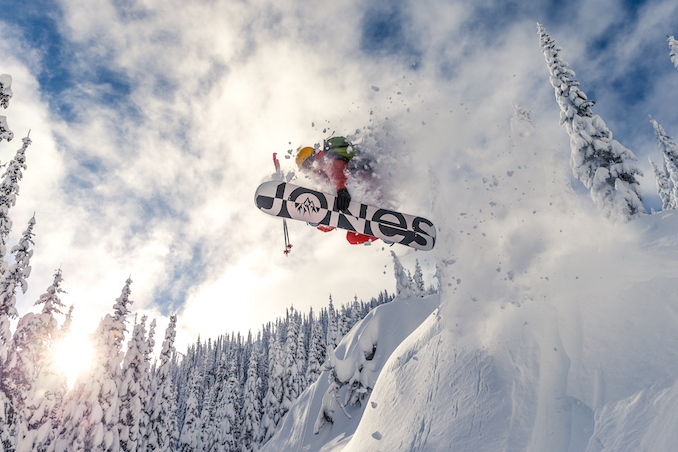 CG: "Other than the vehicle being used, does cat skiing differ from heli-skiing? In what ways?"
KG: "Cat skiing is much safer than heli-skiing because in cat skiing we always have a tail guide. We have smaller areas, but tend to know these areas much better. The statistic for accidents shows this clearly. Cat skiing works in storms and very cloudy days, whereas with heli-skiing you have to sit in the lodge since the helicopter can't fly in those conditions. Cat skiing is about one-third of the price. We are much less carbon intensive as we use about ten litres of fuel per person, while heli-skiing use five-to-ten times that amount. Cat skiing is a very social, team sport. Heli-skiing is more difficult to talk and socialize, and involves bigger egos. Cat skiing is more relaxed, less rushed, and less stressful than heli-skiing."
CG: "Why should folks choose Big Red Cats over other cat ski operations?"
KG: "We are the biggest operation, which means we have more snowcats, more guides, more runs, and more safety back-ups. We're the only operation to offer four separate ability levels; intermediate, advanced, expert, and uber expert. We have the best choice of accommodation, from luxury hotels to hostels, condos to funky lodges. We have well over 700 runs available to us. And you can combine a day of cat skiing with some skiing or riding at Red Mountain!"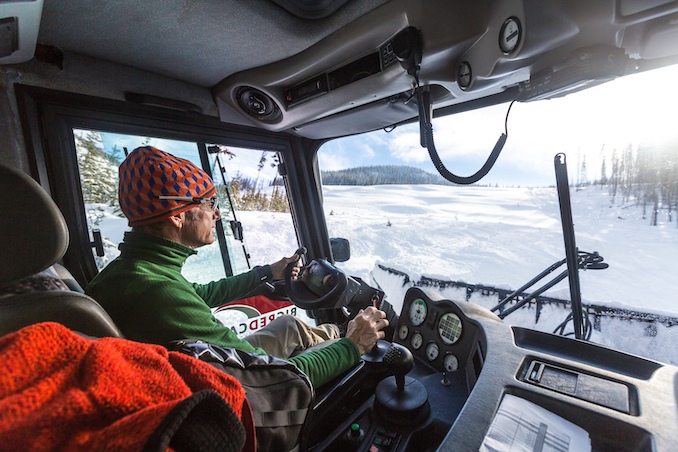 CG: "Cat skiing is a winter sport, so what keeps you busy during those snow-free months?"
KG: "Our summers are spent preparing for the winter; building runs, glading, maintaining snowcats, and taking bookings. It's also about spending time with my kids, surfing, hiking, and foil boarding."
CG: "Your website says to ask for the story about how you and Paula met, so I have to inquire about that."
KG: "The story is rude, so it is best told in person! However, it involves the Olympics, a dance class, and coloured condoms…."
CG: "Hahahaha okay fair enough. I'll make sure to ask you about that next time I'm in Rossland!"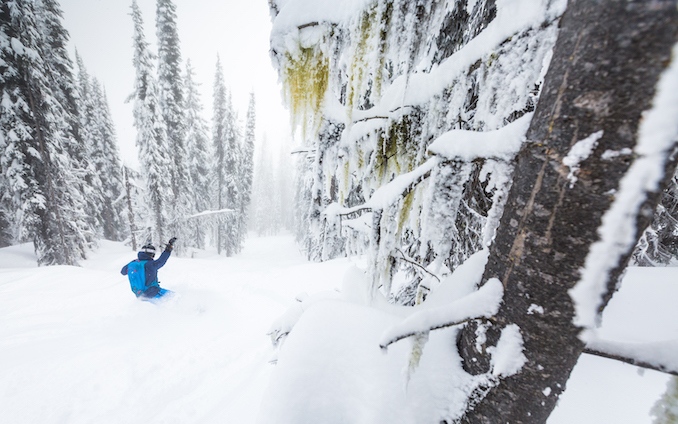 I would like to take this opportunity to thank Kieren for his time. He was busy preparing for the upcoming winter season when I contacted him, but he was more than willing to share the history of his operation and what it's like to be a cat ski owner and guide. I really appreciate the inside look at your exciting career choice.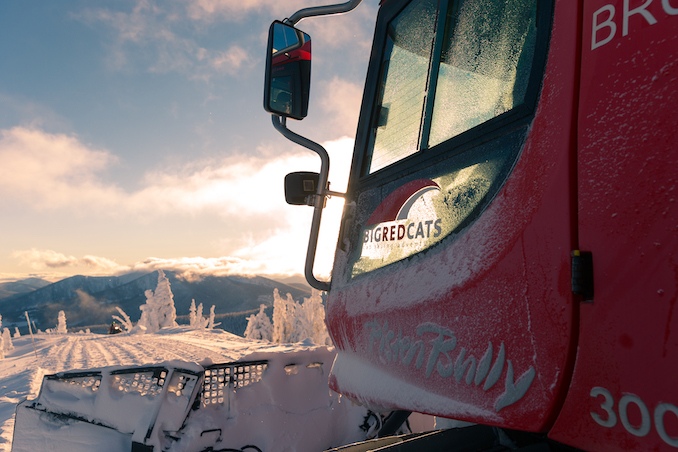 To book your next cat ski adventure, or to find out how Big Red is adapting to adhere to all COVID protocols, please visit their website. You can also stay connected on social media at Facebook, Instagram, and Twitter.
***
About this column:
Wild Jobs is a running series that focuses on people in outdoor-related professions. It provides a brief snapshot of their career and the duties that it entails. Please see my previous post, Wild Jobs: Mountain Sledding Guide to learn more.