Winter mountain sports have a rich history that dates back decades, unless of course you're talking about mountain sledding. When compared to backcountry skiing and snowboarding, or even more contemporary forms of those sports, such as cat or heli skiing, mountain sledding is still the newest kid on the block.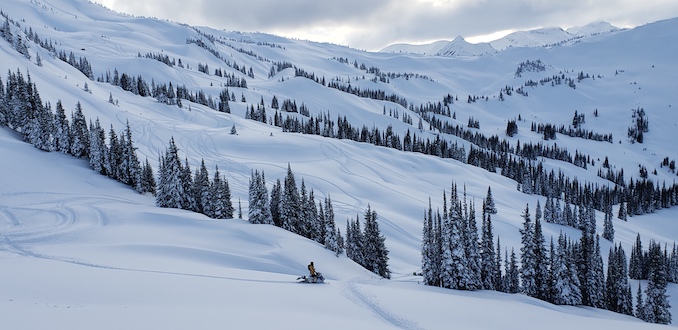 Mountain sledding didn't really hit the mainstream until the mid-90's, but has been booming ever since. The sport has seen rapid growth since those humble beginnings. The leaps in sled technology alone have been mind-blowing, leading to increased capability and participation. In 2009 SledComm, the Avalanche Canada Snowmobile Committee was established, to meet the need for snowmobile-related issues around public avalanche safety. There are now sledder-specific avalanche safety courses available to better prepare backcountry users. And to meet demand, there are now a host of qualified, big mountain guides across western Canada.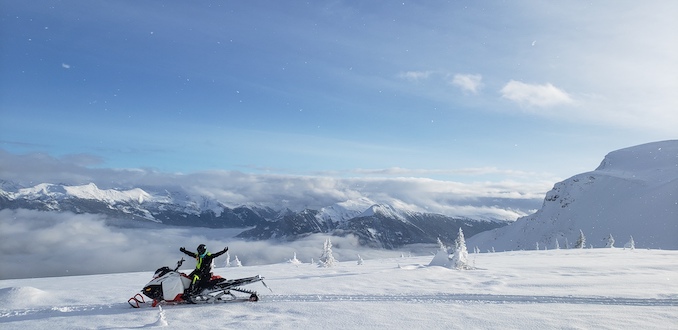 It's the guiding piece that will be the focus of this instalment of Wild Jobs. Recently, I had the pleasure of interviewing Curtis Pawliuk from Frozen Pirate Snow Services, which is based in Valemount. Originally from Prince George, Curtis has called Valemount home for the past twenty years. He spent some time as a fly-fishing guide before graduating from Prince George's College of New Caledonia with a certificate from the Northern Outdoor Recreation and Ecotourism program. Today, he is fully immersed in his community and the avalanche world. He's a 10-year member of the Avalanche Canada Board of Directors, sits on the BC Snowmobile Federation Board of Directors, and is the owner/operator of Frozen Pirate Snow Services. Even with all of that, plus raising a young family, Curtis managed to find some time to answer all of my questions. What follows are the highlights from a memorable conversation with Curtis about what it's like to be a snowmobile guide in the mountain paradise of Valemount.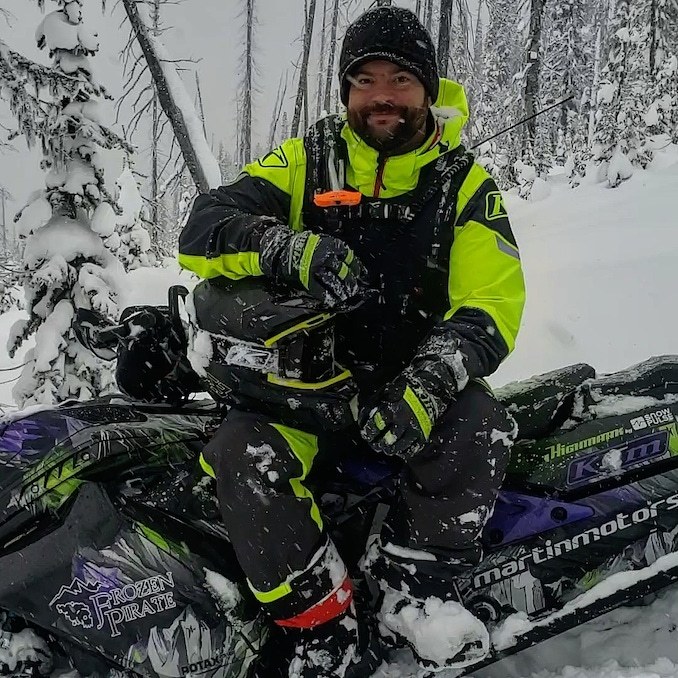 Calgary Guardian: "How did Frozen Pirate come to be?"
Curtis Pawliuk: "I really enjoy being a guide and sharing the backcountry with other people. Mountain sledding can be pretty hard to understand if you're on the outside looking in. In all honesty, Frozen Pirate is primarily a sledder-specific avalanche safety training business. Of course we are also a fully certified and licensed guiding outfit. We tend to train more than we guide. We teach upwards of six AST courses per month and are guiding several times each week. It's just me and one other person, Marshall Dempster, who is also an experienced and certified mountain veteran. Marshall is my right-hand man and I could not do it without him. We also have one more guide that's on-call during busy periods."
CG: "Are there any certifications or trainings that are required to be a guide with Frozen Pirate?"
CP: "There's no governing body for sled guiding, but it's in the works. We hold a very high standard for staff and our operation. All guides are professional members of the Canadian Avalanche Association. We also do rigorous in-house training with our guides."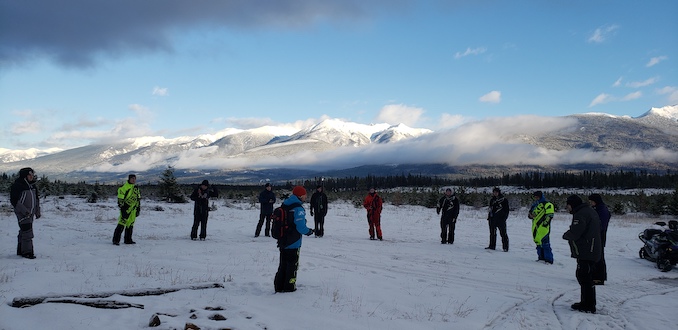 CG: "What made you want to become a snowmobile guide?"
CP: "We all want to turn our hobbies into our profession. I love sharing the mountains with others and I like being part of growing the sport. There was a niche for professional and legitimate guides in the Valemount area and I knew I could fill that gap."
CG: "What's the best thing about your job?"
CP: "Getting to do what I love on a daily basis. I am always in the mountains. It doesn't get any better!"
CG: "What's one of the most challenging aspects of your job as a guide?"
CP: "Accepting liability for what we're doing. We work in avy terrain, so we always have to balance customer desire with internal performance measures. The mountain tells us what we can do each day. It's always up to them. It's difficult to meet client expectations while balancing safety in this industry, but that is what we do well. Safety is first and foremost for your crew."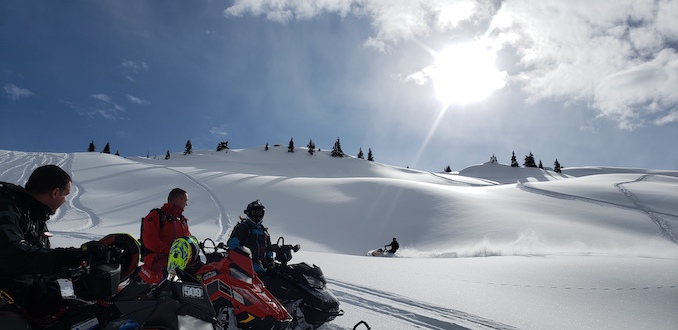 CG: "Snowmobiling is obviously a winter activity, so what keeps you busy during the snow-free months?"
CP: "I am the GM and Executive Director of VARDA (Valemount & Area Recreational Development Association), which is my full-time job. It's a not-for-profit association that consists of local business and backcountry users. Our goal is public education to help improve backcountry use for all user groups. Part of my role with VARDA is develop our growing mountain bike industry. The Valemount Bike Park is quickly becoming the favourite destination for riders of all ability levels. It's growing fast and it's exciting to be part of it."
CG: "Let's take a virtual look at your gear. What essentials do you bring with you every time you're out on your sled?"
CP: "We are Ski-Doo enthusiasts, so we ride exclusively Bombardier products. Our current sleds have the world's first factory-built 2-stroke turbocharged engines! We are supported by some amazing companies that allow us to continue to operate. Our biggest sponsor is Matin Motor Sports and without their support we couldn't do what we do. We all ride with avalanche essentials; Highmark Airbags, Mammut Barryvox Transceivers, and Klim sledding gear. It would be a disservice to ourselves, our families, and our clients if we didn't have the ability to spend the night somewhat comfortably on the mountain in case of an emergency. So, we also carry camp stoves, bivy sacks, extra food and clothing, satellite devices, snow/wood saw etc. Probably the nicest luxury for a day spent outdoors though, is a warm cup of soup. In sledding culture, lunch is usually a chocolate bar and some beef jerky, but when we bring out a thermos with piping hot soup, that really hits the spot. And the envious looks start to appear!"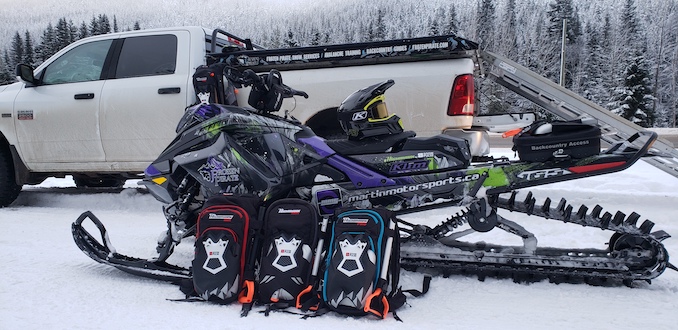 CG: "Snowmobiling is an inherently dangerous activity and sledders (as well as other backcountry enthusiasts) are in the headlines each winter right next to the word 'avalanche'. How do you mitigate those risks for yourself and your clients?"
CP: "It really is a daily process. We don't wing it, ever! We need to alleviate all of those human factors that can get us into trouble and that's not always easy to do. We assess the avalanche hazard, look at the weather, consider the group's skill level, and then put all of that out on the terrain. Terrain is always the last piece of the puzzle and the one thing we can control. We can always control what terrain we put ourselves and our guests on."
CG: "Why should someone hire a snowmobile guide?"
CP: "A guide takes the uncertainty out of your trip. Most folks have invested large sums of money for their sledding trip. Guides know the area, the avalanche terrain, and what the weather was doing prior to your arrival. With a guide, I can pretty much guarantee you'll have one of the best days you've ever had on a sled."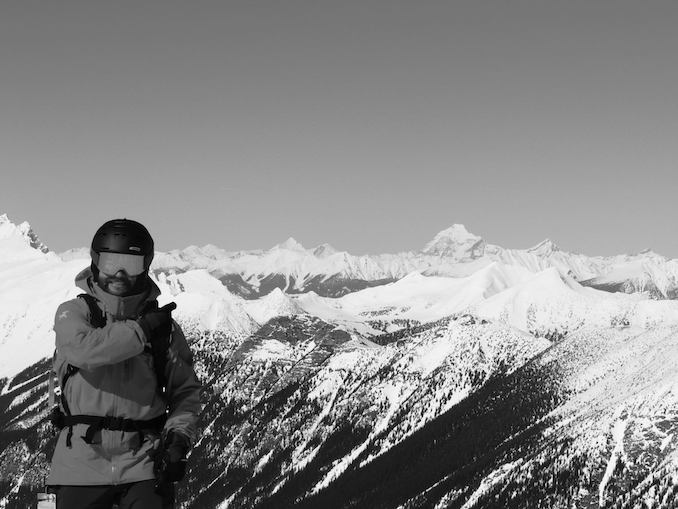 CG: "What sets Frozen Pirate apart from its competitors. Why should folks choose you?"
CP: "Honestly, there's not a lot of competitors in our area. Becoming licensed through the provincial government is a huge time commitment and quite difficult to achieve. You also can't just be a guide, you need a crown land tenure in order to operate legally on crown land. Professional level avalanche training takes strong dedication and roughly four to six years to complete and that is only one aspect. Also, the standards we hold as an operation are at the highest level."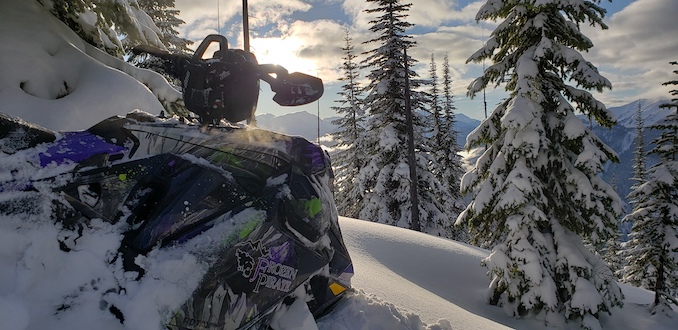 Spend even just five minutes talking with Curtis and it's easy to see just how passionate he is about sledding and the outdoors as a whole. His dedication to the sport and sharing the backcountry with others is inspiring. As he said, we all want to turn our hobbies into our profession, but most of us are never able to get to that point. Curtis is living that sentiment and is proof that with hard work and dedication you can get there.
This story has been stuck in the planning phase for more than a couple of years now. That patience has paid off, as I believe Curtis was the ideal person to be interviewed for Wild Jobs. I feel privileged to have him featured in this column and would like to thank him for his time and sharing his story.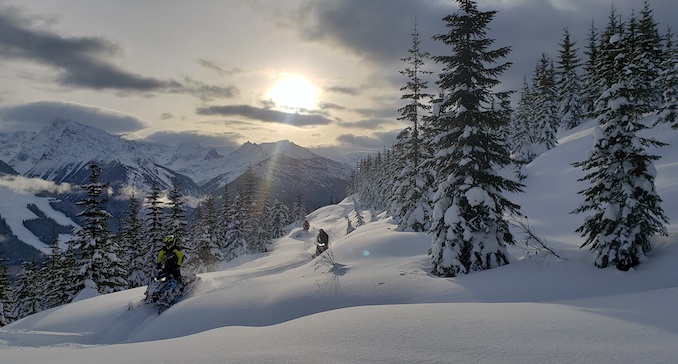 To book your next avalanche training course or guided sled adventure, please visit the Frozen Pirate website. You can also stay connected with them on Instagram, Facebook, and YouTube.
***
About this column:
Wild Jobs is a running series that focuses on people in outdoor-related professions. It provides a brief snapshot of their career and the duties that it entails. Please see my previous post, Wild Jobs: Lift Operations Supervisor to learn more.