The tomato peach vinaigrette is easy to make, approachable and versatile so I like to use it in a variety of ways because it showcases end of summer ingredients so beautifully. This vinaigrette can be romanced towards light, summer dishes with a cold bottle of rosé and freshly grilled sourdough. In Yellow Door Bistro, we serve this vinaigrette with our fresh Burrata and I like to use it for an Arugula Salad with Prosciutto and Mozzarella.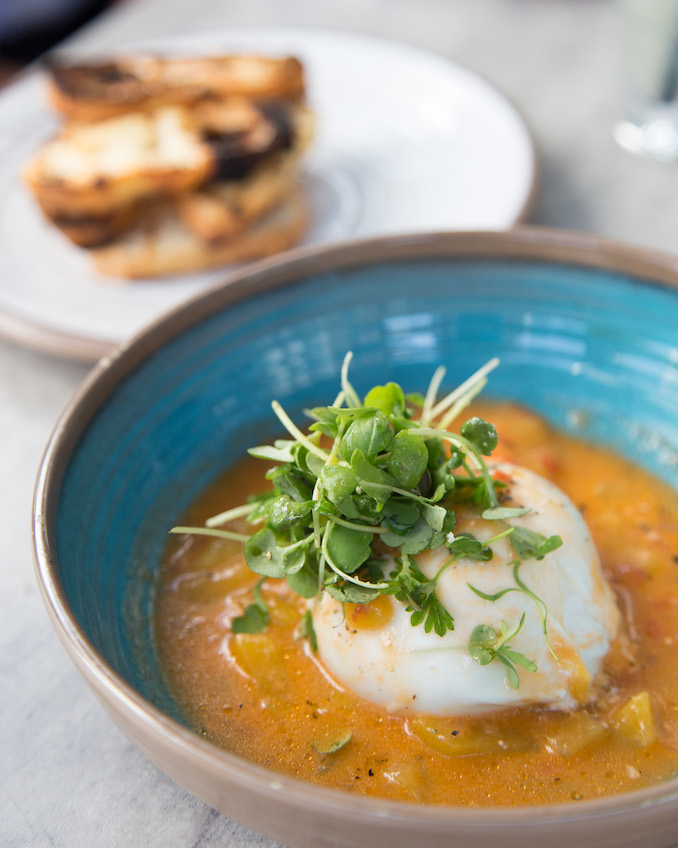 Tomato Peach Vinaigrette Recipe
Equipment:
Box Grater
Mixing Bowl
Whisk
INGREDIENTS
– 2 Large heirloom tomatoes (cut in half)
– 2 Medium-sized semi-firm peaches (any variety of peach will work, cut in half with pit removed)
– ½ Cup Extra Virgin Olive Oil
– 3 Tablespoons Sherry Vinegar (apple cider vinegar and white wine vinegar are both excellent options)
– Pinch of salt and fresh cracked black pepper
Directions:

1. Grate tomatoes and peaches into the mixing bowl, discarding the skins. The mixture should look pulpy and chunky.
2. Slowly pour the olive oil into the mixture while vigorously whisking, then add the vinegar.
3. Season with salt and coarse freshly ground pepper.
Optional: if you want to add a little spice, add 2 tablespoons of Grainy Mustard to the mix.
Find out more about Yellow Door Bistro.