Located in vibrant Downtown Calgary, ONE18 EMPIRE is a whisk(e)y-inspired bar and restaurant with a strong focus on shareable, locally inspired cuisine, masterfully paired with their select onsite reserve. ONE18 EMPIRE fosters a communal atmosphere for its guests through an array of chef-created dishes designed for sampling and sharing in a unique and spirited local setting. Taking pride in the art of storytelling, the staff seeks to engage patrons in ONE18 EMPIRE's rich history by showcasing how these stories have influenced the design of our cuisine and beverage offerings. Keeping pace with the city, ONE18 EMPIRE welcomes guests around the clock offering breakfast, brunch, lunch, dinner and late-night dining options.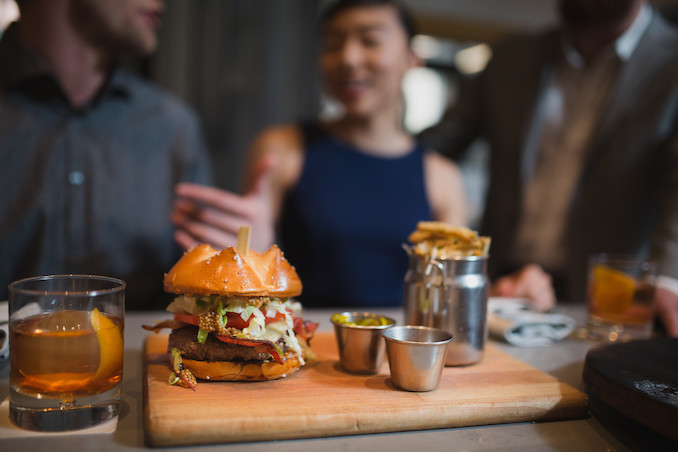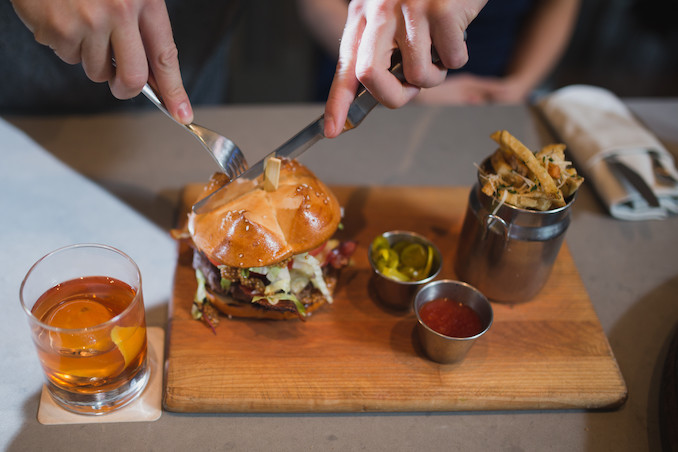 ONE18 Burger Recipe:
ONE18 BURGER INGREDIENTS:
– 70% brisket/30% sirloin ground beef (ask your butcher)
– Dijon Mustard (or come buy the pickled mustard at One 18)
– Beef Steak Tomato
– Shredded iceberg
– Salt and pepper
– Pretzel bun
– Apple wood cheddar
– 2 strips of bacon
Directions:
1. Form patty out of beef 8 OZ. Season with salt and pepper and let it temper to room temp.
2. While the burger patty is chilling, cut tomato and shred lettuce.
3. Toast your bun with butter.
4. In a hot pan sear on both sides, let it form a nice crust cook to an internal temp of 160 F.
5. Put bacon on top of the patty and melt cheese (if you are grinding your own beef or the ground beef is fresh from your butcher cook to whatever temperature you desire.
6. Assemble burger/ Dijon on both sides of the bun/patty/lettuce tomato. Season with salt and pepper.
Find out more about ONE18 EMPIRE.