Our featured recipe this week is a burger by Starbelly, a  gourmet-casual restaurant that brings an approachable version of a downtown-like atmosphere and concept to the newly developed area of Seton, known as the downtown for Southern Calgary.
Starbelly highlights the best local and seasonal product, supporting Alberta's farmers and organic growers.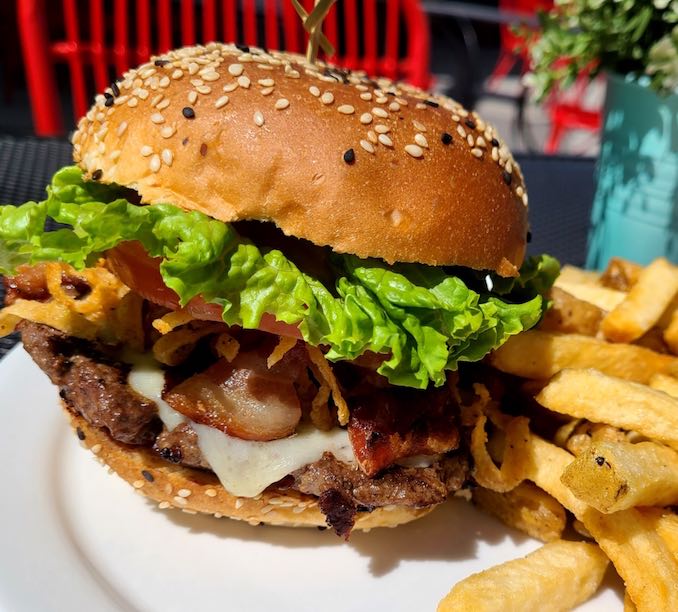 Ingredients:
Ground chuck or any other ground beef
Sliced white cheddar
Sliced bacon
Leaf lettuce
Sliced tomato
Sliced red onion
Mayonnaise
Ketchup
Pure Maple syrup
Brioche burger bun
Burger patty
Ground chuck
Brake up ground chuck with hands. Mix and form ground chuck into 8 oz or half pound flattened patties.
Season with salt and pepper
Fancy sauce
Mayonnaise – 1 cup
Ketchup – ½ cup
Maple syrup ½ cup
In a large bowl combine all ingredients until fully mixed
Cooking Instructions:
Turn BBQ to medium-high heat. Once hot season grill with oil.
Place patties on BBQ and close lid. Turn heat down if needed. Once sides start to cook flip. Continue cooking with the lid closed until fully cooked and caramelized on all sides.
Cook bacon ahead of time or on a skillet on the grill
Add sliced white cheddar to the patty. Add cooked bacon
Slice burger bun and toast on the grill
Add sauce to both sides of the bun. Add a leaf of lettuce, sliced tomato, and sliced red onion to the top of the burger bun
Add dressed patty to the bottom bun and close.
If you like this recipe, make sure to check out their restaurant!
Website: https://www.starbelly.ca/?fbclid=IwAR3wClcYcdLdxRUTP3QCSWQFDndVHGBitK-jxbhYBCQJx1xZnzYws5_z1uQ