Our featured recipe this week, Carne Asada Tacos is from Calavera Cantina a Mexican restaurant in Calgary. You won't regret trying these delicious grilled meat tacos with salsa verde. It's easy, quick, and simple to make.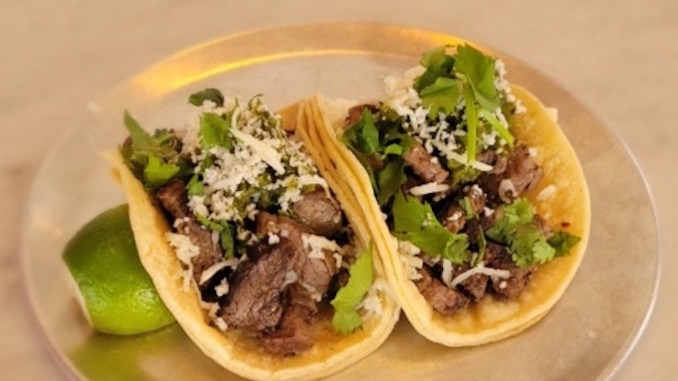 To make the Salsa Verde "green sauce"
Ingredients:
Tomatillos – 4
Green onion 1 bunch
Jalapeno – 2 seeded or not
Cilantro 1 bunch
Lime juice – 2 floz
Cumin – 1 tbsp
Kosher salt – 1 tbsp
Directions:
Remove jalapeno stem, quarter tomatillos, add garlic, and blend
Add cilantro, green onion, cumin and salt continue to blend until almost smooth medium speed
To make the Carne Asada Tacos "grilled meat tacos"
Ingredients:
Corn or flour tortilla for tacos
Cojita cheese or feta crumbled
Sirloin or your favorite cut of steak
Lime juice – 1 floz
Lemon juice – 1 floz
Orange juice – 1 floz
Cilantro ½ bunch chopped fine
Garlic – 2 cloved finely minced
Kosher salt – tt
Ground black pepper – tt
Directions:
Marinate steak in all ingredients for 4 hrs or overnight.
Grill on BBQ on medium-high heat until medium-rare. Then allow to rest
Heat taco shells either in a pan with a bit of canola oil, or on the grill, or even the microwave
Cut into thin strips against the grain to ensure meat being tender
Place strips of steak on a tortilla shell, followed by a dollop of salsa verde, and then sprinkled with the cojita cheese.
If you like this recipe, make sure to check out their restaurant!
Website: https://www.calaveracantina.com/