This week, our recipe of Thai Curry Roasted Cauliflower is from Mister Chen's Asian Brasserie, an authentic Asian restaurant with award-winning chefs. This silky Thai red curry dish is full of flavor and easy to cook.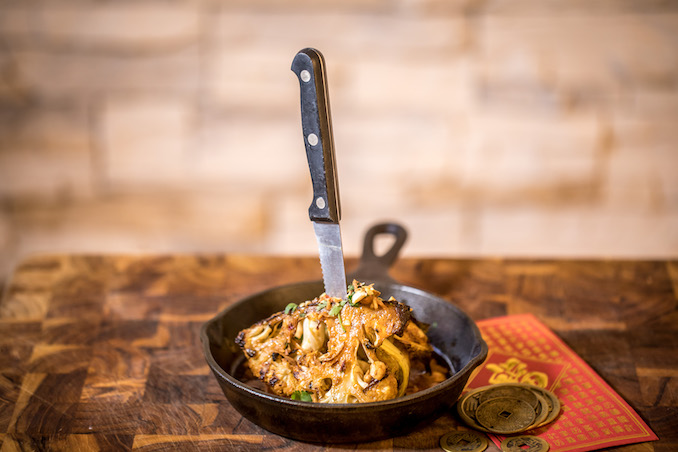 Thai Curry Roasted Cauliflower Recipe
Red Curry Sauce:
– ¼ cup Oil
– 2L Coconut Milk
– ¼ cup Fresh Ginger (chopped)
– ¼ cup Garlic (minced)
– 10 kaffir leaves
– ½ cup Basil (chopped)
– ¼ cup Red Curry Paste
– 1 cup Cilantro (chopped)
– 1 tbsp Yellow Curry
– 1 tbsp Ground Coriander Seeds
– 1 Red Onion (chopped)
– 2 Red Peppers (chopped)
– 1 tsp Paprika
– 2 tsp Cumin
– 1 tsp white Pepper
– ¼ cup White Sugar
– 3 tbsp Tomato Paste
– Salt/Pepper to taste
Directions:
1. In a large saucepot, sweat all vegetables and herbs together in oil.
2. Add coconut milk.
3. Incorporate all the spices and the remaining ingredients.
4. Allow to simmer until the vegetables are soft. Remove kaffir leaves.
5. Blend all the ingredients together. Sift through the fine mesh sifter, and put back on stove to medium-low heat.
6. Reduce until the sauce coats the back of the spoon.
Cauliflower:
– 1 head of cauliflower
– 3 Tbsp oil
– 1 tsp paprika
– Salt/pepper to taste
Directions: 
1. Preheat oven to 375º F
2. Season head of cauliflower and roast whole for 30 minutes.
3. Once tender, a fork should be able to make it through giving some resistance.
4. Remove from oven and quarter.
To Assemble:
1. In a cast iron or heavy-bottomed pan preheat 2tbsp of canola oil to just below smoking point.
2. Place the cut side of the cauliflower down in hot oil and let caramelize. Once golden brown, quarter turn and repeat on the other cut side.
3. Reduce heat to medium-low and add 4floz of red curry into pan, place a lid over the pan to steam the cauliflower in the sauce without reducing it.
4. Once the cauliflower is warmed all the way through and the sauce coats it, plate it in a bowl pouring remaining sauce over the cauliflower.
5. To finish, top the cauliflower with toasted cashews, chopped cilantro and chopped thai basil.
Find out more about Mister Chen's Asian Brasserie.