Our latest recipe comes from Chef Dominique Moussu of Cassis Bistro. Alberta beef cheeks are completely underrated. They have a rich, deep flavour and when slow-cooked, they become melt-in-the-mouth tender. It's no wonder why chefs love cooking with them. If you cannot find beef cheeks, they can be substituted with any stew cut of beef: blade steak, chuck steak, shanks or oxtail. The recipe serves eight people and is the perfect meal to impress friends at a dinner party.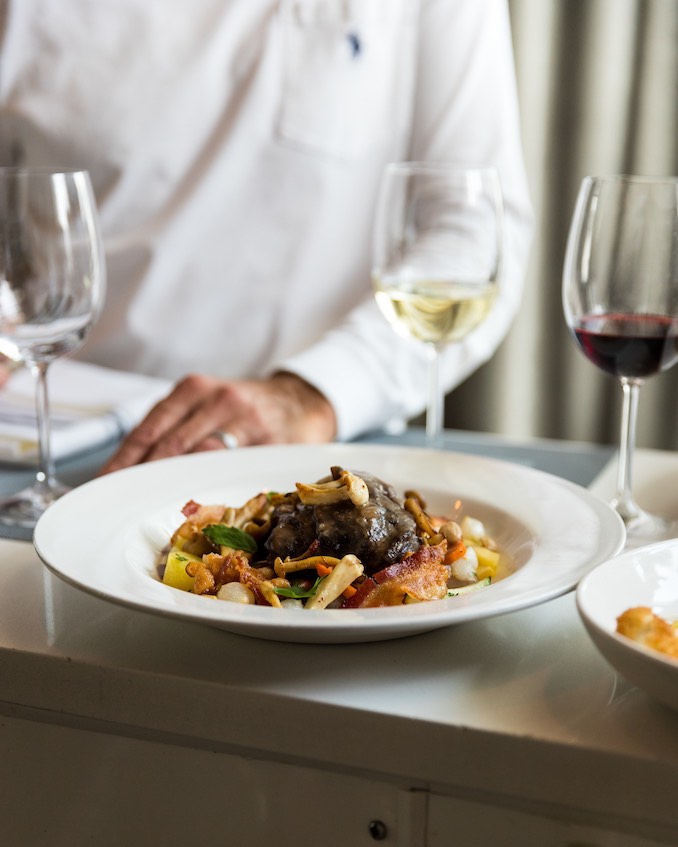 Alberta Beef Cheeks Bourguignon
Serves 8
INGREDIENTS
– 8 Alberta prime or high-quality beef cheeks
– 500 grams Alberta farm bacon
– 500 grams mixed mushrooms
– 2 L red wine
– 2 carrots, chopped
– 2 stalks celery, chopped
– 2 onions, chopped
– 4 shallots, chopped
– 1 bay leaf
– 50 grams
– 4 whole cloves
– 1/2 cup all-purpose flour
– 3/4 cup + 1 Tbsp (1 3/4 sticks) unsalted butter
– Kosher salt and freshly ground black pepper, to taste
– Mashed potatoes and vegetable fricassee, to serve
Directions:
1. In a large bowl, combine the beef, wine, and all the garnish. Cover and refrigerate for 12 hours. Remove the beef cheeks from the mixture and pat dry with a dishtowel. Season with salt and pepper.
2. Melt butter in a large ovenproof Dutch oven over medium-high heat. Stir in flour and cook for 1 minute, until golden. Pour in wine mixture and whisk continuously until smooth. Reduce heat to medium-low and keep warm.
3. Preheat oven to 250º. Heat a large frying pan over medium-high heat. Add cheek and sear them until brown on each side. Transfer the cheeks to the Dutch oven, add vegetables and braise in the oven for 4 to 5 hours, until cheeks are fork-tender.
4. In a medium/high pan, sear bacon until crispy.
5. Serve with mash potatoes and vegetable fricassee and bacon.
Find out more about Cassis Bistro.