This week's recipes come from Nigerian restaurant and catering service, Ahinke's (Har-hin-ke) Kitchen! Suya is a spicy grilled beef seasoned with special herbs and spices and garnished with sliced onions, cabbage, cucumber and tomatoes, and Puff Puff is a popular West African street food usually eaten at breakfast or as a side dish.

Suya
Ingredients
– 2 pound of Sirloin Steak
– 1/2 – 1 tablespoon chili peppers
– 1 tablespoon onion powder
– 1 1/2 teaspoon beef stock cube
– 1 tablespoon ginger/ garlic powder
– 1 tablespoon white pepper
– 1/4 cup roasted ground peanut ( optional)
– 2 tablespoon peanut or olive oil
– salt
1. Preheat your oven at 350 degrees
2. In a medium bowl, mix garlic / ginger powder, onion powder, white pepper, chilli powder and beef stock and set aside.
3. Slice the steak into diagonal medium thin shape and thread onto the skewers about 4 per skewer.
4. Rub the steak with spice mixture and place on a roasting pan on a baking sheet.
5. Drizzle with oil and bake for 15-20minutes
6. Garnish with cabbage, tomatoes, cucumbers and red onions.
Tips for delicious suya: 
– Use chuck roast or ribeye roast because it's more tender and easier to cut
– Marinade meat for at least 30 minutes
– Cut thin slices of beef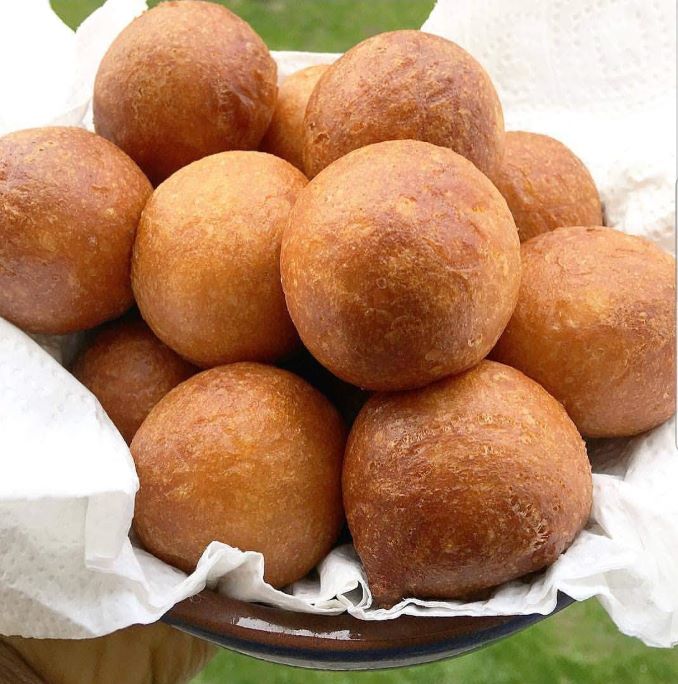 Puff Puff
Ingredients 
– 2 cups of flour
– 1 1/2 cup of water
– 2 tablespoon of active dry yeast
– 3/4 cup of sugar
– 1/4 cup of 2% milk
– Oil for deep frying
Directions
1. Mix sugar, water and yeast. set aside for 5 minutes.
2. Add flour and milk mix and let the mixture rise for approximately 1- 2 hours
3. In a wok pan pour vegetable oil about 5 centimeters (too little oil will result in flatter balls)
4. Test the oil by dropping in a little mixture in the oil, if it's hot enough, the batter will float to the top of the pan
5. Use your hand to grab a bit at a time and drop inside the oil, fry for a few minutes until bottom side is golden brown,
6. Turn the ball over with a frying spoon for it to fry the other side for few minute to turn golden brown. Serve warm.