Our Homegrown Business feature this week is on Spolumbo's Fine Foods & Deli! We spoke to co-owner Tony Spoletini to learn more about this tasty restaurant, deli and federally approved meat plant!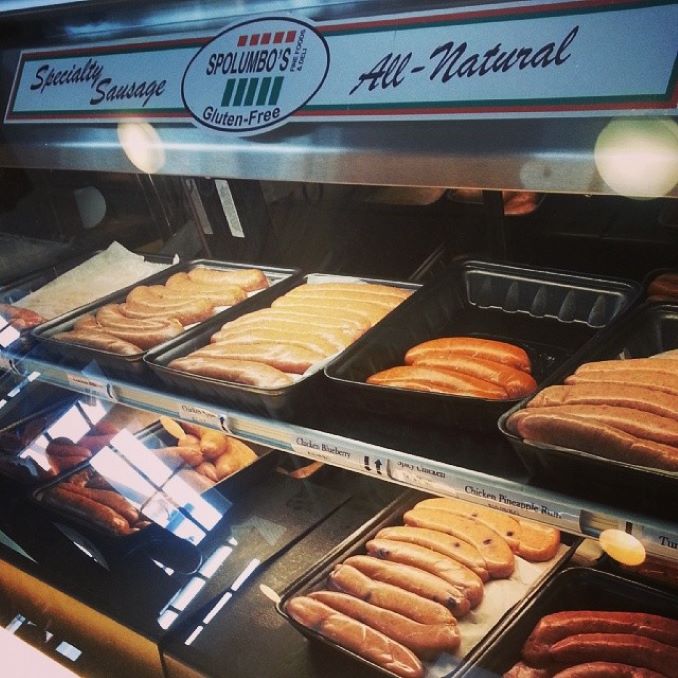 What is your business called and what does it do?
Spolumbo's Fine Foods & Deli is most commonly known as a restaurant and deli, but we are actually more than just one business from an operational standpoint. At our core we are a federally approved meat plant where we produce sausages, salamis, burgers, pizza toppings, and meatballs. The plant is the heart of the business, but we also run a store-front deli, with a lunch counter eatery that features hot daily specialties from Italian inspired recipes in a 100-seat restaurant at our head office location. Additionally we provide catering around the city, and offer catered events on site in our facilities, as well as remote events like outdoor BBQ parties where we come to you. Lastly, we are also now franchisors with independent sandwich kiosks at strategic locations – so there are a lot of moving parts.
What made you want to do this work?
As former professional CFL football players our first careers were inevitably bound to be short-lived. We needed to plan a follow-up career for once football ended, and being first-generation sons of Italian-Canadians we simply gravitated something familiar, every Italian family made sausage when we were kids. We were always confident in our products, but we needed to convince people to try it. With a little bit of local notoriety dust still fresh from our sport days, we were at least able to reach a cross-over audience in the food and hospitality industry. People were receptive enough to give us a chance and we are grateful everyday to have received that opportunity.
What problem does this solve?
Meats like sausages, burgers, and meatballs are commonly the food of leftovers and trim. Butchers take their premium cuts like steaks, chops, roasts, and ribs first, and then they grind the remains into sausage. A lot of the time those meats contain additional fats, fillers, binders, or preservatives, all in an effort to maximize the profitability or to sell for the cheapest price. When we came on the scene here in Calgary you'd have to really search for boutique artisans that would produce sausages exclusively with premium meat cuts that were free of any other additives. Nobody else was doing that level of quality on a commercial scale, and we believed there would be a demand for that. Today the food industry has exploded into mainstream conversation in a way that didn't exist before. There is so much more education and content now and everyone is much more conscientious about what they eat.
Who are your clientele/demographics?
Calgarians first and foremost, but a lot of Albertans in general actually. Sports fans for sure. Anyone who is hungry since our portions are famously generous, but we are popular in the health food scene to because we make everything naturally and use only premium ingredients with no additives or preservatives. We are recommended by nutritionists and athletes in training eat our food all the time, but so do all the beer-drinking armchair quarterbacks out there. Our clients are soccer moms and soccer stars, they are big construction workers and slender librarians – we really do make something for everyone.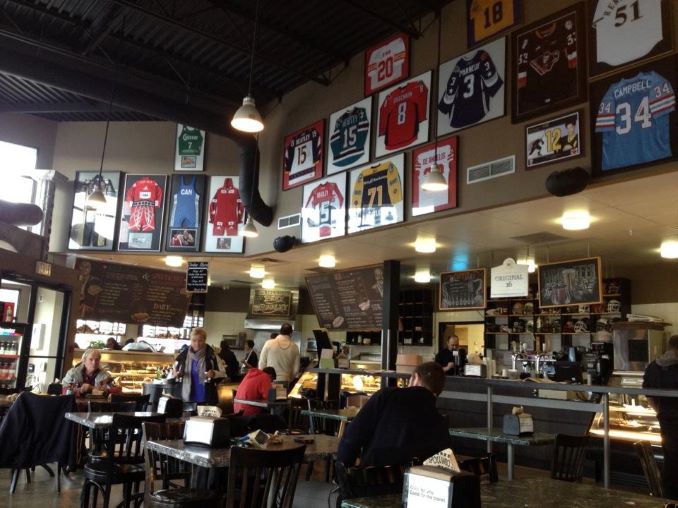 How does your business make money? How does it work?
We work hard at it, even 28 years later Mike and I are on site managing the business everyday. Basically our revenue is divided into 'Eat-Now', or 'Eat-Later'. Our wholesale division distributes to commercial kitchens in restaurants, hotels, and institutions, and also to our retail partners that stock Spolumbo's onto grocery shelves – all of that represents our 'Eat-Later' business. Our restaurants, deli, catering department, and new franchise operations all handle the 'Eat-Now' Spolumbo's experiences. There is a lot going on here but we have amazing staff. Like every great football coach does, our talent is divided into special teams that are good at handling the unique challenges and demands from each sector of our business.
Where in Calgary can we find your profession?
We have 7 locations currently:
Inglewood head office,
Mayland Heights Spolumbos Cafe',
Calgary Airport US Terminal,
West Springs Coop,
Calgary Stampede Range in the Big Four (seasonal),
Calgary Stampede Grandstand (seasonal),
Millarville Racetrack Farmer's Market (seasonal).
What is the best question a prospective customer could ask a member of your profession when comparing services?
Ask for references, so much can be gleamed about an organization by learning what professional circles they move in, so definitely find out who else your suppliers do business with.
What is the best part about what you do? What is the worst part?
We get to feed people – that's the best part of the job. No gesture is more effective and visceral at bringing people together. No matter how far society advances our technology, sharing a meal with someone is a communal experience that is universally appreciated. We don't take that for granted. Worst part… maybe I'd say the accounting… numbers have no personality.
What is your favourite joke about your own profession?
Are you kidding? Do you know how many dirty sausage jokes there are out there! No thank you, pass. Next question.
PAY IT FORWARD: What is another Calgary business that you love?
Calgary Co-op! They support the community, they support local businesses, and we love 'em!
Make sure to check out the recipe Spolumbo's supplied for Rigatoni Salsiccia al Forno!