Our Charitable Choices feature this week chats with the folks at Famous 5 Foundation, an organization that began 90 years ago and paved the way for women to participate in matters of public life. Today, the organization keeps the story if their struggle alive while also continuing to work towards full gender equality.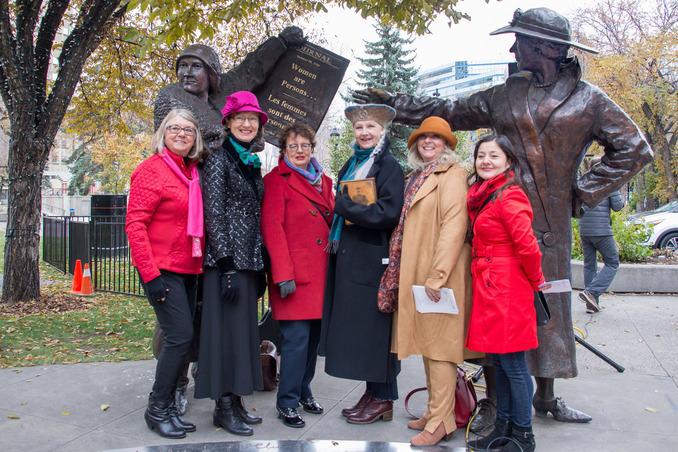 Describe your charity/non-profit in a few sentences
90 years ago, the Famous 5 paved the way for women to participate in matters of public life. Today, the Famous 5 Foundation exists not only to share their story but also to continue the important work these courageous women started, because when it comes to gender equality, there's still much to do to bridge the gap. One of our challenges is to make the events of the past relevant and inspiring today.
The 'Persons' Case opened doors for other marginalized groups to gain rights over time, and that's something we can all celebrate. Another challenge is to discover ways to recognize our Canadian female leaders, to document the changes they make to our society. Our third challenge is encouraging our youth to take up the torch on new and continuing issues and lead the way. We are curious, ambitious, adventurous, ingenious, and courageous.
What problem does it aim to solve?
Our vision is to be a champion for the development and recognition of Canadian women leaders.
When did you start/join it?
Frances Wright and friends began the organization on October 18, 1996, the anniversary of the 'Persons' case, with the mission to recognize the Famous 5 and other Canadian women as nation builders. For the 70th anniversary on October 18, 1999, they installed a larger-than-life bronze monument called Women Are Persons! in Olympic Plaza in Calgary in addition to 11 other events. The Famous 5 Foundation installed a similar monument on Parliament Hill outside the Senate chambers in Ottawa on October 18, 2000 plus 10 other events.
For the 75th anniversary, these democratic champions were featured on the back of the 50 dollar bill. To celebrate the 80th Anniversary of the 'Persons' Case, the Senate of Canada declared the Famous 5 as Honorary Senators. The organization continues to recognize Canadian women trailblazers and inspire girls to be leaders and nation-builders.
What made you want to get involved?
I joined as part of the marketing committee in 2016 to assist with the social media content and strategy. Attending a number of the Enbridge Famous 5 Speaker Series inspired me to get involved to promote the organization and the work they did to support leadership and youth.
What was the situation like when you started?
You may recall as the US election looming in the fall of 2016, many women were rallying to be heard. The #MeToo movement was taking hold and the inaugural Women's March took place in January 2017.
The Alberta political landscape was also changing. Alberta elected a female Premier in May 2015, Rachel Notley, and also that year, Rona Ambrose became the first female leader of the Conservative Party. With the first gender-balanced federal cabinet in 2015, it was a time of significant beneficial change for women.
How has it changed since?
Emily Murphy, Louise McKinney, Irene Parlby, Henrietta Muir Edwards, and Nellie McClung came together in non-partisan fashion to pose a question to the government. Their sense of adventure, ambition, courage, curiosity, ingenuity, and collaboration changed the definition of 'persons'. We celebrated the 90th anniversary of the 'Persons' case this October with meaningful discussions (historically called 'pink teas') across the country.
Today we recognize the women who show characteristics similar to the Famous 5 for the work they do building our nation, and our youth see them as role models. This year the Famous 5 Foundation piloted a leadership program for girls ages 8 to 12 called the Future 5. The girls explore the meanings of those characteristics, hear the journeys from leading women in our community, learn to set goals, and follow through on an action plan.
What more needs to be done?
What the Famous 5 began, we continue: pay equity, racial inequality, 2SLGBTQIA+ rights, missing and murdered Indigenous girls and women, mental health and addiction, and more. Whatever your gender, race, sexuality, age or background, we are all persons. Trailblazers are taking up causes close to their hearts and engaging others. The Famous 5 Foundation wants to build a society without boundaries for women by developing the leadership skills of Canadian girls in the spirit of the Famous 5. We're preparing the next generation of trailblazers and supporting those already on the path.
How can our readers help?
Tell us how you are breaking down barriers. Engage with us on social media. Volunteer with one of our committees: Marketing, Events, Girl Engagement, Speaker Series, and Youth Awards. (Yes, the Marketing Committee is looking for a graphic designer and social media coordinator!) Join us for the Enbridge Famous 5 Speaker Series luncheons, or sponsor a table. Sponsor our Future 5 program so we can reach girls across Canada.
Do you have any events coming up?
Tickets are on sale for our February 19, 2020 Enbridge Famous 5 Speaker Luncheon with Hon. Sonya Savage, Minister of Energy. Also, tickets are on sale for our June 3, 2020 Speaker, Olympian Beckie Scott, Chair of the World Anti-Doping Agency's Athlete Committee. Find both these Eventbrite links for tickets at famou5.ca/events.
Where can we follow you?
Website | Facebook | Twitter | Instagram | LinkedIn
Follow our hashtag #wearefamou5.
PAY IT FORWARD: What is another Calgary charity that you love?
Calgary Women's Centre: https://www.womenscentrecalgary.org/who-we-are or the Calgary Women's Immigrant Centre https://ciwa-online.com/