Our Charitable Choices feature for the week is about Gems for Gems! Gems for Gems is a forward-focused, not for profit aiming to empower and educate survivors to end the cycle of domestic abuse! We spoke with the founder, Jordan Guildford, to learn more!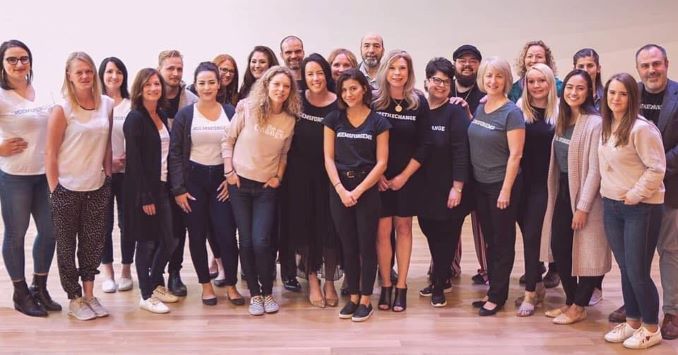 Describe your charity/non-profit in a few sentences.
Gems for Gems is a nationally registered charity on a mission to end the cycle of domestic abuse through empowering and educating survivors.
What problem does it aim to solve?
Domestic abuse has been proven to be a cycle through countless studies both within families as well as on an individual basis. What we know is that people gravitate to the familiar even when it is negative and sometimes, even fatal. Gems for Gems seeks to disrupt that cycle by giving survivors the opportunity to see leaving, remain out and creating a healthy life as within reach.
A lack of financial and emotional independence are often large contributors to why women remain in abusive relationships as these elements make leaving seem impossible particularly when they have children.
Through our THRIVE Empowerment Series and our Gems for Gems Scholarship Program, we create opportunities for their future to be sustainable as we provide skills and education that build self confidence and knowledge.
When did you start/join it?
Gems for Gems began in 2015 with a simple Jewelry Drive and has grown across the country due to the generosity and compassion of the community. Our Jewelry Drive asks women in the public to donate gently used jewelry to be cleaned and packaged, then given on Christmas morning to survivors within shelters.
Our first year yielded 436 packages to Calgarian women and we have now reached over 14,000 survivors across Canada! All thanks to Canadian women, doing what they can to help other women at a very hard time.
This success brought several volunteers which we built our ambassador program with and with those volunteers, we have been able to run our events, and scholarship program. Our backbone is the community around us. Gems for Gems is proof of what is possible when like-minded people rally for a cause they believe in. It is simply incredible.
What made you want to get involved?
One of the details that separates Gems for Gems from the rest of the sector is that we are entirely forward focused. This means the women we help are not required to discuss their past with anyone in our organization, they simply are invited to listen during our events and if they would like to apply for the scholarship opportunities, they again, do not need to explain their situation, only what they want to do with the education and the opportunity. Other criteria (references etc.) which is publicly accessible on our website.
Gems for Gems was created to fill the hole created by the reality that the cycle of abuse has been continuing and growing despite all the incredible and critical work being done by the shelters and other frontline organizations. We are not reinventing the wheel; we are simply providing a way to end the cycle for those ready to do so. This solely proactive approach is refreshing, high impact and is therefore very attractive to people who gravitate to this way of thinking personally.
What was the situation like when you started?
As heart breaking as it was the first day, or more so. The statistics rise frequently which is also in part due to more survivors reporting. This is marvelous as we want survivors to feel confident they will receive justice and be heard, but domestic abuse is now the global leading cause of death for women.
We are not in a 'quick fix sector'. The mindset of society (men and women) needs to change dramatically which means we need to work with the adults of today AND youth to create opportunities to end the cycle. So much of what makes each of us tick is from what we have seen and heard in our childhood to the point where even if we understand it is wrong, we still gravitate to it because it feels familiar and therefore 'safe'. We are fighting nature (how we process the world around us, our instincts to gravitate to the 'known' etc.) as much as we are fighting cruelty.
What more needs to be done?
We need to understand that we MUST do what we can. So many people think they can't do anything significant, so they do nothing. ANYTHING is better than nothing.
A wonderful example of this is our ambassador program. We ask (but it is not a requirement) that each ambassador also become a donor by giving $5/month. We really believe in leading by example and strive to do so in every way possible. The amount of $5 was decided because it is approximately the cost of a Starbucks drink which most would purchase for themselves or a friend without a second thought.
This donation is small, however, together, from these monthly donations, a FULL SCHOLARSHIP has been raised! We have partnered with the Esthetic Institute which is an incredible local trade school capable of giving a national accreditation to its graduates! The value of a full scholarship is $11,000! Our ambassadors did that small act together and created a life changing opportunity for a survivor of domestic abuse. Every little bit counts.
How can our readers help?
Take 2 minutes and learn. It is more comfortable to remain in the dark when you feel powerless, but know this, you are NEVER powerless. Educating yourself even a little will open doors. Walk through those doors and do what you can. Some ideas are;
Going through your jewelry and donating what you know you wont miss to Gems for Gems!
Call your local shelter and ask them what they need; e.g. clothing, hygiene items, volunteers, etc.
You may want to check out this page on our website for statistics about the epidemic of domestic abuse, but you can also use google!
Whatever way feels most comfortable to you, just budget a minimum of two minutes and start thinking.
Do you have any events coming up?
Our events will be done primarily in the privacy of shelters and other organizations this year but whenever we have public fund raisers or other events, we post them on our facebook page and website, so please follow us to stay up to date!
Where can we follow you?
Facebook, Instagram and on our Website!
PAY IT FORWARD: What is an awesome local charity that you love?
Homefront. I am CONSTANTLY blown away by their work, their efforts to be highly impactful and the fact that they are there, and remain there, during some of the most difficult times for survivors during their court battle.