Our featured recipe this week comes from Spolumbo's Fine Foods & Deli, a restaurant, deli and federally approved meat plant working out of Inglewood. With old Italian roots, Spolumbo's Fine Foods & Deli creates a Rigatoni Salsiccia al Forno that Mamma would be proud of!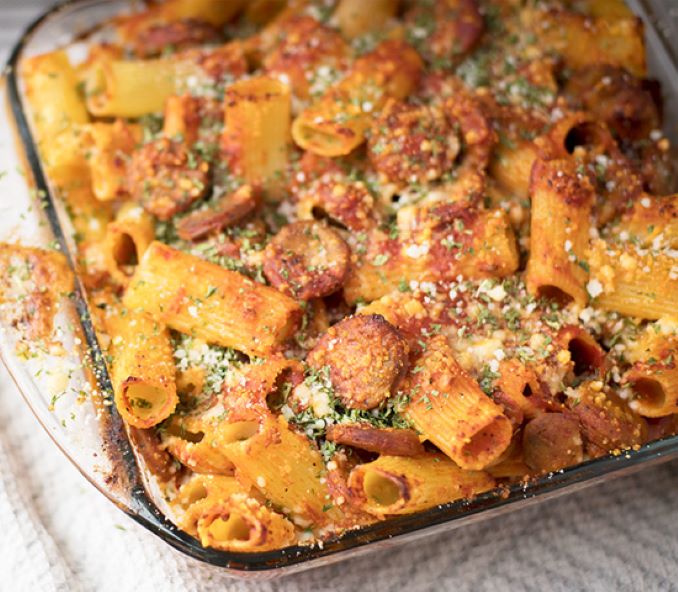 Serves: 4
Total Time: 75 mins
Prep: 10 mins
Cook: 65 mins
Skill Level: Easy
Ingredients
4 links of Spolumbo's Spicy Italian or Mild Italian Sausage
1 Tbsp. olive oil
1 package 500 g of Rigatoni pasta
2 x 500 ml jars of Spolumbo's Marinara Sauce
1 cup white onion (diced)
½ cup clear soup stock (chicken or vegetable)
3 cloves of garlic (minced)
1½ tsp. chopped or dried Italian basil
3/4 cup grated Parmesan (or comparable) cheese
salt & pepper to taste
How to Make It
In a large pot bring 12-16 cups of water to boil.
While water comes to a boil, begin throwing the onions in olive oil with a deep fry pan on medium heat. Slice the sausages lengthwise cutting the meat out of the casings and crumbling it also into the fry pan with the onions. Stir while cooking for around 5 mins. or until onions are translucent and sausage meat is gently browned.
Add garlic, basil, marinara sauce and soup stock to your deep fry pan and allow the sausage meat to simmer slowly in that sauce. Toss 500 g package of pasta into the boiling water. Let cook until SEMI-soft (IMPORTANT: refer to pasta instructions for length of cook time, and set your timer to strain the pasta after only 50% of the full-cooking time). You will complete the pasta cooking in the oven.
In a large casserole dish combine the rigatoni with all the meat sauce, sprinkling grated cheese between and over the pasta and sauce in layers as you fill the dish. Cover with a lid or aluminum foil and place the casserole into pre-heated oven to finish baking for around 45 minutes, or until pasta has softened to your preference.
Serve with garlic toast and a side of Caesar Salad.
Tune in tomorrow for more about this local business!