Block Kitchen + Bar's Calamari is made with Humboldt Squid, which is a large predatory squid and made with Ocean Wise certified sustainable fish. Hence its Red Devil nickname due to its aggressive nature and can turn its skin red. Humboldt Squid is thicker and meatier than most squid and is also one of the few ocean sustainable choices for squid. If you can't find this particular type, the marinade will also work with any size squid. If you do use the Humboldt thick flat sheets of squid, you should score them on one side, (criss-cross surface cuts).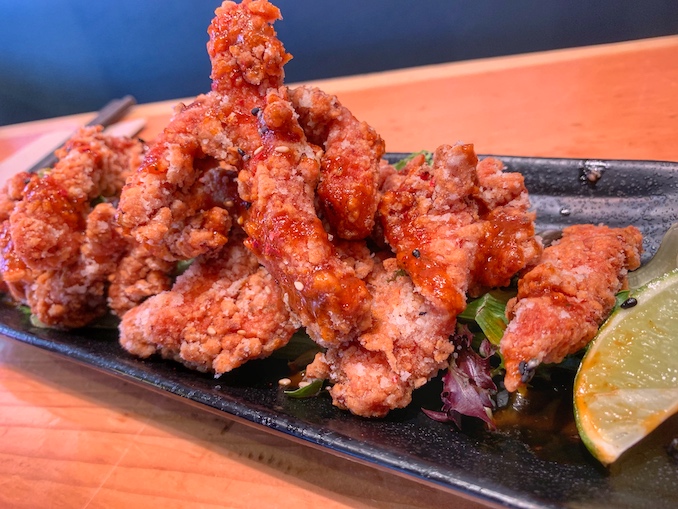 Red Devil Humboldt Calamari Recipe
INGREDIENTS
2kg Humboldt Squid sheets
Canola oil for deep frying
Potato starch for dredging
Marinade
Marinade for Squid
– 1/4 cup Korean chili paste (Gochujang)
– 1/4 cup Korean chili flakes (Gochugaru)
– 1/4 Tandoori Masala
– 1/4 cup Hoisin sauce
– 1/4 cup Thai fish sauce
– 1/4 cup soy sauce
– 1/4 cup brown sugar
– 1/4 cup minced garlic
– 1/4 cup minced ginger
– 1/2 bunch chopped cilantro
– 1/4 cup sesame oil
– 1/4 cup lime juice
– 2 tablespoon black pepper
Directions:
1. Score squid sheet by criss-crossing with sharp knife. Cut in 1/4 – 1/2 inch ribbons, about a finger length.
2. Mix marinade with squid until well incorporated. Let marinate for at least 6 hours. It will keep in the marinade for 4-5 days.
3. Dredge squid pieces into potato starch, shake off excess and deep fry in hot oil (360-375 F) for about a minute until crispy.
4. Let excess oil dry on a piece of absorbent paper and serve.
5. Drizzle with spicy sauce of your choice, sprinkle with black and white sesame seeds, chili flakes, garnish with lime wedge.
Find out more about Block Kitchen + Bar.