Our featured recipe this week, Pork Belly Bao is from chef Derek Wilkins of The Wednesday Room. Sweet, savory pork in a pillowy bun. Pork belly bao encapsulates everything that's right with the world, and this recipe is a guaranteed crowd-pleaser. The greatest challenge is to eat only one, but really why stop?
[Gochugaru, or Korean chili flakes, are vibrantly red, coarse in texture and subtly sweet. Gochugaru can be found at Asian supermarkets.]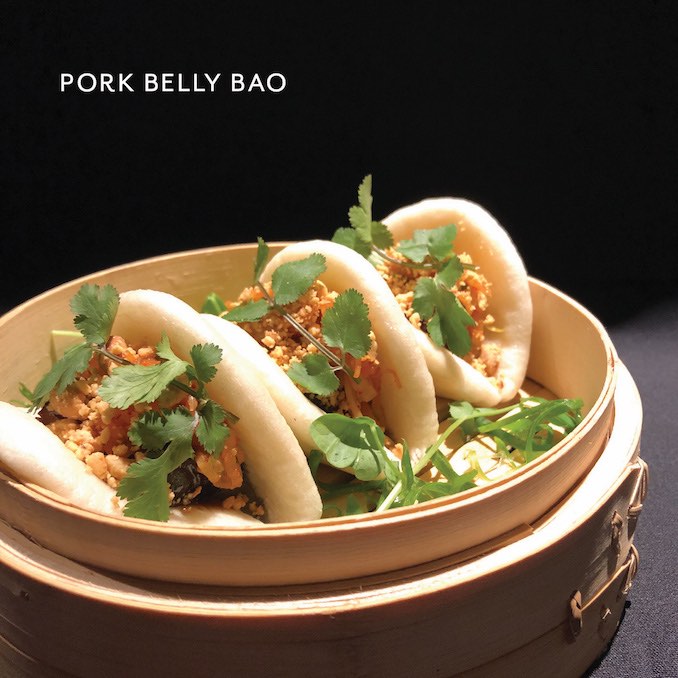 Pork Belly Bao Recipe
Serves 6 to 8
INGREDIENTS [Bao dough]
– 1 Tbsp yeast
– 1/4 cup granulated sugar (divided)
– 4 cups all-purpose flour, plus extra if needed
– 2 tsp kosher salt
Directions: [Bao dough]
1. In a large bowl, combine yeast, 1 Tbsp sugar and 1 1/4 cups water. Set aside for 5 minutes to foam.
2. Add 4 cups of flour and salt to the bowl and mix well until combined. Form the dough into a ball and knead for 5 minutes, until soft and silky. Add more flour, if needed. Place dough into a clean, dry bowl and cover with a damp cloth, until dough has doubled in size.
3. Meanwhile, cut twenty 2-inch squares of parchment paper. Line a baking sheet with parchment paper.
4. Place dough onto a floured surface and roll to 1/2-inch thickness. Using a 2-inch round cookie cutter, cut out disks. Fold a disk in half (half-moon shape) with a piece of the parchment between the 2 folded sides to prevent them from sticking. Put folded dough onto the prepared baking sheet. Repeat with the remaining disks, then loosely cover them with plastic wrap and set aside for 30 minutes to rise.
5. Prepare a bamboo steamer with a layer of parchment paper and gently place the dough on the parchment and steam over high heat for 10 minutes. Remove from the steamers and serve immediately. Alternatively, set aside to cool and wrap in plastic wrap. Reheat by steaming for 5 minutes or pop in a microwave.
INGREDIENTS [Braised pork belly]
– 3 lbs pork belly, skin on
– 1/2 onion, coarsely chopped
– 1 carrot, coarsely chopped
– 1/2 fennel bulb, coarsely chopped
– 1 cup pork stock or water
– 1/2 cup soy sauce
– 1/4 cup brown sugar
– 2 pods star anise
Directions: [Braised pork belly]
1. Preheat oven to 325°F.
2. Place vegetables in a deep roasting pan. Pour in stock or water and soy sauce and quickly stir. Place pork belly into pan, skin-side up. The liquid should reach two-thirds of the way up the side of the pork belly. If not, add more stock or water.
3. Wrap entire roasting pan tightly with aluminum foil and braise in the oven for 4 hours. Set aside to cool down, then chill in the refrigerator overnight. Portion into 2-inch pieces that are 1/2-inch thick. Set aside. Skim fat off braising liquid and reserve.
INGREDIENTS [Scallion-apple kimchi]
– 1 Granny Smith apple, cut into thin strips
– 4 green onions, cut into thin strips
– 1/4 Napa cabbage, cut into thin strips
– 2 ramps or green onions, cut into thin strips
– 2 Tbsp gochujang
– 2 Tbsp rice vinegar
– 2 Tbsp mirin
– 2 Tbsp gochugaru (found at T&T, Silk Road Spice Merchant, or Korean Market)
– 1 Tbsp kosher salt
– Cilantro, for garnish
– Roasted peanuts, for garnish
Directions: [Scallion-apple kimchi]
1. In a large bowl, combine apple, green onions, cabbage and ramps or more green onions and mix well. Refrigerate until needed. It tastes better after letting it sit overnight.
INGREDIENTS [Black sesame aioli]
– 1/2 cup mayonnaise
– 2 tsp freshly squeezed lime juice, plus extra if needed
– 1/2 tsp sesame oil
– 1/2 tsp black sesame paste
– 1/2 tsp squid in
– 2 tsp kosher salt, to taste
Directions: [Black sesame aioli]
1. In a large bowl, whisk all ingredients together. Add kosher salt. Taste and add more salt or more lime juice, to taste.
To Assemble:
1. In a frying pan set over medium-high heat, add a splash of oil and the pork belly and pan-fry for 4 minutes on each side.
2. Put 1 teaspoon of aioli onto one side of a bao, then add 1 tablespoon kimchi onto the other side. Place the crispy pork belly in the middle.
3. Serve family-style on a large platter and garnish with cilantro and toasted peanuts