It's been awhile since I've published a new story in my series highlighting Wild Jobs. Just recently I had the pleasure of collaborating with the Lake Louise Ski Resort again for the latest installment of Wild Jobs where I was able to interview Mitch Reid who is a Snow Groomer and Grooming Supervisor at The Lake. Mitch is currently in his seventh winter at the popular resort, but has also spent time at Nakiska and Perisher Ski Resort, which is in Australia. Considering the Australian ski season occurs during our summer and Mitch hasn't experienced an actual summer in five years, he must really love the snow!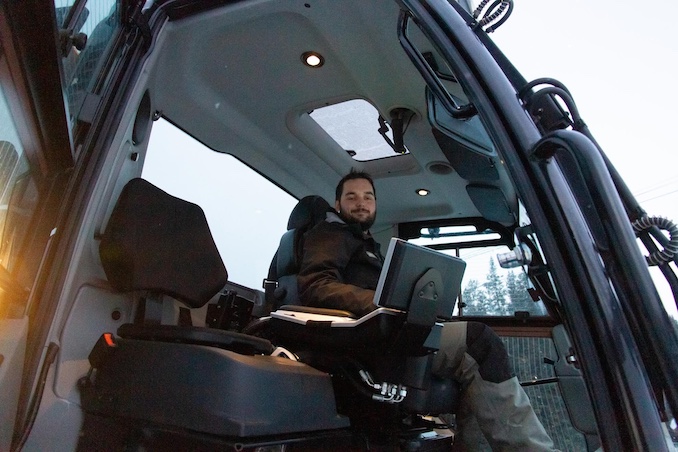 Mitch was a wealth of information about the art of grooming and the powerful machines used to create that perfect corduroy found on freshly groomed runs. Prior to the interview Mitch offered the following about the snowcats used at Lake Louise:
"We run Prinoth Bison snowcats. They are very powerful and unique machines. We have a bit of a variety as they make cats specifically for building terrain parks, as well as winch cats for working on very steep terrain. They weigh between 10,000 and 12,000kg (22,000 and 27,000lbs), have 9.3 litre CAT engines, and put out 400 horsepower. The machine is 6.2m (20ft) wide and 8.5m (28ft) long. We are able to climb through snow due to very large tracks which have a huge surface area and give us traction on steep and slippery slopes. The blade is considered a 12-way blade which means we have 12 different ways to move it. This is pretty intricate compared to most bulldozers, skid steers, or loaders, which may only be able to move in 4 or 6 different ways."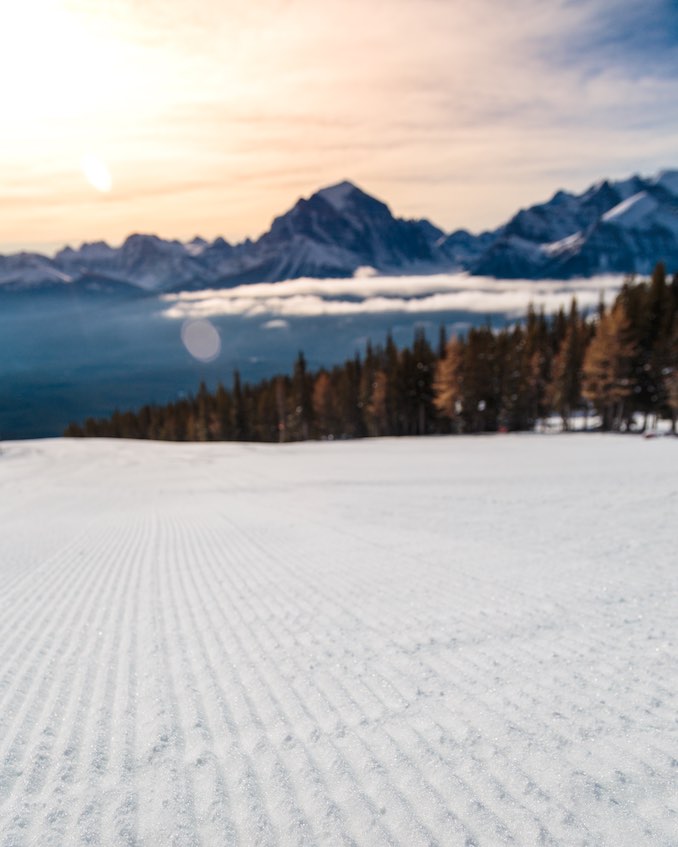 If you're anything like me and have a passion for winter mountain sports continue reading for the full interview that's filled with interesting facts about grooming and what the day-to-day of a groomer looks like.
CG: "Have you been employed in different roles or always in grooming?"
MR: "I started as a snowmaker during my Nakiska days which introduced me to snowcats. I had absolutely no idea what a snowcat was before snowmaking! Then I became the snowmaking plant supervisor, which I did for the first few months of each season while I patiently awaited being called back into grooming. At Lake Louise, grooming keeps me busy enough from November to May so I don't have too much influence in snowmaking anymore."
CG: "There are a lot of international employees working at Lake Louise. Where are you from and what brought you to The Lake?"
MR: "I am from Regina, Saskatchewan.  I came to the Banff area to visit some friends in the early 2000's. At the time I was in university and wasn't really enjoying it so I moved to the area for a year off. It became quite apparent that one year was not enough so I came back and it's been over 10 years now. I made the move to Lake Louise because I had decided I really wanted to learn how to build terrain parks and saw the opportunity to do that here."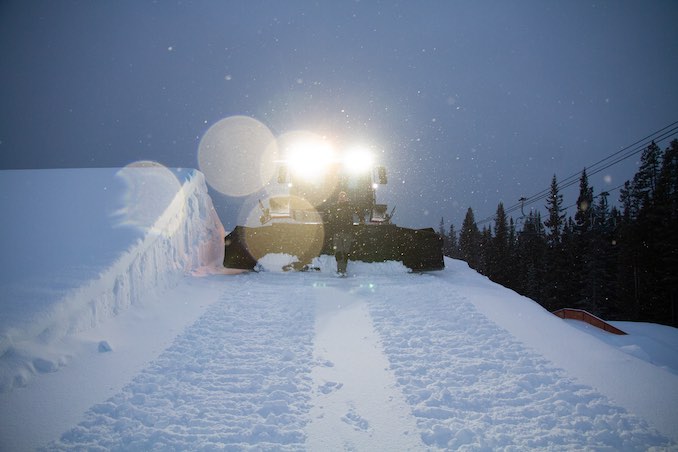 CG: "Are there any special certifications or training required to become a groomer?"
MR: "Our groomers learn via on-the-job training and experience. For me the most important prerequisite is a good attitude. If you can't bring that to work, I can't teach you how to become a groomer! Snowmaking experience is definitely very helpful. Snowmakers generally work similar hours to groomers and we work together a lot, so snowmaking is a pretty good stepping stone to get into grooming. We did put on an in-house training day this year with Prinoth which was a classroom day of really good information and presentations about our snowcats and grooming in general. I have also attended "Cutter's Camp" which is a conference in Mt. Hood on terrain park building and practices."
CG: "What's it like driving the groomer? Is it similar to driving a car or is it something completely different?"
MR: "It is completely different than driving a car. A groomer has no steering wheel, and we do not use a gas and brake pedal to drive. We steer with two levers in your left hand, each one controls one track in either forward or reverse. Almost all the other controls are through a joystick with your right hand. It is probably closer to some sort of video game than a car."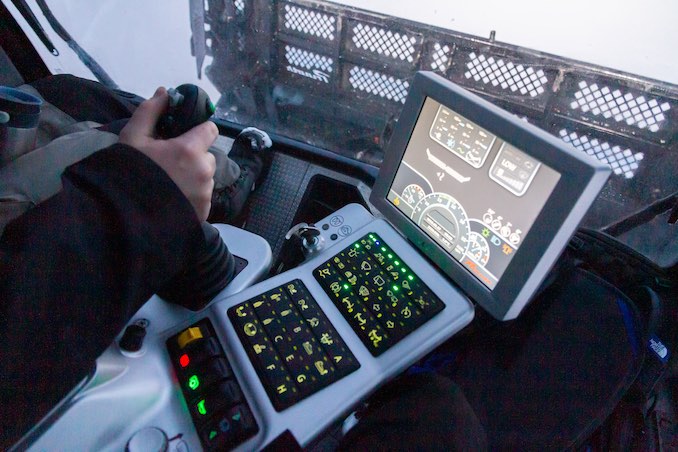 CG: "What's the most challenging thing about your job?"
MR: "I am the Grooming supervisor, so for me it's probably just trying to stay 'in the know'. I have to keep an eye on every run that we groom and identify places that need some extra work. I also need to know if we have any issues with machines so we can try and prevent any late night break downs. Then after that it's trying to keep up with the team. There are 18 of us on the crew and as stated before training is all on-the-job so I have to be aware of where everyone is at and try to create appropriate training opportunities where I can. For your average groomer operator, I would have to say the biggest challenge is working nights. It takes a while to get into a good sleep pattern and be able to stay alert throughout the night. It's a pretty tough lifestyle to work nights for a long period. But we get to ski and snowboard afterwards if you're not too tired."
CG: "A 'typical' day likely doesn't exist in your line of work, but could you walk me through what a regular day at the office might look like?"
MR: "You're not wrong, for me a 'typical' day is very difficult to define as I am generally working on various projects early season. I work a lot of day shifts building runs and terrain parks, but often have to adapt for night time projects that I can't work on in the day. My work days become a bit more regular once the hill is all built, as most of my time goes towards assessing runs and planning out grooming shifts. A typical groomer shift would start with a meeting about the night and assign runs to groom and areas to work on. Following that we go out to the cats and do a series of checks to make sure the machine is ready to go. After that we all head up the mountain and begin working on runs. So for the bulk of your shift you're driving the cat around your assigned runs, likely by yourself, and trying to make them all perfect for the next morning. End of shift we all return to the yard and fuel up so the cat is ready to go for the next person."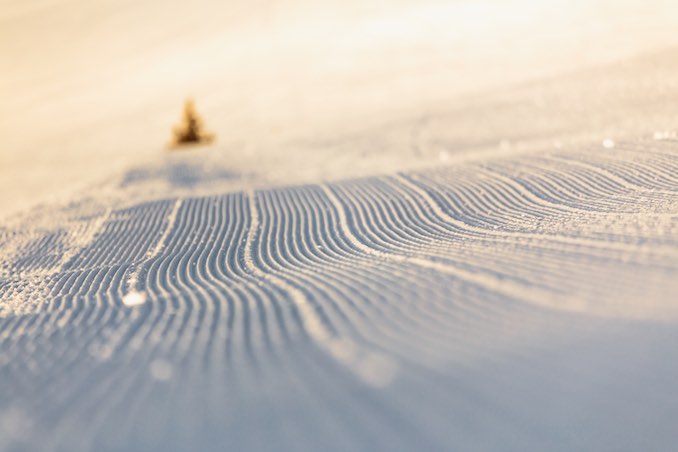 CG: "What's the best thing about your job?"
MR: "Well after 10 years, I still love driving snowcats. They are such a unique machine that you get to drive in some pretty incredible places. I think the best thing, and the reason why it's so exciting is, that you are always learning and becoming better at it. Even after 10 years, I still get to do things I've never done before, or maybe I build a run for a second or third time and it's just that much better than the first time I did it.  I like to think my jumps are better every year than they were the last year and I know I am still getting better at it!"
CG: "Can you explain why winter resorts need to groom certain runs? What are the benefits to grooming?"
MR: "Basically, our main goal with grooming is to provide the best and safest skiing surface possible. We are doing a whole bunch of work at the same time. Our blade is flattening the run and moving the snow back to where it is needed, our tracks are churning up and breaking up the snow, and our tiller is really grinding up that top layer and putting our signature corduroy finish on the snow. Skiers and snowboarders are constantly moving the snow down the run and to the outsides and we are trying to do equal and opposite, where we move the snow back in from the outsides and up the run to keep it in good shape. We will groom almost everything we can. If we don't groom an area there is likely a good reason for it. Maybe there's not enough snow, or too many rocks or trees, or it's simply too steep. We definitely put more grooming efforts into our beginner terrain and runs which see the most traffic. So a beginner run or an access trail will likely be groomed every single night whereas some of our black diamonds may only get a groom every second day."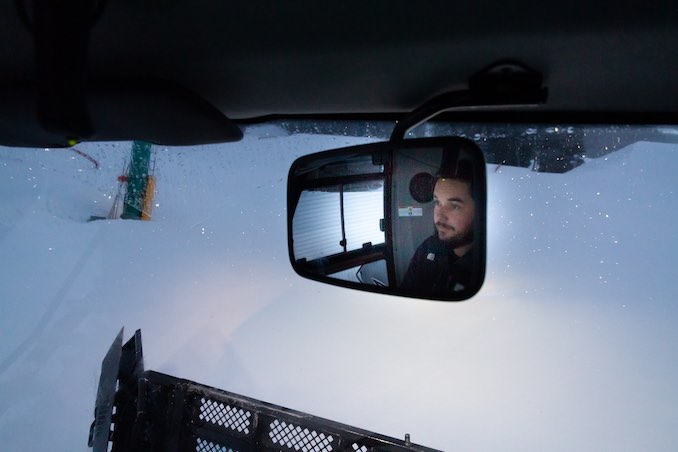 CG: "What are your hours like? I would imagine you can't work when the resort is open, so you're likely confined to after hours and after snow storms, is that correct?"
MR: "This is correct. Most of our grooming happens at night. We have one shift that heads out as soon as the lifts close and another shift who takes over after midnight and work until the lifts start spinning again. We have anywhere from 4 to 8 cats on each shift, so there's quite a lot of work happening out there after everyone leaves the hill. I personally work during the day quite a bit, if I'm not building a new run or terrain park feature I am probably snowboarding and checking out the runs. I do a lot of planning to set the team up for a great night of grooming."
CG: "Do you have any exciting, interesting, or funny stories that have happened to you while on the job?"
MR: "Oh boy, I think most days are pretty exciting, interesting, and funny. It's a different world out there at night and a lot of the stuff that happens out there is maybe difficult to describe and imagine without seeing it. I think my favorite moments are mostly all wildlife sightings. During the season most of us are lucky enough to spot some beautiful animals. Over the years I have definitely decided that Lynx are my favorite and I have spotted them several times. They seem to be very relaxed animals and are just incredibly beautiful to see in person. One day I was driving up a run and spotted one lying down under a tree just on the edge of a run. I stopped my machine and just admired it for a while. Eventually it decided to start moving up the hill, which fortunately for me, was where I was also going. I kept my distance as I was on the opposite side of the run and was able to watch him move through the forest for several hundred meters. It was still one of my favorite moments and an experience I will never forget. After winter operations finish in the spring we do actually continue to do some work for a few weeks out on the mountain. We almost always get to see bears out there, and if you haven't seen a bear in the wild, it never gets old. If you're fortunate enough to visit us in the summer months, you may even get the opportunity to see one yourself! [Editor's Note: Check-out Top of the Rockies for more information about the Lake Louise Summer Gondola] I have also been fortunate in being able to work in Australia, met lots of pro snowboarders, worked on some incredible projects, and gotten lost way more times than I care to admit (mostly in Australian blizzards) so I would like to think I have quite a few good stories!"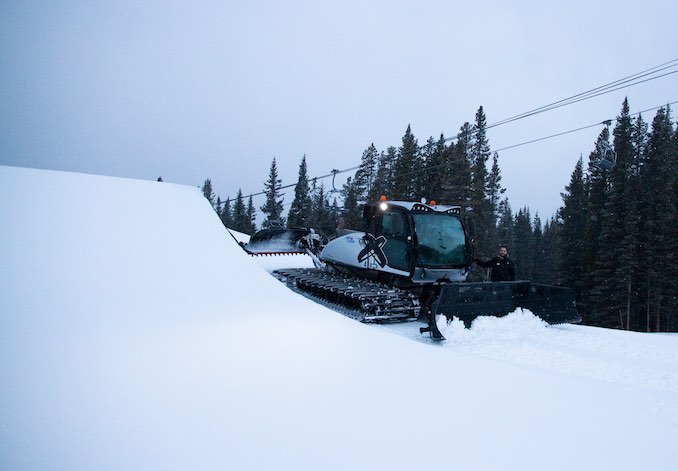 CG: "What advice would you give somebody that's looking to get into a similar role as you?"
MR: "My best advice to anyone interested in grooming is to get a job in snowmaking. It is the best way to get your foot in the door with mountain operations. After that, the best thing you can do is try and get some time in the passenger seat and see what grooming is all about. If you've shown you're interested enough to put in the effort and are a good candidate, you would then be considered for a grooming job should there be an available position."
CG: "Anything else you'd like to add that I may have missed?"
MR: "In closing I would also love to tell you about our terrain parks which we just finished building. We now have 55 features including jumps, rails, and boxes. We have something for every kind of park rider; from the beginner looking to try their first box or jump, to the expert rider looking to show off on some 'extra large' jumps. Come and check out the Showtime Terrain Park at Lake Louise!"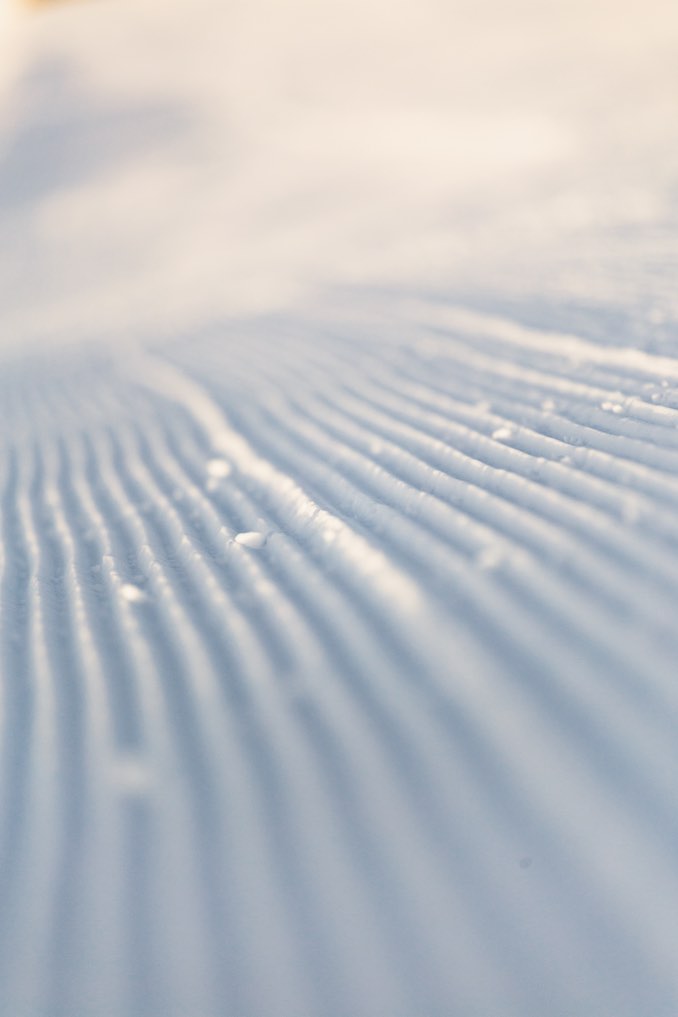 I would just like to take this opportunity to thank Mitch Reid for his time and for thoroughly answering all of my questions, I really do appreciate it. I would also like to thank Shannon Martin for allowing his incredible photos to accompany this story. Give him a follow in Instagram for more amazing shots! Last, but definitely not least, I would like to thank Sarah Magyar, because without you this interview, and the accompanying photos, wouldn't have been possible. Thank you all for making this all come together seamlessly!
My previous collaboration with Lake Louise was about their Snow School program and can be read by clicking the previous link. To stay connected with everything Lake Louise please follow them on Facebook, Twitter, Instagram, YouTube, and Pinterest. Also make sure to use their hashtag #JustLakeIt when sharing photos of your own adventures. See you at The Lake!
***
About this column:
Wild Jobs is a running series that focuses on people in outdoor-related professions. It provides a brief snapshot of their career and the duties that it entails. Please see my previous post, Wild Jobs Part Ten: Snow School Instructor to learn more.