We received a delicious recipe from Rogelio Herrera over at Alloy, one of Calgary's best fine dining restaurants. This Latin style pork chop with mojito orange salsa recipe is fun, easy and will add some flare to your next meal. Try this at home!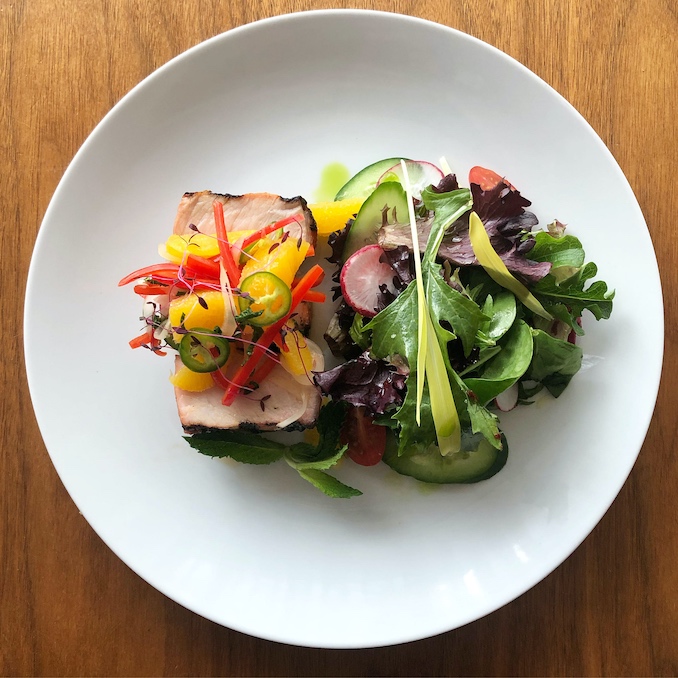 Latin style pork chops with mojito orange salsa
Ingredients
-6- 10 oz double cut Alberta pork chops
For the marinade
-1 cup pineapple juice
-½ cup evaporated cane sugar or brown sugar
-1 Tbs coriander
-1 Tbs smoked paprika
-1 Tbs Achiote paste
-1 Tbs Aji amarillo paste
-¼ cup balsamic vinegar
-1 tea red chilies
-½ cup chopped cilantro
Directions
1. Combine all the ingredients in a mixing bowl.
2. Add the pork chops and mix well
3. Place the marinated pork chops in an air tight container and reserve in the fridge.
4. Marinate for at least 4 hours.
5. Remove the pork from the marinate and drain any excess liquid
6. Season the chops with kosher salt
7. Cook the chops on the grill to the desire temperature
8. After they are cooked place them on a resting rack for at least 5 minutes before you serve them.
Ingredients
For the salsa
-6 oranges
-1 shallot finely sliced
-1 red pepper Juliane
-1 sliced jalapeño
-2 Tbs sugar
-1 Tbs salt
-¼ cup fresh mint chopped
-1 oz dark rum
Directions
1. Peel the oranges and cut the supreme into a mixing bowl squeezing the excess juice of the oranges, make sure there are no seeds going on to the mix.
2. Add the rest of the ingredients and mix well.
3. Reserve on the fridge until need it.
4. You can serve the pork with some roasted potatoes or a nice green salad.