Helcim is a payments company offering a solution that is easy and affordable to help small businesses thrive. We spoke with Nic Beique, CEO and Founder of Helcim, to find out more about them.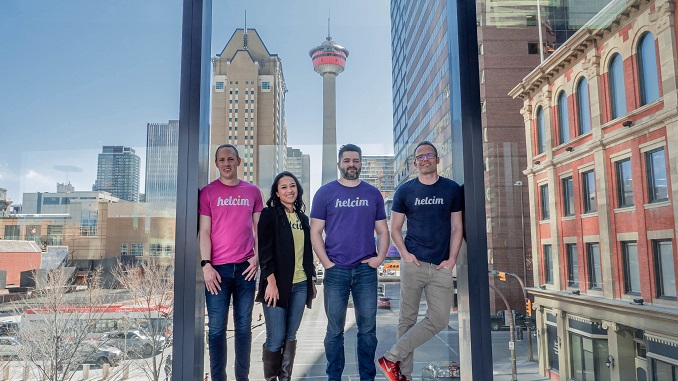 What is your business called and what does it do?
Helcim is a payments company that is on a mission to become the world's most loved payments company by offering a solution that is easy, affordable, and human to help small businesses thrive. We provide online and in-person solutions that make it easier for businesses to accept credit, debit, and bank payments.
What made you want to do this work?
I started Helcim as a bootstrapped business and I know what it means to be a small business owner myself, it's a combination of my own businesses and respect for the hard work that goes into running a business and taking that leap of faith that drives me to provide a better payment solution for small businesses. Working in payments you get an inside look at commerce and you get to learn about all types of businesses, it's a truly fascinating industry to be a part of if you're passionate about the business world.
What problem did you want to solve with the business and how is Google for Startups Accelerator Canada supporting those goals?
We're at an exciting growth stage for the business, we recently raised our Series A investment and we've onboarded new team members who are committed to our mission and delivering a really great product to business owners. We like to set ambitious goals for ourselves and programs like the Google Startup Accelerator are one way to help ensure you meet those goals. Through this program, we're looking forward to working with industry experts to deliver on our goals and interact with our fellow peers in the cohort.
Who are your clientele/demographics?
We work with small businesses across Canada and the US in all types of industries. Our merchants include everything from wholesalers, mechanics, automotive shops, landscapers, accountants, dentists, and everything in between. If a business is looking for an easier way to accept credit cards or bank payments then we probably have a solution for them.
How does your business make money? How does it work?
We're really proud of our more affordable pricing and the transparency of what we offer. You can find all of our pricing details online but we offer a pricing structure called Interchange Plus pricing, a billing method that means when you process a transaction we pass the interchange and card-network costs directly onto you, giving you access to the true wholesale rates. For our service, we charge you a set margin on top of the transaction, and that's how we make money. The great thing with our pricing model on top of the transparency is that the more you process, the more the business can save because we offer automatic volume discounts. If a business is curious what this might mean for their statement I would encourage them to check out our website where all of our pricing details are readily available or contact our team.
Where in Calgary can we find your business?
We have a great office space in Eau Claire in downtown Calgary which is where our amazing team works but the best place to find us is online at helcim.com.
What makes your startup unique from your competitors?
It's the three pillars of our service – starting with we offer more affordable rates with our interchange plus pricing model and commitment to transparency. Our easy-to-use software makes it fast to sign up and quick to get started so businesses can start accepting payments right away. Finally, it's our human approach to payments, we have an amazing customer support team that's always willing to help and we put business owners first by treating them the way we would want to be treated.
What is the best part about what you do? What is the worst part?
The best part is all the amazing businesses we get to work with every day and our amazing team. The worst part is that the payments industry doesn't always have the best reputation there are a lot of businesses with horror stories of how their payment processor treated them or a massive bill they weren't expecting, but on the flip side, that's another good thing for us because we get to redefine what it means to offer a great payments service and show businesses that there's a better solution out there.
What is your favourite joke about your own profession?
What do you call someone who is your friend only because of your money? PayPal.
What are your social media channels?
Website | Twitter | LinkedIn | Facebook | YouTube | Instagram
***
About Google for Startups Accelerator Canada:
The three-month accelerator program is designed to bring the best of Google's programs, products, people and technology to startups that leverage machine learning and AI in their company today or plan to in the future.
The accelerator features a cohort of 12 startups that come together to tackle specific technical challenges that can help grow their businesses through a mix of remote and in-person, 1-to-1, group learning sessions, and sprint projects.
Founders outline the top technical challenges for their startup and are then paired with relevant experts from both Google and the industry to solve those challenges and grow their business.
In addition to mentorship and technical project support, Google for Startups accelerators includes deep dives and workshops focused on product design, customer acquisition, and leadership development for founders.
Google for Startups Accelerator Canada Blog: Blog post – Introducing the Google for Startups Accelerator Canada Class of 2022