Rustic Fence Design is a local company that specializes in custom handmade furniture. We spoke with owners Sabrina and Jonathan to find out more about what they do.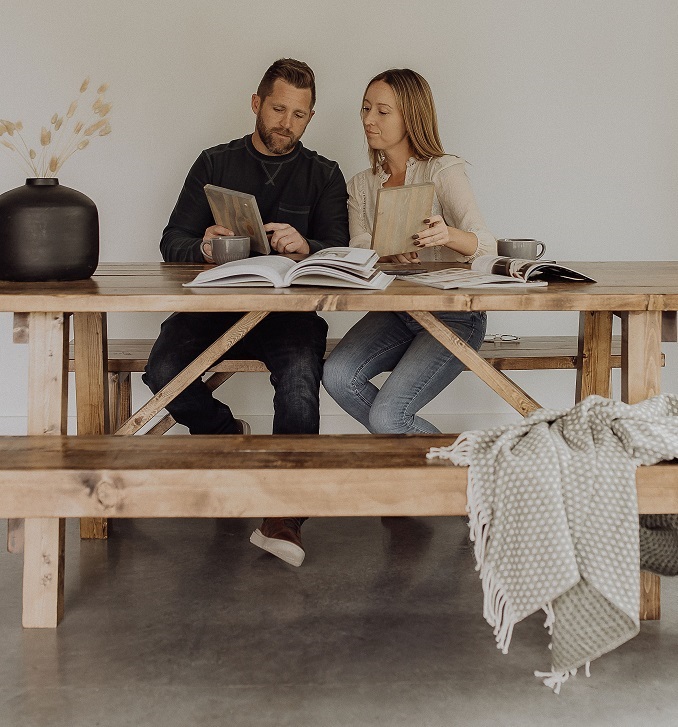 What is your business called and what does it do?
Rustic Fence Design is the name of our business. A family business based out of Cochrane, Alberta that specializes in custom handmade furniture.
What made you want to do this work?
We wanted to create a unique product, that is customizable. We also thought about our skills and passion. Something that can unite our family. All mixed together was definitely the best idea we could have!
What problem did you want to solve with the business?
Quality is certainly one of our values! We are so proud to provide tables that are built out of real solid wood, like oak, maple, ash or walnut. We know that our client will have a table for a lifetime.
Who are your clientele/demographics?
Our clients are families and couples living in Calgary and surrounding, Cochrane, Canmore, Okotoks and Airdrie.
How does your business make money?
We put in countless hours, and the profit is not always the same. Supplies are expensive these days, especially hardwood and our quality oil for the finish. It is enough to support our family, middle class. Again it's our second year so most of our profit goes back into the business, investing in tools, marketing etc.
How does it work?
We are the 2 principal workers. Sabrina does the marketing side of it, and Jonathan is the talent behind the scenes.
Where in the city can we find your profession?
We have a local shop on an acreage at this time. You can also find our bathtub trays at the Misty Creek store in Bragg Creek. But all the sales or from our website and Instagram.
What is the best question a prospective customer could ask a member of your profession when comparing services?
That is the best question! Yes, clients need to ask questions and do some research when it's time to invest in a dining table because it is so precious. And you don't want to do it twice! A great question to ask is: What type of wood you use? What is the finish of it? But also a visit in person to meet the woodworkers is worth the drive.
What is the best part about what you do? What is the worst part?
The best part is to be part of the community and support! Wow, we feel the love and it's magic. The worst part would be those that compare our products or prices to big stores… that would use veneers or pine. Or just comparing 🙄
What is your favourite joke about your own profession?
We are dusty guys! Our shop is sometimes a real mess, but that's a good thing you wana see haha
Where can we follow you?
Instagram is the platform we choose! Stories every day and more information than ever. Also testimonials and a bit of our personal life and who we are.
PAY IT FORWARD: What is another local business that you love?
We are in admiration of all the ones that are in our industry! It takes a lot of courage and hardworking. To all of you, we feel you and support you!