Elephant Artist Relief Society (EAR) is a Calgary-based registered charity that supports artists by providing resources to help sustain themselves and their livelihood. Some of these resources include professional development, wellness workshops and seminars, and even emergency financial relief for artists in need. We spoke with Rachael Seupersad, President of Elephant Artists Relief to learn more about them!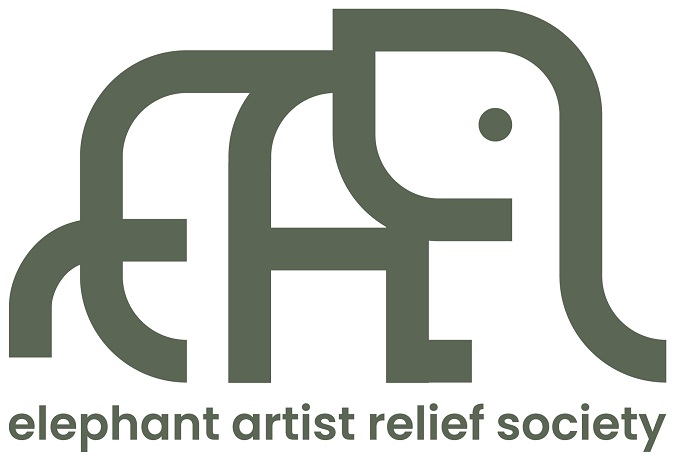 Describe your charity /non-profit in a few sentences.
Elephant Artist Relief Society (EAR) is a registered charity that provides practical resources to artists in Calgary and surrounding areas to help sustain their well-being and livelihood. EAR provides emergency relief funding, personal care resources, professional practice programming, and access to group health insurance. As a unique service organization for the arts sector, EAR builds creative capacity and fills a role not duplicated by any other agency.
What problem does it aim to solve?
EAR came into being in 2007 when a group came together to help a fellow artist with a health crisis. Since then, EAR has become ever more aware of how vulnerable artists can be when struck with an unexpected hardship as many don't have steady income or access to health benefits. To achieve its goals, EAR offers emergency financial relief; referrals and resources on topics such as health and wellness, social service supports, various aspects of creative practice, and fiscal management; as well as personal and professional development seminars and workshops for artists of all disciplines.
When did you start/join it?
EAR I joined EAR in 2010 as a board member and served for a year and a half. In February 2021 I joined the board again and in July I was appointed President.
What made you want to get involved?
There is no other agency offering this kind of crucial support for artists in crisis. I have worked in the arts my entire career, always in a supporting role to artists. Utilizing the resources available to enable and empower artists to create and add their work to the cultural landscape of our city. Volunteering with EAR just makes sense for me and allows me to continue to be in service to the artists in my community. Plus the vision and values align closely with my own. In EAR's future vision artists of all disciplines in the Calgary, region are healthy and thriving in a prosperous arts community that supports rich cultural experiences for all. These are EAR's Value Statements:
– We believe in equity, diversity, and inclusion.
– We believe art is integral to a thriving community and society.
– We believe in the social responsibility to actively care for each other.
– We believe in a community that values the vital contributions of artists.
– We believe in fostering a socio-economic climate where artists can thrive.
– We believe that health and well-being are integral to an artist's practice and independence.
– We believe in being innovative, proactive, and relevant when responding to our community's needs.
What was the situation like when you started?
When I rejoined the board in 2021 the impact of the pandemic was evident. As a financial relief organization EAR was critical in getting funds into the hands of artists who had lost their livelihood when everything was shut down. As a small grassroots organization, our resources were stretched to the limit. Our board numbers declined and both volunteers and staff were experiencing burnout. It was a tough time, but it was a tough time for everyone, not just us.
How has it changed since?
We are in a much healthier place as an organization today. Over the past year we've doubled the size of our board and this new energy has allowed us to do a lot of work to stabilize and repair the stress fractures in our foundation and start to build our future. We have identified our strategic priorities and developed action plans to achieve them over the next 3 years. It's important to note that although a lot has changed, the core purpose of EAR remains the same. EAR exists to help artists BE artists and we plan to be here as long as there is a need for this kind of support in our community.
What more needs to be done?
As with any non-profit… there's always more to be done. EAR has been in service to artists in the Calgary region for 15 years and it seems the time is right for us to raise our profile with other arts organizations to ensure artists of all disciplines (and artist supporters) know about us and the services we provide. So marketing is a focus area for us this year. We hope that it will also lead to increases in our membership and support through donations to our emergency relief funds.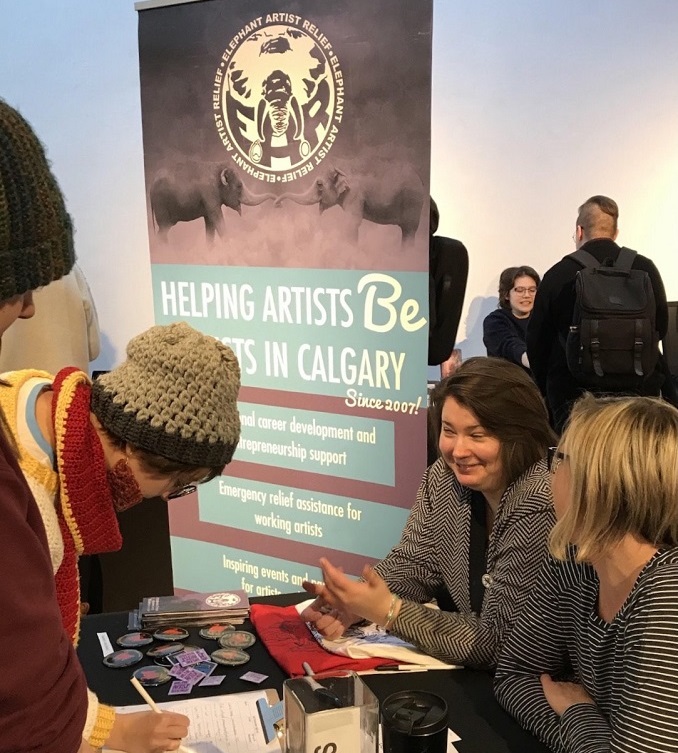 How can our readers help?
There are numerous ways to help. They can JOIN THE HERD! Anyone can become a member of EAR. We have a standard annual fee of $25 but there are other levels of support one can choose. Membership comes with benefits but most importantly it supports the ongoing operations of Society. Your readers can also donate to our emergency relief fund which goes directly into the hands of artists in need and is 100% funded through donor support. It is also possible for individuals or business owners to sponsor EAR activities or provide member benefits such as discounts on goods and services. Finally, your good readers can also volunteer with EAR. We are always grateful for more human power on our board or working committees, and looking for people with specialized skills in marketing, fund development, programming, book-keeping, and records management.
Do you have any events coming up?
We have our monthly Umbrella Talks which offer a variety of practical career-based information, as well as Studio E which is a casual bi-weekly online meet-up for creatives to share their work, have open discussions, create in the company of others or simply hang out. Studio E came out of the pandemic as an effort to counteract the social isolation that was occurring, essentially creating a virtual community you could count on every other Sunday afternoon.
Where can we follow you?
You can find information about everything I've mentioned on our website and you can follow us on Facebook and Instagram.
• PAY IT FORWARD: What is an awesome local charity /non-profit that you love?
Green Fools Theatre Society – The growing movement toward the use of circus arts as a medium for social justice and good. It uses physical and interactive teaching tools to work with youth who are marginalized or at social or personal risk. It builds confidence and community by relying on skills separate from language, culture, or upbringing.