Our featured recipe this week is Grassfed Beef Butcher Steak Chimichirri from Chef John Jackson and Chef Connie DeSousa, of CHARCUT Roast House.  With seasonal dishes, drinks and ingredients, CHARCUT takes the soul of local fresh-farmers and transports it to Downtown Calgary.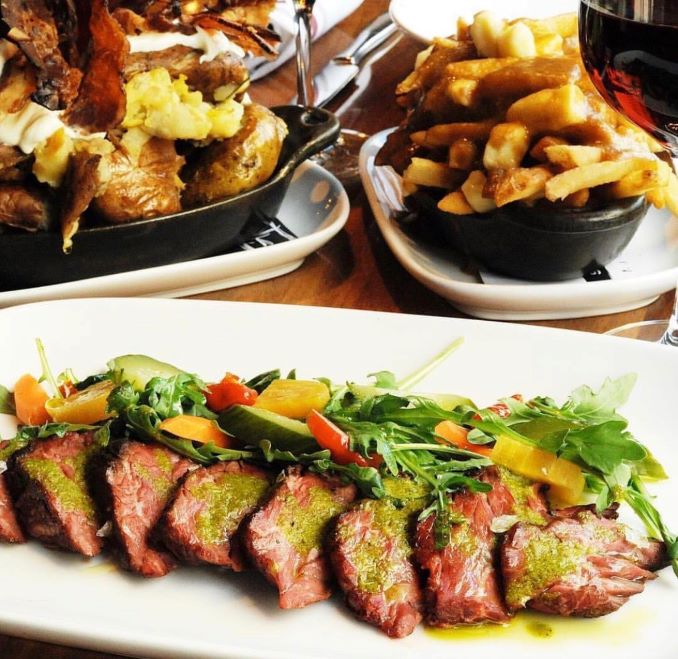 Makes 6 portions. 
STEAK
6 ea Cleaned Butcher steaks approximate 5 to 7 oz each (petite tender, skirt steak etc)
1 oz. Olive Oil
Kosher Salt to taste
Black Pepper Ground to taste
Clean steaks removing all silver skin and connective tissue. Pour olive oil in bowl and mix with steaks to coat. Sprinkle with salt and pepper and set on high grill. Cook 4 to 6 minutes per size depending on thickness. Remove and let rest 5 to 10 minutes before slicing.
CHIMICHIRRI
¼ cup Red Wine Vinegar
¼ cup Water
4 ea Garlic Cloves
1 tbsp Kosher Salt
1 tsp Red Chili Flakes
1 tsp Black Pepper Ground
1 cup Olive Oil
½ ea Flat Leaf Parsley Bunch
1 tsp Oregano Leaves
3 ea Rosemary Sprigs (6 inch each)
Add all ingredients except olive oil to blender and pulse. Slowly add olive oil pouring in a stream little at a time until mixture is thick and smooth. About 5 minutes preparation.
FINISH
Slice steak and lay fanned on platter or plate. Spoon on a generous amount of Chimichirri and garnish with chopped kitchen pickles and wild arugula.