With the Summer Fair season officially kicking off, what better way to celebrate than to indulge in some homemade treats? A carnival eats must-have, we've got the perfect recipe to try at home as we welcome one of the most exciting times of the year – fair season!
In collaboration with Mazola, Calgary Stampede vendor Ogopogo Concessions has made a new, original recipe for this year's carnival-goers – Cherry Cheesecake Mini Donuts. A delicious, sweet and celebratory creation, this Cherry Cheesecake Mini Donut recipe is perfect for those who can't make it to the fair, or for those who crave festival treats year-round.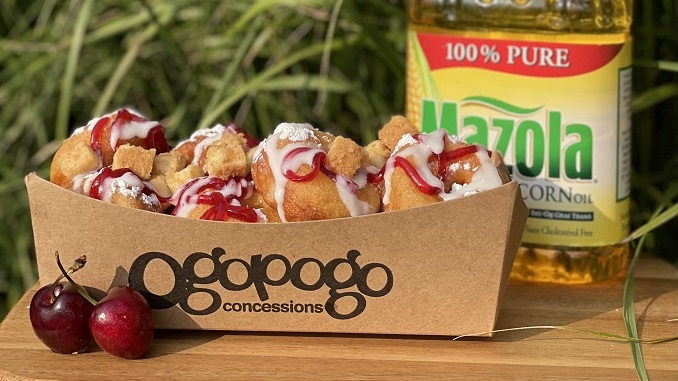 Cherry Cheesecake Mini Donuts
Time: 30 minutes
Servings: 12 mini donuts
Ingredients:
2 litres of Mazola® Corn Oil or amount required in deep fryer manual
1 cup of donut flour or cake flour
1⁄4 cup of lukewarm water
1⁄4 cup cherry pie filling
1⁄4 cup cream cheese frosting
1⁄3 cup cheesecake chunks
Dusting of icing sugar
Directions:
1. Add Mazola Corn Oil to deep fryer and set to 350.
2. Add donut flour or cake flour and lukewarm water to stand mixer and mix at a low speed for two minutes.
3. Mix at high speed for one additional minute. Let rest for 3 minutes.
4. Add donut batter to deep fryer with piping bag or donut maker mold, frying for 1-2 minutes per side or until golden brown.
5. Once donuts are done, remove from fryer and place on a paper towel for 1 minute to slightly cool.
6. Place on desired serving dish and drizzle on cherry pie filling, then cream cheese frosting.
7. Sprinkle on cheesecake chunks and then dust with icing sugar.