Our Homegrown Business feature this week is about Plainsbreaker Apparel, a local fashion sock manufacturing and retail company. We were able to speak to co-owner, Troy Schmirler to learn more!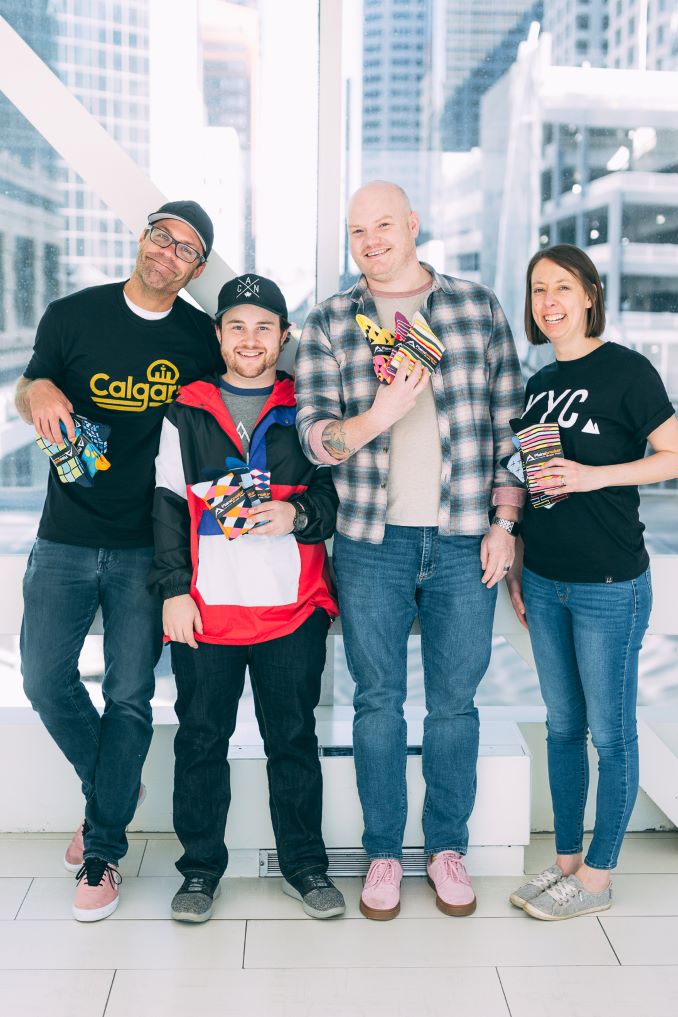 What is your business called and what does it do?
We are Plainsbreaker Apparel, and we design and manufacture fashion socks. We also have a retail location downtown in The Core Shopping Centre.
For the Sock Manufacturing we are the first (that we know of) to manufacture cotton fashion sock in Canada. We want to be able to offer every person the option to have fashionable feet. We also do low volume custom orders – Starting at 10 pairs. This is perfect for weddings, teams, charities small organizations.
Plainsbreaker Retail showcases the best of Canada, we currently of 37 brands in our store all from Western Canada, 26 of those brands are from Calgary. We started this to help promote our brand will helping our fellow entrepreneur.
What made you want to do this work?
While out sock shopping, it was very difficult to find some nice, good quality, affordable and colourful socks! Why pay almost $25 for a pair of socks?? We found that most companies are making novelty socks, but very little fashion socks, something that you can wear every day. We wanted socks that no matter what you do you can wear fun fashionable sock.
What problem does this solve?
Everyone is looking for Sustainable, ethical manufacturing, and what is more ethical than manufacturing right here at home! We are sourcing our materials out of the United States and Italy from companies that follow strict environmental standards in the industry.
We wanted to create something that would help drive Alberta's economy, and felt that if we were to produce outside of Alberta, we would not be building our own province's industry and businesses.
Who are your clientele/demographics?
If you like quality 100% local goods, Plainsbreaker Apparel is for you! We cater to foot sizes 6 or larger.
How does your business make money? How does it work?
Our largest revenue stream is custom socks – we offer small custom orders so anyone can get great cool, unique socks! Starting at a 10 pair minimum order, anyone and everyone could have custom socks – weddings, sport team, fun runs, etc.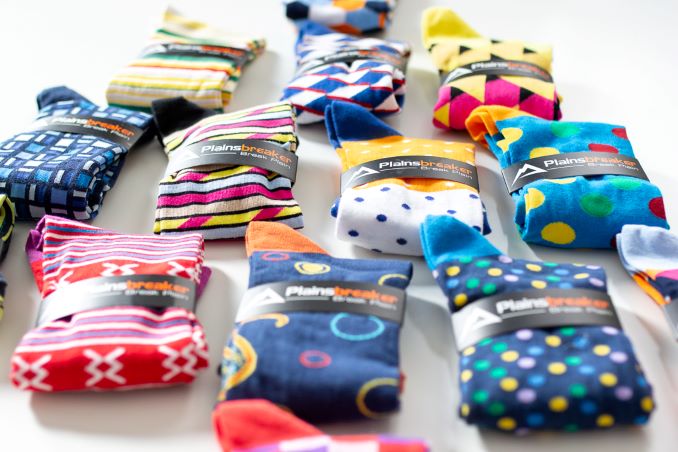 Where in Calgary can we find your profession?
You can find our store in The Core Shopping Centre in Downtown Calgary, Ninth & Brick in Inglewood, or directly at our Manufacturing Facility in the Shepard Industrial Park.
What is the best question a prospective customer could ask a member of your profession when comparing services?
Why are you still manufacturing overseas?
What is the best part about what you do? What is the worst part?
The best part is that we get to create something new every day, we get to take our original concept and see it though from start to finish. We also have the pleasure of collaborating with some other local companies to produce products for them.
The worst part is probably sales and Social Media………. Man, I suck at both (someone help me please).
PAY IT FORWARD: What is another Calgary business that you love?
Both Good Mood Brewery and Cabin Brewery – great group of people making great beer. Go check both out and you will not be disappointed.
Rviita – a local producer of an energy tea…… it is AWESOME, not only is the tea awesome but the group of people making it are most likely the nicest people ever
Ninth & Brick – A store in Inglewood selling local goods.