Otherworldly soundscapes, foreign synthesizer frequencies and introspective lyrics put to a beat. These are the identifiable elements to Emberlynn Bland's unique electronic music. Born and raised in Calgary, Emberlynn is a drummer/music producer whose goal is to bring softer soundwaves to the world of EDM. She enjoys immersing her listeners in unique experiences of sound while telling stories of love, identity, and being happily lost in the depths of space. Her alias 'Goodnight Girl' is the focal point of her artistic visions.
Emberlynn started her electronic creations in high school and has since participated in various community groups to play drumset in Jazz, Latin and Funk styles. She has continued producing electronic music as she attends post-secondary with her end-goal being a degree in Sonic Arts.
At the moment, Emberlynn is developing a repertoire of live performances, taking her 4 LPs worth of experience to the stage as a solo performer. She is also working with local electronic artist WanderingAria to experiment with creating live electronic music as a duo. Emberlynn also enjoys arranging duet versions of indie-rock songs with her partner JM.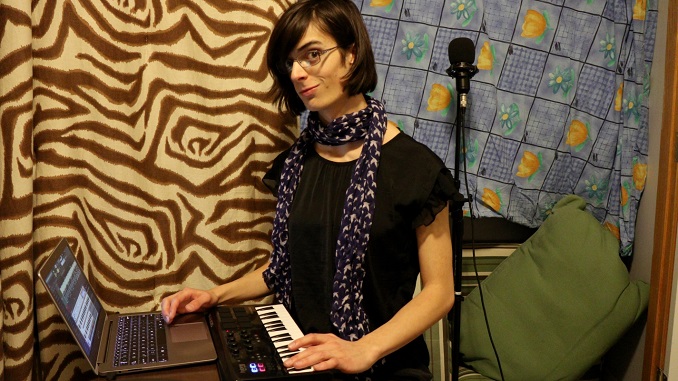 Name: Emberlynn Bland
Genre: Chill EDM
Founded: 2016
# of Albums: 4
Latest Release: Born in Captivity EP
Latest Single:
Collector's Vista (My singles keep turning into EPs)
Favourite Local Restaurant:
Niko's Bistro in Kensington. It's pricey but it's so satisfyingly worth it.
Favourite band as a teenager:
AC/DC and Rush equally. I was really into classic rock as a kid.
Favourite band now:
Animal Collective. I got to see them live in the MacEwan Ballroom and it's by far my favourite concert I've ever been to.
Guilty Pleasure Song:
Galaxy by SoGreatandPowerful
Live Show Ritual:
Forget to bring water and end up buying water at the local concession stand. I will never learn.
Favourite local artist:
I Am The Mountain
Nose Hill or Fish Creek?
Nose Hill
EP or LP? LP.
Early bird or night owl?
Early bird. I've never done an all-nighter.
Road or studio?
I respectfully-but-entirely reject the road life. Studio.
Where can we follow you?
My Bandcamp, my Tumblr and my Soundcloud. I like to use the last two to post demos outside of my usual genre-style and share the music that my friends make.
Any shows or albums coming up?
Next week at the Studio Bell Main Stage on Sunday, December 16th (2018) from 12:00pm-1:00pm. I'll be there with some friends performing in groups and individually for our Jam Club Showcase. I'm also finishing up an experimental punk-rock album that I'll signal boost on social media when it's out in February of 2019.