For this edition of our Homegrown Business, we got in touch with Meg and Stacey from Cut Cooking. Cut Cooking specializes in commercial food photography and recipe development.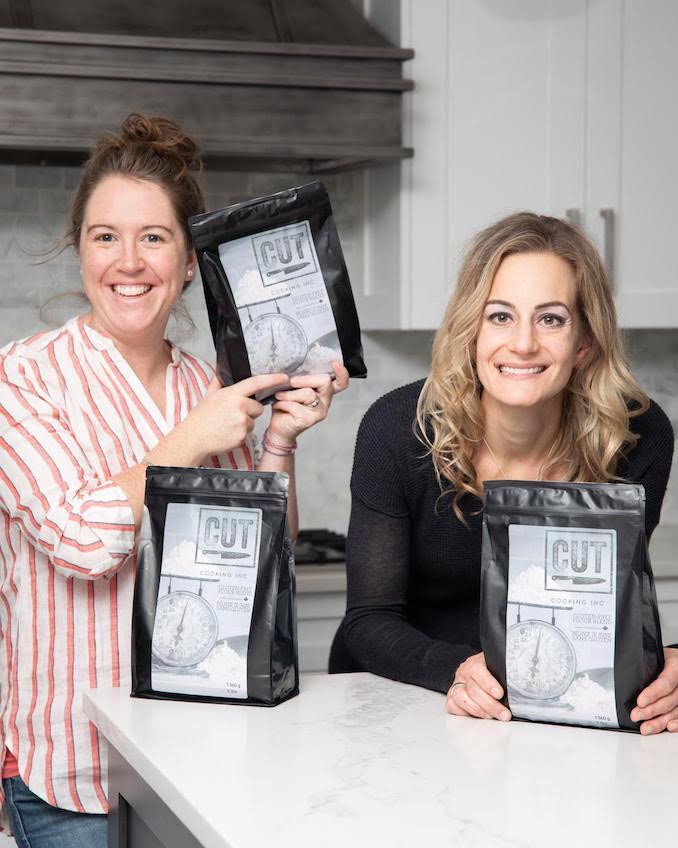 What is your business called and what does it do?
We're Cut Cooking! We are gluten-free specialists in Calgary, AB that work with local food makers to bring you accessible gluten-free recipes and our locally made gluten-free flour blend. We adapt and design gluten-free recipes that don't compromise in taste. You can find recipes in our mini-series cookbooks on Amazon and on our website's recipe tab. We also have our gluten-free flour blend available on our website, at local retailers, and on Amazon Prime!
What made you want to do this work?
Stacey has adapted her kitchen to accommodate her and her son's celiac diagnosis and, hearing from members of the gluten-free community, we knew that we could help other families do the same. It can be overwhelming and intimidating to take on the transition of becoming a gluten-free household. We know from experience that it's easier to do when you have a community that understands and supports you.
What problem did you want to solve with the business?
We want to make gluten-free food taste good! We want to support gluten-free eaters with recipes that have accessible ingredients, easy instructions, and amazing flavour. It can be a challenge, especially with baking, to get the same taste and texture that you're used to. But we have worked hard to develop a gluten-free flour blend that you can substitute 1:1 in your favorite recipes and get amazing results!
Who are your clientele/demographics?
We have gluten-free families in mind when we're in our kitchen developing and testing recipes. Our recipes take into consideration the range of comfort that our audience has in the kitchen. With approachable ingredients, our recipes are so adaptable they make great building blocks to a delicious meal. We have 4 kids between us and, along with our husbands, they're more than happy to taste test everything we throw at them. We're designing recipes that are meant to inspire even the most inexperienced cook in the kitchen and satisfy everyone at the kitchen table.
How does your business make money? How does it work?
Our biggest accomplishment is making our gluten-free flour available to our audience in 3lb bags. The response from our community has been so positive and encouraging. We're going to keep expanding our retailers so we can reach more Canadians! We also share gluten-free recipes every week on our blog and every few months we release a mini-series cookbook that is available through Amazon/Kindle.
Where in Calgary can we find your profession?
We have a few ways that we share our goods; our website (cutcooking.com), amazon.ca, and local retailers spread across Southern Alberta, interior BC, and even into Ontario. In Calgary, we are stocked at Lakeview Bakery, Prairie Farms Local Market, Bite Grocery and Eatery, at cococochocolatiers.com, and at cutcooking.com.
What is the best question a prospective customer could ask a member of your profession when comparing services? Give the answer as well.
"What makes your gluten-free flour blend different than the others on the shelf?"
Our gluten-free flour blend is locally made by Calgary women, tested for years in the kitchen, and is easily substituted 1:1 when modifying recipes. Our flour gives you a smooth texture and leaves no after-taste. You won't be able to tell that it's gluten-free and you can eat the treats that you're used to!
What is the best part about what you do? What is the worst part?
Without a doubt, the best part about what we do is supporting families that are new to a gluten-free life. We get to help families learn that cooking, baking, and eating gluten-free doesn't have to mean you need to sacrifice texture and flavour. We have the flour and the recipe catalog that help make a difficult transition so much more approachable and less intimidating. One of the challenging aspects of what we do is trying to break the stigma around a gluten-free lifestyle. We're trying to show the community that being gluten-free doesn't mean compromising taste and texture. Some people can be harder to convince… until we feed them!
PAY IT FORWARD: What is another Calgary business that you love?
We absolutely love Cococo Chocolatiers in Calgary! They make their chocolate right here in Calgary and we enthusiastically support their business. We've tried nearly every product in their line-up and haven't found anything that compares.